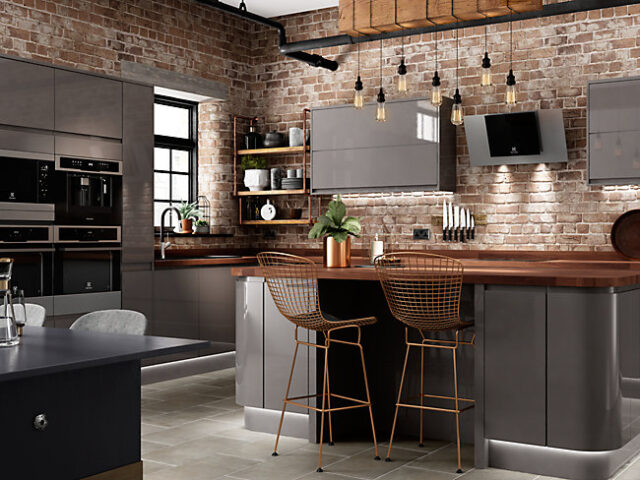 Kitchen decoration is always a popular topic when the home renovation is brought up. It is easy to see why. The kitchen is probably the most visited room in any home. People tend to spend a lot of time there, whether preparing meals or eating them. That is why it is important that we feel comfortable in the kitchen.
However, finding the right balance between style and functionality can be a challenge, especially in a room as utilitarian as a kitchen. Fortunately, we have the Internet and can easily see what other people are doing with their kitchens. Celebrities and their kitchens are always a solid source of inspiration.
If you are planning, or simply mulling over a redesign, here are some of the most popular kitchen decorating trends in Hollywood. You can see more kitchen design and decorating ideas on the Home Refinery website.
Painted Kitchen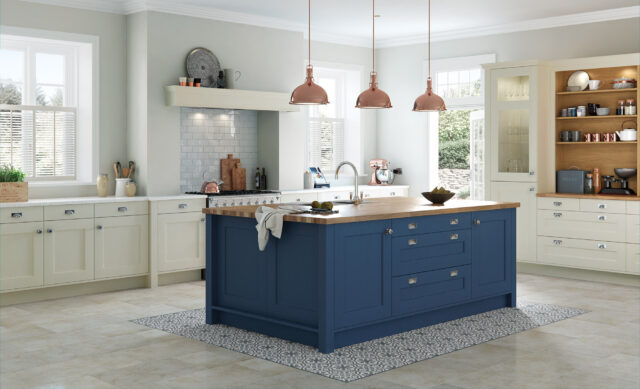 Dark colors are making a comeback in kitchen design. They are used to bring out both kitchen furniture and architectural details. Various greys, like light grey, charcoal, and slate grey, most popular choices in the past, are getting replaced with navy blue tones for 2023 in celebrity homes.
"Clients are starting to lean away from the trending gray of the past years and into the navy palette, especially paired with gold hardware and fixtures," says Layne Brookshire, a Trulia Design Panel expert.
The contrast between navy blue and gold hardware may be too much for some, so you may opt for more subdued steel hardware and fixtures. Paired with concrete or marble countertops, they will look very stylish.
'Offering a new lease of life to the kitchen cabinet, painted furniture when paired with authentic raw materials like marble and concrete will create a durable kitchen environment that is a classic in nature, yet contemporary in finish,' says the team of designers at Brandt Design.
Experts from Modiani Kitchens add: "The trend in 2023 is to choose one or several elements, like the kitchen island, kitchen wall cabinets, or base cabinets in daring colors, like dark red, bright yellow, green or navy blue."
Vintage Details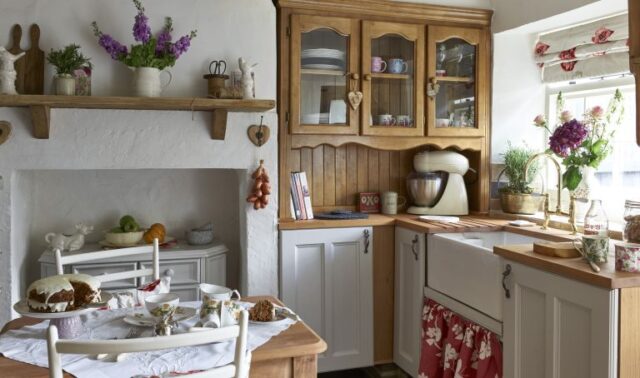 Retro and vintage have always been popular styles in kitchen design, but we will see a lot more of them in 2023. "One thing we're starting to see is more of a nod to vintage and traditional detailing — things like spooled legs, spindles, and other things we saw in furnishings from the 1800s and early 1900s," says CEO of Bria Hammel Interiors, interior designer Bria Hammel. One important difference from previous vintage styles is that designers rarely, if ever, do the whole kitchen. These days, it is more about statement pieces. One or two details are designed that way, like a wall or table.
Benches for Sitting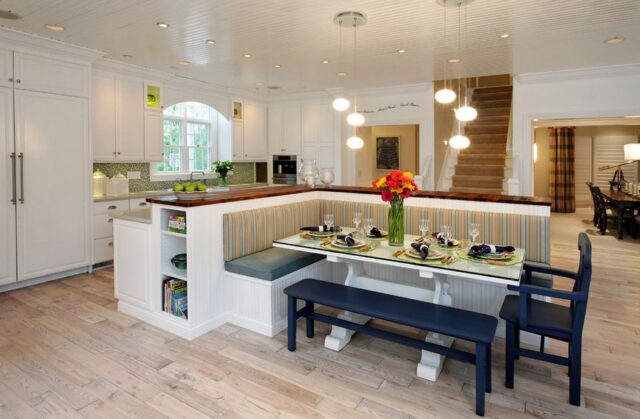 Benches are making a huge comeback. Once almost a staple in every kitchen in the 1950s and 60s, they almost went extinct in favor of classic kitchen chairs. In 2023, more and more designers are incorporating them into their kitchens. Benches create an intimate atmosphere, transforming kitchens and dining areas into a banquette-like space. They also offer plenty of storage space underneath, something that is always needed in a kitchen.
"It turns almost any dining spot into more of a lounge area, and you can tuck a few storage baskets underneath for blankets, games, place settings, and more," the experts say.
Flextension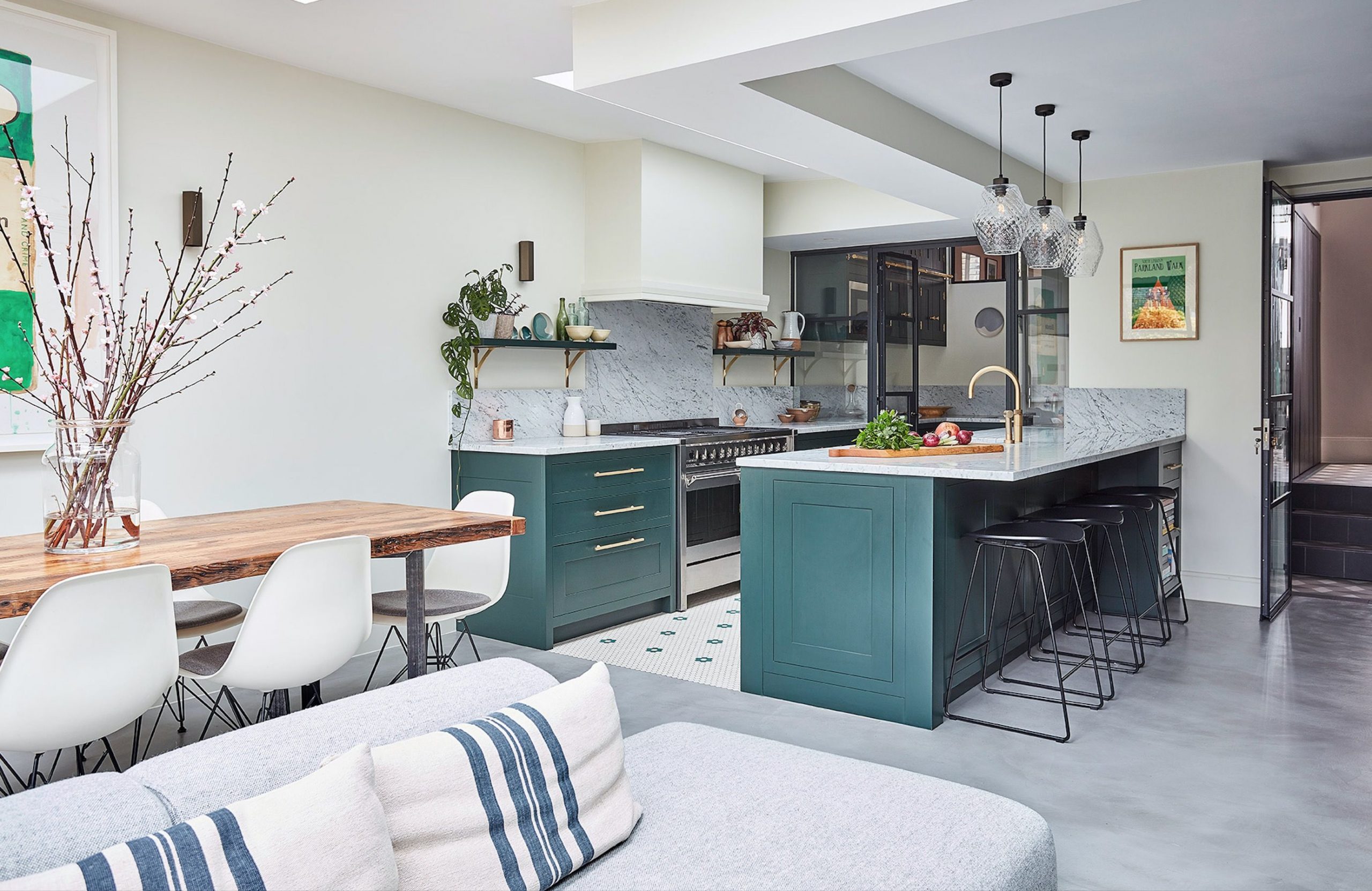 Flextension is a new term, describing a new trend in kitchen design. It explains the use of custom-made kitchen furniture to achieve not the extension, but rather flextension of the kitchen. That means keeping the design flexible and easily adaptable to whatever your family needs at any given moment.
The style features extended breakfast bars, integrated sitting areas, and all-in-one islands, serving as both workstation and eating area.
Eco-Friendly Kitchen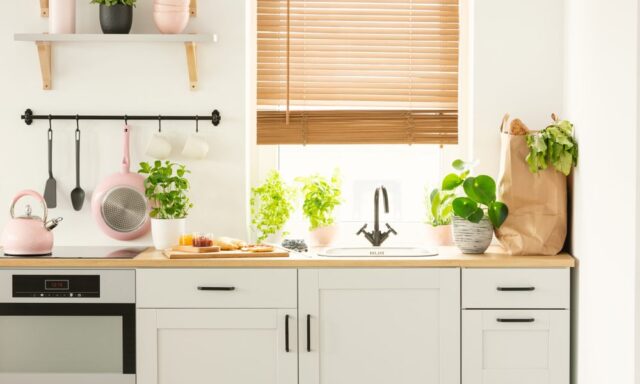 The emphasis on sustainability will remain the main focus in design in 2023, especially in Hollywood. Celebrities like to appear nature-friendly and will demand that their homes reflect that. Things like recycling bins and monitors for energy consumption will soon become a staple in every kitchen. Reducing carbon footprint and ethical consumerism means that we will see fewer new appliances. The accent will be on repair and reuse. Of course, don't expect to see those in Hollywood homes, unless it is a valuable retro piece.
Manufacturers are also trying to be eco-friendly in their production. 'We are extremely proud that Rotpunkt is able to pledge a zero carbon footprint in 2023 by manufacturing 100% carbon neutral kitchens from 1st January,' explains Matt Phillips, head of UK operations at Rotpunkt. 'Our pledge for sustainable kitchen furniture manufacture in 2023 is just one way for you to "feel good" in the home, reduce its carbon footprint and ensure the UK high street can serve this growing demand.'
Apart from things that are in, you should also consider which styles to avoid when redecorating your kitchen in 2023.
Things like all-white kitchens and a single accent walls are definitely out for this season. Colors are everywhere and a white kitchen is simply too boring for 2023. It may look stylish, but the trend is to add as much color as possible. "For a long time, it was white, white, white," Hammel says. "But now, for example, maybe we'd see a chair with black fabric and a white frame. Or a console table in a dark stained wood with light-colored hardware."
Accent walls suffered a similar fate. These days, instead of restricting bold colors on just one wall, the designers are going all-in, with all walls painted in strong colors.
One other thing to avoid is open shelving.
"Open shelving in the kitchen is out!" Brookshire says. "It has finally been around long enough to convince everyone of its aesthetic appeals and its life-practicality fail." The design of open shelves was always impractical, but people put up with it because it was modern and apparently everyone was doing it. Fortunately, we have put that episode behind us. Expect to see far less of it in the coming period.