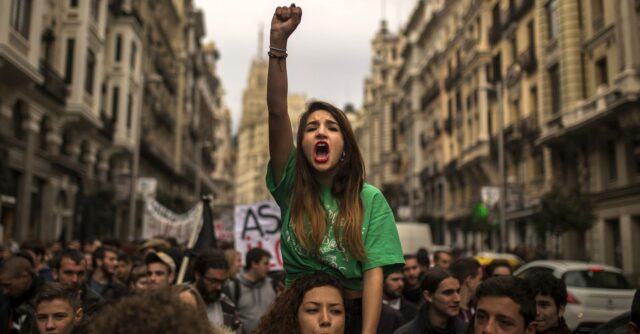 BERKELEY — Protesting students at several University of California campuses clashed with police for a third straight day Friday, angered by a UC Regents voteĀ to raise tuition at all nine institutions by 32 percent.
At UC Berkeley, 40 student protesters were cited and released by authorities after staging a 14-hour occupation of Wheeler Hall that started at 5:30 a.m. The protesters barricaded themselves inside a second-floor classroom and unfurled a banner decrying recent cuts to higher education funding and the tuition fee hike.
Outside, an estimated crowd of 2,000 protesters cheered them on and clashed with riot-gear donning police officers from the University of California, Berkeley, Oakland and Alameda County Sheriff's deputies.
A raucous scene, broken intermittently by skirmishes between baton-wielding law enforcement personnel and angry students, capped a week of high-profile student protests that many likened to the 1960s anti-war movement at Cal.
UC Students, angered by a Thursday vote by the University's governing board to raise tuition to over $10,000 annually, have organized impromptu "takeovers" and "occupations" of buildings throughout the nine-campus system in the past 72 hours.
At UC Davis, an estimated crowd of 250 protesters staged an evening sit-in at the school's Dutton Hall – an administrative building that houses offices for student services. The crowd of students left before police moved in and arrested anyone.
On Thursday night, 52 protesters at UC Davis were arrested and booked into the Yolo County Jail after they refused to leave Mark Hall – the school's administrative headquarters – after closing time.
Law enforcement from as far away as Sacramento were called in to take the students into custody and contain hundreds of protesters who surrounded the building in support of the student takeover.
The UC Davis Student Senate attempted to hold their bi-weekly meeting inside the shuttered building but were kept out by police.
It didn't stop them from holding an emergency vote on the steps of the building — surrounded by student protesters — to pass a no-confidence resolution at UC President Mark Yudof and the UC Regents.
At UC Santa Cruz, student protesters continued to stage sit-ins at two campus buildings Friday evening — Kerr Hall and Kresge Town Hall — in their own protest against the fee hikes.
Earlier this week, UC Santa Cruz students poured out into intersections at the school's main entry points to the campus loop and blocked all incoming traffic, virtually shutting down the campus.
And at UCLA, where the protesting ignited and where UC Regents met to vote, calm settled onto campus Friday after two days of clashes with campus police and a takeover of the school's Campbell Hall.
Hundreds of students kept UC Regents from leaving their meeting hall Thursday afternoon by blocking entrance points and staging sit-ins along roadways to protest the vote. Police had to be called in to safely escort the Regents off the campus.
The uproar over the soaring costs of attending a UC campus is gaining national attention with all eyes set on California and its dire fiscal situation.
The 32 percent increase hit the boiling point for frustrated students who have seen costs rise for eight consecutive years.
The UC system — regarded as an acclaimed educational institution — is seeing funding from the state slashed at record proportions. The flush budgets that campuses enjoyed when the economy was in better shape, and when the state saw relative stability through budget cycles, has all but dried up.
Regents, in voting for the tuition hike Thursday, were quick to regard the lack of state funding as to why fees had to rise. The University is now asking students and their families to contribute money that California previously contributed to cover educational costs.
The governor and the state legislature, Regents argued, were to blame about the hikes.
And with the state facing deeper fiscal debt in the coming years, Yudof, the UC president, couldn't promise that there would be no more fee hikes to come.