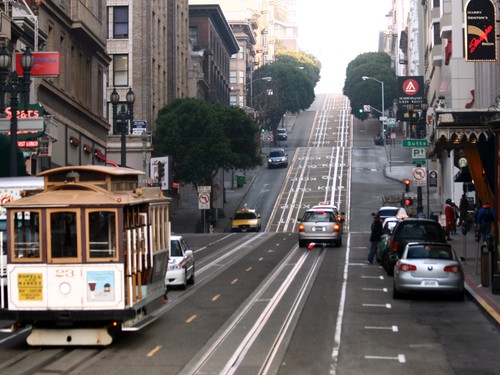 Street parking on San Francisco's busy Powell Street between Ellis and Geary Sts. would be eliminated to allow for more pedestrian space during one weekend of the busy December holiday shopping season if a proposal by the city's Sustainable Streets program is approved.
The proposal suggests eliminating metered parking at the curb from 3 p.m. on Friday, Dec. 4 until 9:00 a.m. Monday, Dec. 7. on a two-block length of the street so pedestrians will have more sidewalk space on what's considered to be a busy shopping weekend in the Union Square area.
Currently, many of the parking stalls are reserved for commercial vehicles during portions of the day and are used by delivery trucks to load and off-load merchandise for many of the high-end retail shops. Other stalls are passenger loading zones used generally by area hotel valets and their guests.
General metered parking for private automobiles is scarce along the portion of Powell St. included in the pilot plan.
Yet it is a very busy street in terms of vehicular and pedestrian traffic. Even on a normal afternoon, shoppers and tourists usually crowd sidewalks on both sides of the street.
The Powell Street Cable Cars share the roadway with regular street traffic and congestion along Powell is common.
The proposal does not call for restricting private auto traffic from Powell St. like other sustainable street trials in other parts of the city.
Cars were banned from a portion of 17th Street between Castro and Noe Sts. so it could be turned into a pedestrian plaza.
Vehicles traveling north on the busy Market St. corridor are now forced to make right turns at Eighth and Sixth Streets.
It may be a headache for drivers trying to navigate the city's already confusing network of roadways, but the closures are part of a plan by city officials to promote sustainable ways of getting around town.
The proposal to eliminate parking from Powell St. for a weekend is expected to be implemented.