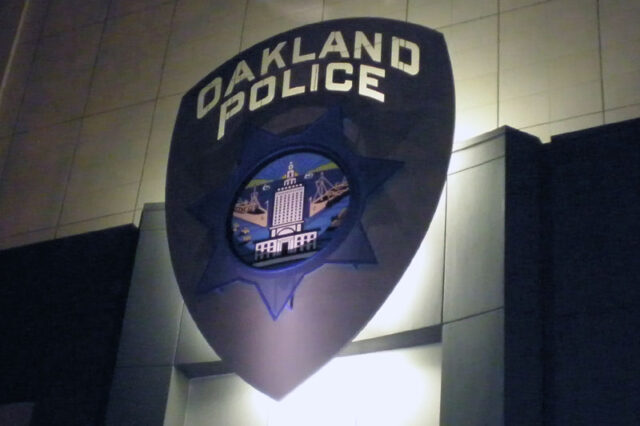 The Oakland Police Department defended the use of deadly force against a man who allegedly assaulted a woman and fled from authorities at a Tuesday afternoon press conference.
But the revelation that the man being pursued by two officers was not armed with a weapon stoked community skepticism over the justifiability of the fatal officer-involved shooting.
Police said they responded to a report from a 911 caller that Derrick Jones, 37, was assaulting a former girlfriend near the 5800 block of Bancroft Avenue in East Oakland at approximately 9:30 p.m. Monday.
When officers responded to the call, police said Jones ran from the scene, leaving two police officers on a foot chase to a laundromat near Trask Street and Seminary Ave.
Officers tried to Tase Jones, but the electric probes missed, police said during the news conference at police headquarters.
"During the foot chase, officers saw the suspect grabbing towards his waistband several times," Oakland Police Deputy Chief Jeff Israel told reporters. "This, of course, is a move consistent with someone reaching for a weapon to possibly arm himself."
The two officers who were chasing Jones said the man reached for his waistband and produced what they observed to be a "metal object." In fear for their lives, the officers shot Jones at least twice, killing him, Israel said.
Israel declined to identify what the metal object was. Oakland Police Public Information Officer Jeff Thomason told media outlets Monday night that Jones was not armed with a gun or a knife.
Friends and family members of Jones crowded Oakland Police headquarters during the press conference and denounced the department for what they said was the unjustified shooting of Jones, who ran the Kwik Cuts barber shop on Bancroft Ave. and had a one-year-old daughter.
They told reporters that Jones was shot six times, and had no weapon on him during the encounter with police.
A memorial at Jones's barbershop grew by nightfall, with community members leaving behind flowers and erecting anti-police brutality posters outside the business.
Police said the two officers involved in the shooting have been placed on paid administrative leave and that the department has launched an investigation into the incident. The Alameda County District Attorney's Office is also looking into the fatal officer-involved shooting.
The fatal shooting of Jones happened just days after former BART Police Officer Johannes Mehserle was sentenced to two years in state prison for the videotaped fatal shooting of Oscar Grant, an unarmed train passenger, at the Fruitvale BART station in 2009.
The controversy over the Grant killing took on racial overtones and triggered massive protests against police brutality through the streets of Oakland, most recently after Mehserle was sentenced on Friday. Mehserle is white, while Grant was black.
The Fruitvale BART station is located within two miles of Monday's fatal shooting scene.
Family members of Jones said they saw parallels between Grant's case and what happened to their relative.
"We haven't even gotten over Oscar Grant and now here we go again," Jones's uncle, Sammy Jones told reporters Monday.