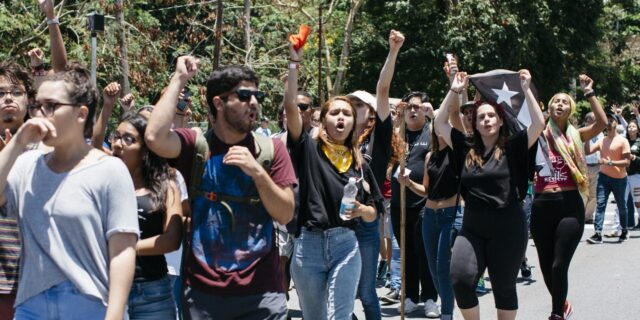 Thousands of protesters joined a general strike called by the Occupy Oakland movement Wednesday, with marches and rallies occurring in Downtown Oakland throughout the day, and an evening blockade of the Port of Oakland shutting down commerce at the freight terminal for the rest of the day.
This was our live coverage of Wednesday's Occupy Oakland General Strike. You can follow instantaneous updates by following @californiabeat on Twitter and react immediately to developments on our Facebook page. Send your photos and contributions to our coverage by e-mailing [email protected].
---
0129 PDT UPDATE: At least 40 people have been detained near 15th and Broadway Sts. Large contingents of police officers and sheriffs deputies from various agencies are maintaining skirmish lines around a small group of protesters at Frank Ogawa Plaza.
There are reports of an injury to a man who sustained a wound to his leg and was hurried into the Occupy Oakland medical tent for treatment. It was unclear how he was injured.
0106 PDT UPDATE: Still a large police presence in Downtown Oakland monitoring crowd of protesters who are taunting officers. There are reports that officers have arrested some people. There are officers from throughout Contra Costa, San Mateo and Alameda County providing mutual aid.
0023 PDT UPDATE: Multiple explosions — presumably from M-80 firecrackers set off by protesters — and dumpster fires have sprouted in several parts of Downtown Oakland. The Oakland Fire Dept. is attempting to douse some of the blazes set by protesters but have been unable to reach other fires because of the large crowds.
Hundreds of police officers wearing riot gear have fired volleys of tear gas towards protesters in an attempt to raid the occupied Travelers Aid building.
Thursday, November 3; 0007 PDT UPDATE: We clarify: no tear gas deployed by police. Smoke was coming from burning dumpsters as part of Occupy Oakland blockade on 16th Street. There's a large police presence that has declared the building occupation unlawful. Officers are threatening to use tear gas to disperse the crowd and enter the building.
2253 PDT UPDATE: Police and sheriffs deputies from several Bay Area agencies are responding to the occupied Travelers Aid building at 16th and Broadway Sts. Reporters on the ground tell the Beat that dozens of officers have set up a skirmish line at 17th and Broadway Sts. No arrests have been made yet.
2306 PDT UPDATE: Protesters in Downtown Oakland have taken over the Travelers Aid building near 16th & Broadway Streets are occupying the foreclosed property. It is the first building takeover of the movement. Protesters say they want to turn the building into a library and shelter for Occupy Oakland campers.
2200 PDT UPDATE: The Port of Oakland says it will not resume operations until it is safe to do so tomorrow morning. Mayor Jean Quan said at a 9:30 PM news conference that this has been a "good day for demonstrators and the 99%".
A growing line of trucks is waiting on West Grand Ave. to get into the Port of Oakland. Photo:
2125 PDT UPDATE: On the flip side, here's a photo of a protester helping a KPIX-TV van trapped near 3rd and Adeline out of the crowd:
2120 PDT UPDATE: KTVU-TV is reporting that Highland Hospital has said that the protesters hit by a car in Downtown Oakland earlier have non-life-threatening injuries.
2105 PDT UPDATE: Photos of the barricade at 3rd and Adeline, and of protesters climbing on a KRON-TV van:
2055 PDT UPDATE: About 200 protesters have set up a metal barricade at 3rd and Adeline and are blocking traffic. Several news vans are trapped and trying to work their way out.
2030 PDT UPDATE: Traffic is once again flowing into and out of the Port of Oakland, with longshoremen cheering the arrival of trucks into the port. Police are leaving the area.
2000 PDT UPDATE: A pedestrian has been hit by a car, possibly intentionally, at the intersection of 11th and Broadway in Downtown Oakland, the Beat has learned.
1920 PDT UPDATE: Many protesters are now headed back towards downtown from the Port of Oakland.
1855 PDT UPDATE: The Beat now estimates the crowd at 15,000, with more protesters streaming towards the Port of Oakland.
1830 PDT UPDATE: Multiple police units — including units from outside the county — are now headed towards the Port of Oakland, the Beat has learned.
1815 PDT UPDATE: A picture from the marching crowd at the Port of Oakland:
1800 PDT UPDATE: A crowd is now marching at Maritime and 7th Sts near the Port of Oakland.
1755 PDT UPDATE: Many truckers are angry at the protesters, saying that they are paid by the load and that this protest hurts them. The maritime section of the Port of Oakland is now closed, and the port is appealing to protesters to allow workers to leave.
1725 PDT UPDATE: Some photos of protesters blocking traffic at the Port of Oakland:
1700 PDT UPDATE: Protesters have now blocked many of the exits to the Port of Oakland, and trucks are being forced to turn around.
1635 PDT UPDATE: Here are some photos of this afternoon's protests in Downtown Oakland:
1630 PDT UPDATE: A large crowd has crossed over 980 on 14th St heading towards the Port of Oakland.
1610 PDT UPDATE: A crowd is now moving towards the Port of Oakland,
which they hope to shut down.
Earlier, protesters moved through downtown Oakland in a peaceful, but chaotic fashion, with the crowd splitting at several intersections as group leaders tried in vain to keep protesters together.
Several incidents of vandalism did occur, with broken windows at the Chase Bank at 20th and Webster in Downtown Oakland and the Bank of America branch at Kaiser Center, and spray paint to several buidlings including the Whole Foods at 27th and Oakland Ave.
1314 PDT UPDATE: After several marches and protests in front of bank branches in Downtown Oakland, the crowd has reassembled at Frank Ogawa Plaza. A group of UC Berkeley students from the Occupy Cal movement has marched down Telegraph Avenue to join the Occupy Oakland demonstrators.
Police said the demonstrations have been peaceful with no violence and no arrests made.
There is a severe traffic impact to Downtown Oakland streets due to the demonstration.
1015 PDT UPDATE: Thousands of people have crowded the streets of Downtown Oakland as part of the Occupy Oakland General Strike closing numerous intersections, including 14th & Broadway Sts. Among those seen in the crowd of the "99 percent" protesting inequity and corporate excess, members of nurses, teachers and longshoreman unions, who backed the General Strike.
AC Transit has rerouted over two dozen bus routes away from the intersection. A complete list of reroutes and missed bus stops is found here. The Oakland Unifed School District estimates that over 200 teachers did not show up for work today in solidarity with the General Strike. The District said substitute teachers were being brought in to replace the absent faculty members.
Morning commuters on BART said they were seeing train cars full bringing students and workers into Downtown Oakland for the protest. An earlier report about the closure of the Port of Oakland because of the strike was later deemed erroneous.
In a statement issued Wednesday morning, Oakland Mayor Jean Quan backed the strike, but said, "but it is our duty to prioritize public safety."
"Many Oaklanders will not be participating in today's events, even if they may support the overall goals of those demonstrating," Quan said. "We must make sure that those who have to go to work and keep their businesses open are able to do so."