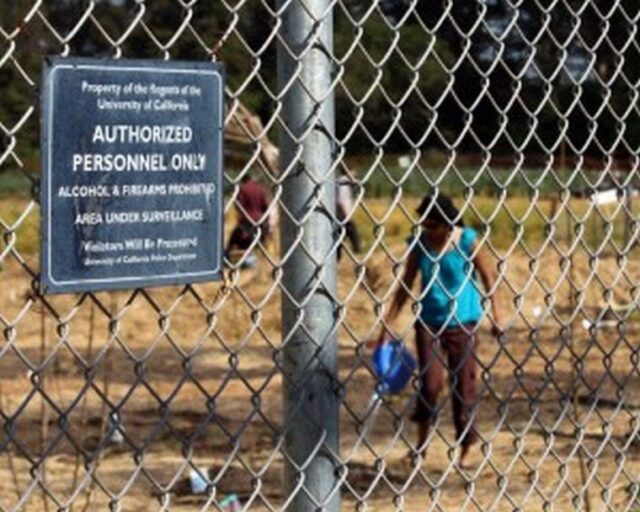 Occupy protesters who have taken over a vacant plot of land in Albany owned by the University of California have been given a 10 a.m. Saturday deadline to disband their encampment and leave the property, university officials said Friday.
In exchange, the university said it would drop criminal prosecution it had been seeking against some of the protesters and set aside part of the land for urban agriculture.
The university asked protesters to take part in a Saturday morning meeting to discuss the future of Gill Tract, a vacant parcel of land located at Marin and San Pablo Aves. in Albany and used by UC Berkeley's agricultural researchers who warned the occupation was impeding on their work.
"If they refuse to depart, we will also take the unilateral steps necessary to protect the academic freedom of our faculty to pursue their interests without interference," read a letter signed by UC Berkeley Executive Vice Chancellors George Breslauer and John Wilton. "The research work must begin in a very few days and our commitment to act in its support is firm and non-negotiable."
The university offered protesters two seats at a discussion scheduled for Saturday with UC faculty and students, the City of Albany, and residents of the nearby University Village neighborhood on the future of the tract.
This week, UC Police cut off access to the 10-acre property by erecting barriers and fences at its entrances. Private security guards were also hired to monitor the land.
When asked about whether they would accept the University's offer Friday afternoon, protesters remained skeptical about the Saturday meeting and vowed to continue the occupation.
The university filed a May 9 lawsuit against 14 of the protesters for trespassing and public nuisance violations in an attempt to remove them from the property.
Protesters began their "Occupy the Farm" demonstration on April 22 when they declared the site their headquarters for a movement against agribusinesses and advocated the land be turned into a community garden.
"We urge the occupiers to take "yes" for an answer, leave our property, allow the research to commence and have a seat at the table," the UC letter read. "We are moving on and can only hope they will quickly decide to choose collaboration over confrontation."