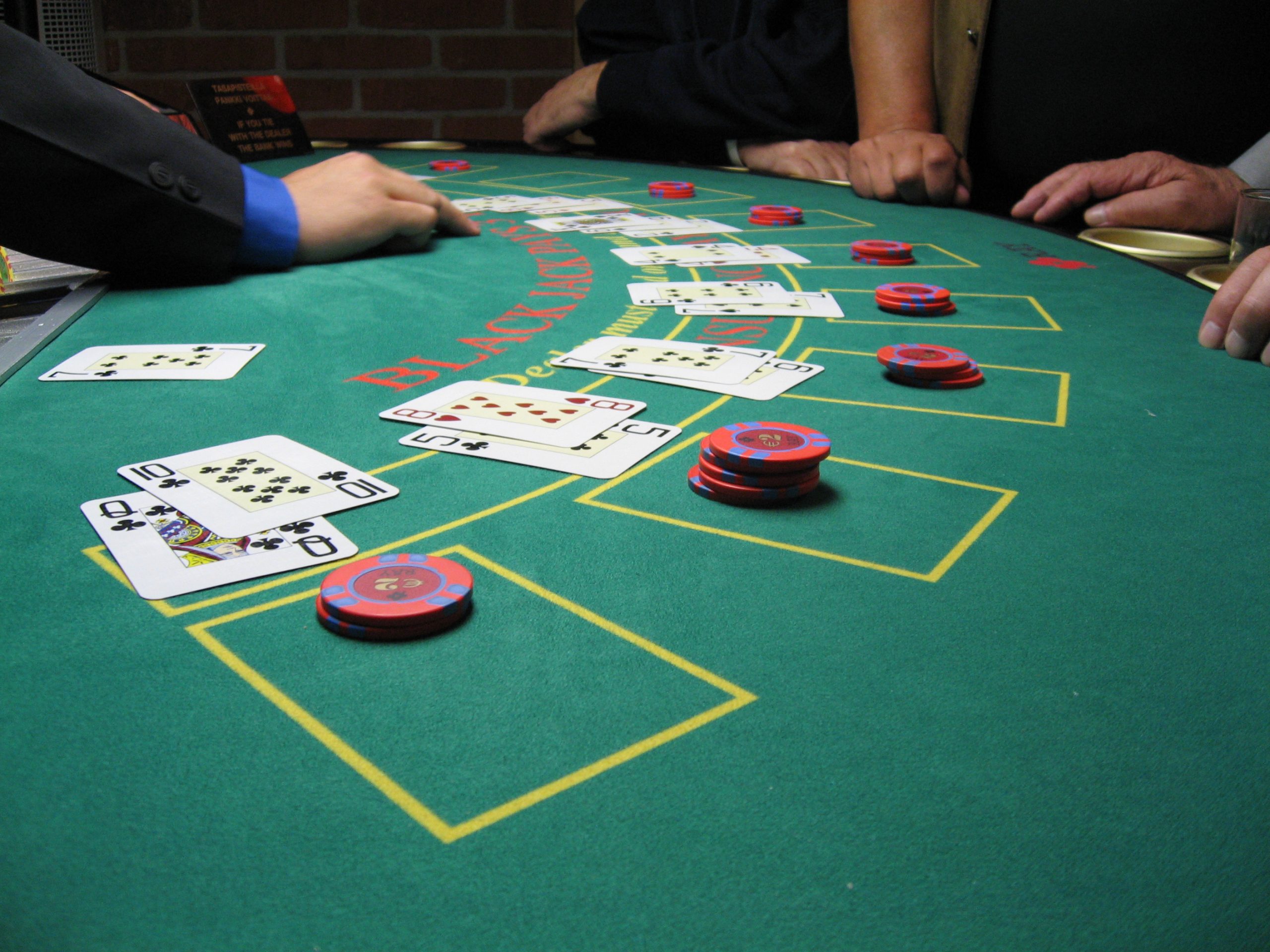 Imagine spending a night at home with friends and suddenly getting the idea to play blackjack. There is no casino near you, so what can you do?
Well, you can purchase a portable blackjack table that you can set up in no time, get your cards out, pour some drinks and enjoy some fun time with your friends! It is as easy as that.
Here are our top five choices for the best portable blackjack tables. Stay tuned for the main features, characteristics, and prices, so you can easily choose the one that you suits you best. 
1. Brybelly Blackjack and Roulette Table Felt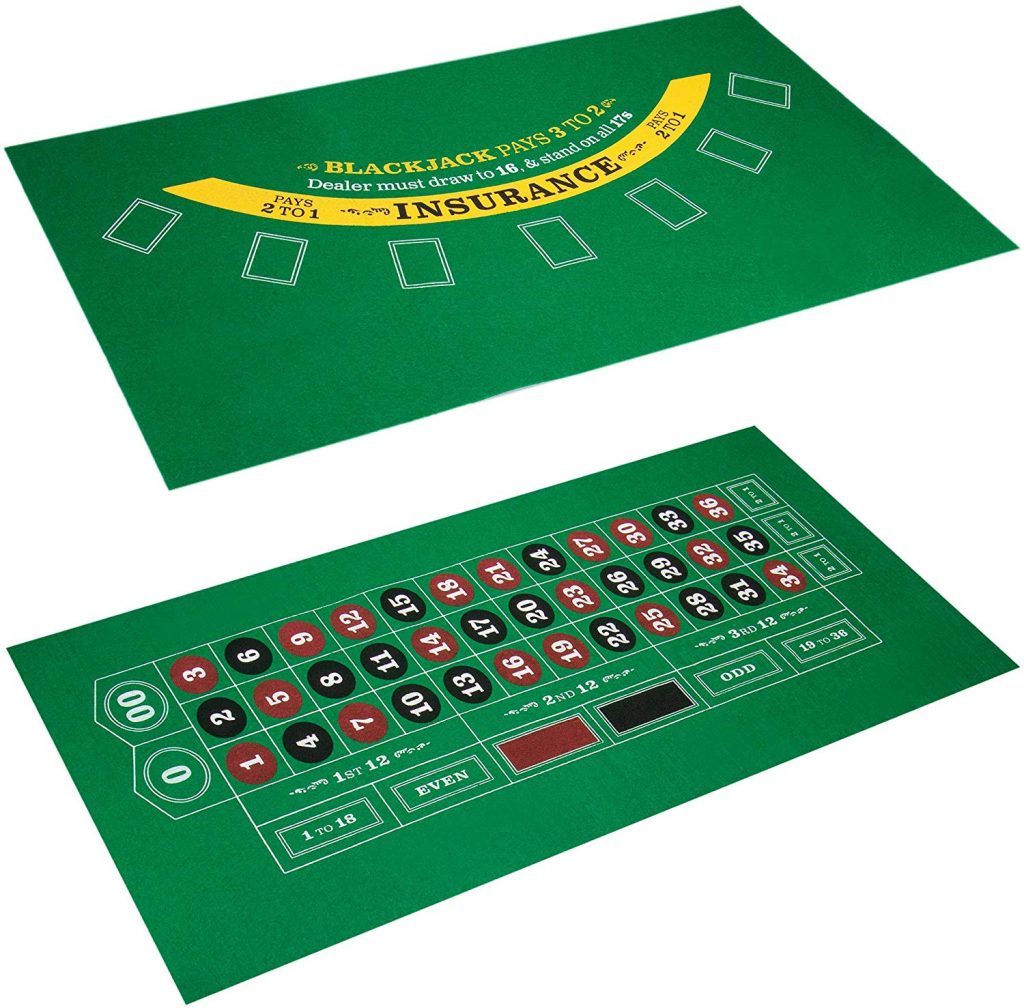 The size of this table felt is made to fit tables used in dining rooms – 14 x 12 x 0.1 inches. It is 2mm thick and its texture is very comfortable, it is not too smooth, but not rough either. This blackjack table felt is just what you need for a casino like party – it will make your living room into an exclusive casino for the night. 
The quality is good and the price is very affordable – $9.99. It is a great addition when you want to get a little sense of the real casino gambling and you don't have the opportunity to really go and experience it firsthand. For this price, you will get an extraordinary opportunity to have some fun and get a real feeling that you're an exclusive member of any Las Vegas casino. It is a good choice when there are fewer people so it is not too crowded.
2. Brybelly Double-Sided Craps Table & Blackjack Casino Felt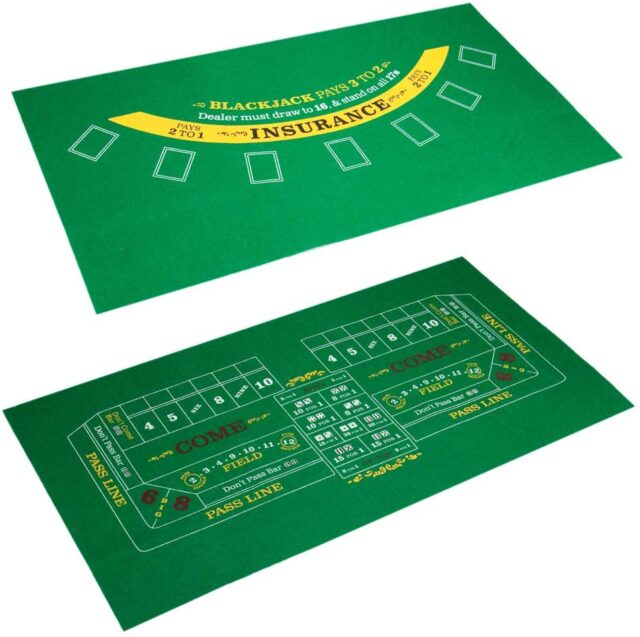 If you wish to turn your living room into blackjack hotspot, then this casino felt is just what you need. The only thing you need to do is pull it out of the bag, place it on the table, and the games can begin! Have you heard the expression " the house always wins"? Well, tonight, it may be your house! Enjoy a nice night of blackjack without going anywhere. The size of this casino felt is 36″ x 18″ and on one side it has a layout of classic craps, but the other side is designed for blackjack which is pretty convenient. 
Its use is very simple – you only need to place it on the table and start playing. Its price is pretty affordable – $9.99. It can be the first investment so you can see just how fun it can be to organize casino nights at your home. Besides having it as a surprise option for evenings when you want to add some excitement when your friends come by, it is also a nice present that you can give to your friends.
3. Roll Out Gaming No-Slip Rubber Foam Casino Table Top Layout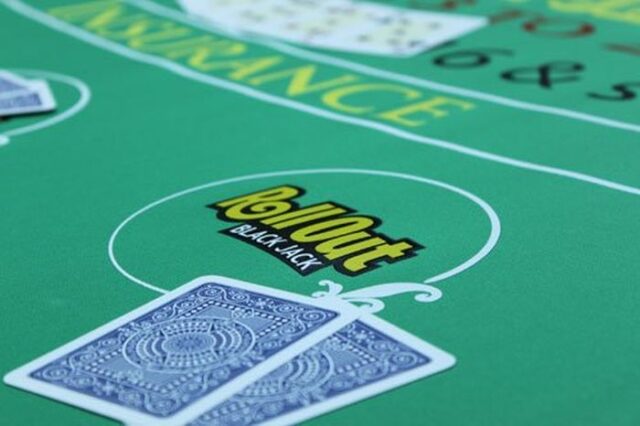 Your dining room table can easily become a blackjack casino table. This tabletop layout is especially interesting because it is very durable, it is resistant to tearing and the bottom that is rubber-lined guarantees that it won't slip away. No one wants to have all the cards accidentally pulled to the floor because the tabletop is too slippery. 
Its dimensions are 70″ x 36″ and it can be stored easily pretty much anywhere. Up to eight players can enjoy the game by playing on this tabletop. You don't have to give a fortune on taking your friends out. Simply take it out of the closet, put it on the table, bring out the cards and you will be ready. Its price is $49.99, making it pretty affordable. 
4. IDS 4-Fold 63″ Poker Blackjack Table Top w/Chips Trays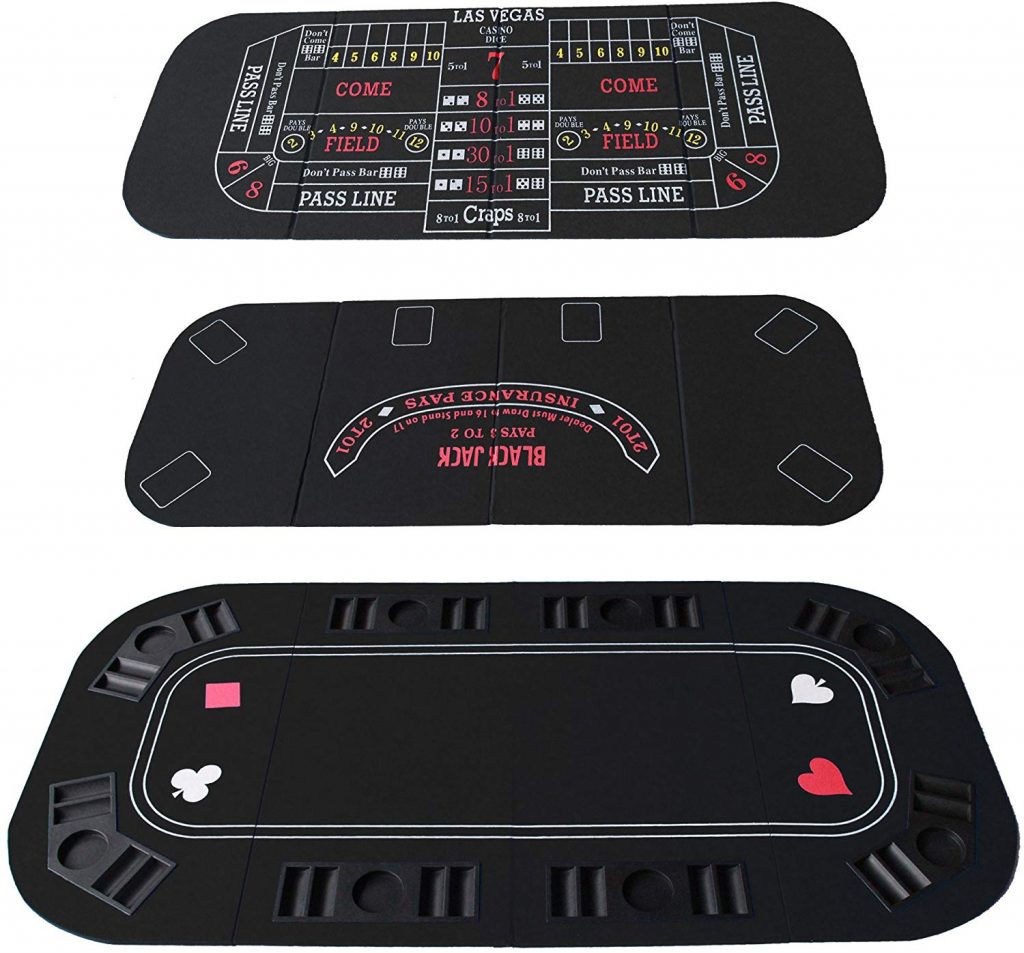 When you wish to play poker with more friends. Tabletop for eight players may be the right choice for you. It is made with great care making it a very quality tabletop with padding. It has one cup built-in for each player. It also comes with a carrying case which makes transportation easier. Since it can be folded, it can easily fit in the closet, under the bed or in your car. Its size is 63″ x 35″. 
It is very well made and it is sturdy. It is made of wood which really adds to the overall impression of it. Who knows, maybe you will become a regular host for poker nights with your friends. Having this table will surely make it happen if you want to. Its price is a$65.99. It's is a little bit pricey, but the investment will certainly be worth it – you'll have the time of your life, and not step a foot outside of your home to find the best party in town.
5. 72" Blackjack Table with Folding Legs (Green Felt)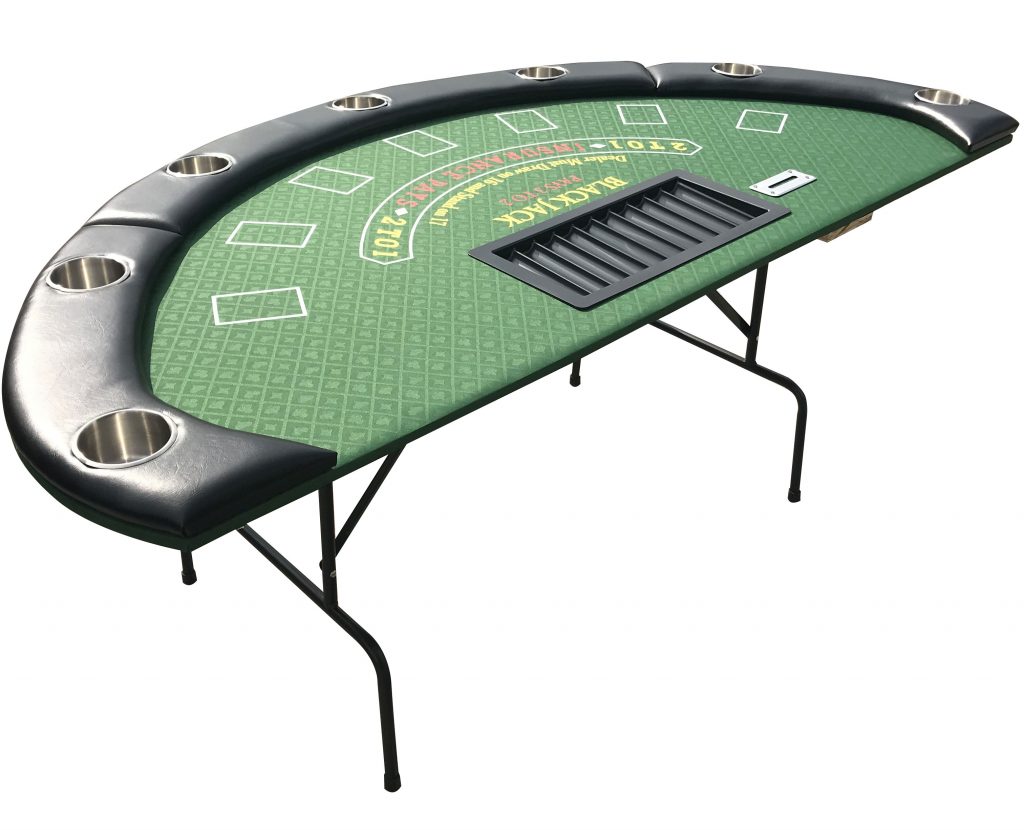 If you wish to have a real table for blackjack, but don't have enough room to store it, then this may be just the right option for you. It is a folding table made to resemble the ones in casinos. There are seven positions for players in total. The legs of the table can be folded and are made of metal. It comes in this size – 71″ L X 36″ W. The height of the table is 28 inches. What is especially interesting about this table is that there are cup holders built-in. 
No one likes to spill their drinks all over the table, so this is a great addition for all those players who simply don't want these kinds of accidents to happen. The playing surface is padded making it more comfortable for players. The price is a little bit higher than the previous few – $399.95. If it's in your price range then you should definitely consider it. 
If you're not ready to invest in a blackjack table, you can check out clovr. Simply check their website and you will get the feeling like you're in the real-time casino. Play blackjack, poker, roulette, slots, dice or baccarat, it is up to you. Try your luck and have fun while playing. It is available 24/7.