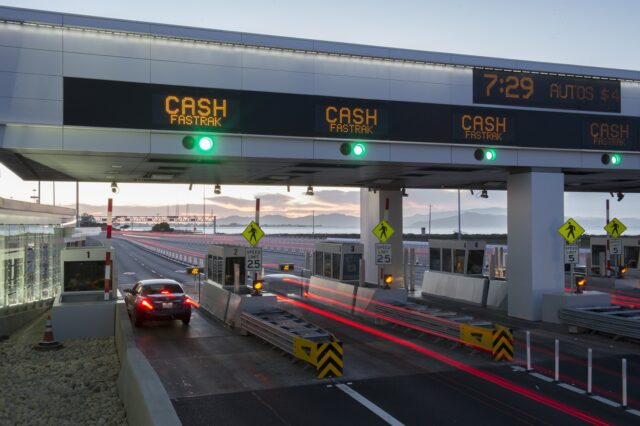 Is there such thing as sticker-shock at the toll booth? On Thursday, Bay Area drivers will find out.
Tolls on all seven state-owned bridges in the Bay Area will go up today, and for the first time since the mid-1970s, carpoolers on all bridges (including the Golden Gate Bridge) will be required to pay too.
At the Antioch, Dumbarton, Richmond-San Rafael, Hayward-San Mateo, Carquinez Bridge and Benicia bridges, the toll for two-axle vehicles rises by a buck to $5.
At the Bay Bridge, the Bay Area's busiest crossing, drivers crossing the bridge during commute hours (5 a.m. to 10 a.m. and 3 p.m. to 7 p.m.) will have to foot a $6 toll. Outside of commute hour periods, the toll will remain at $4 on weekdays.
On weekends, drivers must pay $5 to cross the Bay Bridge.
The fluctuating toll is part of the Metropolitan Transportation Commission's, the Bay Area's governing authority overseeing transportation, pilot initiative to implement its congestion pricing project on some of the region's most heavily traveled roadways.
They hope that by offering higher prices during certain busier of the day, drivers will use the bridge during non-peak hours when congestion is light and tolls are cheaper.
Signs have been installed above the Bay Bridge toll plaza in Oakland that includes the time of day and current price for crossing the Bay Bridge.
Carpoolers, who have enjoyed free rides for the better part of the three decades, will now be required to pay a toll on all of the state-owned bridges. They will be charged $2.50 and must have a FasTrak toll transponder in their car to use the "diamond" lanes.
At the Golden Gate Bridge, carpoolers will pay $3. The $6 toll to cross into San Francisco from Marin will not go up.
Why are tolls being hiked on the state-owned bridges? Much of the additional money will go to renovating the Dumbarton and Antioch bridges to meet state seismic safety standards.
The rest?
To help close a budget deficit in maintaining transportation infrastructure in the Bay Area because — get this — fewer people are paying tolls when they cross the bridge in the past 5 years.