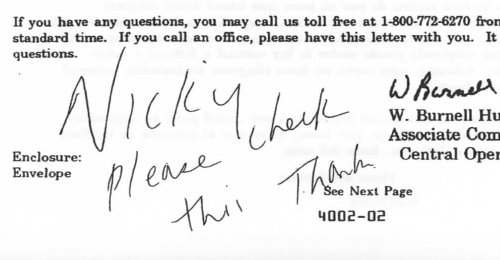 Attorney and Democratic activist Gloria Allred produced copies Thursday of a critical notification letter — with handwriting she says is that of Republican gubernatorial candidate Meg Whitman's husband — to support her claim that Whitman knowingly employed an undocumented worker as a housekeeper.
The allegations could prove to be both politically embarrassing for a candidate who has talked a tough line on employers who hire illegal immigrants and costly with Hispanics, who make up an increasing proportion of the state's voters.
At a press conference, Allred brought out blow-up copies of a 2003 Social Security Administration "no-match" letter — considered a warning that an employee might be undocumented — concerning Mexican-born Nicandra Diaz Santillan, who was employed as Whitman's housekeeper from 2000 to 2009.
The letter included a partially-filled-out form, with a handwritten note at the bottom saying "Nicky, please check this. Thanks." Allred and Diaz claim the handwriting is that of Meg Whitman's husband, Dr. Griff Harsh, and say he never followed up with Diaz on the issue.
The release of the letter came just hours after Whitman and her husband held a press conference saying that neither had seen the letter. Whitman, who even offered to take a lie-detector test, suggested Diaz, who was in charge of the mail, might have "intercepted" the letter.
Whitman said that she had no idea that Diaz was in the country illegally until she told her in June 2009, and that Diaz had provided false information to the hiring agency she had used. Whitman said she fired Diaz as soon as she found out. "It was one of the hardest things I've ever done," Whitman said in a statement Wednesday.
Whitman's husband said in a statement late Thursday that, while he "honestly [does] not recall receiving this letter," it is "possible" that the handwriting is his. He said the letter was not firm evidence that Diaz was in the country illegally.
No-match letters are sent when the name and Social Security number on a W-2 don't match any records the Social Security Administration has on file. The Social Security Administration says there are a variety of reasons a no-match letter could be sent, including "typographical errors, unreported name changes, inaccurate or incomplete employer records or misuse of an SSN."
A no-match letter is considered a sign that an employee might be undocumented, since illegal immigrants — who cannot legally obtain a Social Security number — frequently give made-up Social Security numbers to their employers.
Allred also alleged Wednesday that Whitman forced Diaz to work extra unpaid hours and abused her, claims Whitman denies. "[Diaz] is being manipulated, and I'm sorry. Everything Gloria Allred is saying is an absolute lie," Whitman said.
But for a candidate who has talked a tough line on illegal immigration — speaking in Tuesday's debate with Democrat Jerry Brown of plans to "hold employers accountable" for hiring illegal immigrants — the allegation that she knowingly employed an undocumented worker could be a major embarrassment.
And the images of Diaz crying and the allegation that Whitman mistreated her could reverse any inroads Whitman might have made among the state's Hispanics, who have doubled as a proportion of the vote since 1990 and now comprise about 20% of the state's voters. Whitman is scheduled to debate Brown on Saturday, in an event hosted by the Spanish-language broadcaster Univision, and the allegations are almost certain to come up during the debate.
Whitman campaign officials pointed to Allred's Democratic ties and tried to paint the day's events as a dirty trick by the Brown campaign.
At a campaign event Wednesday at tech firm Cisco Systems in San Jose, Whitman tried to characterize the spat as politics as usual. "Politics is a blood sport," she said.
Allred denied any connections to the Brown campaign. She said Diaz's case had been referred to her by another attorney, whom she did not name.