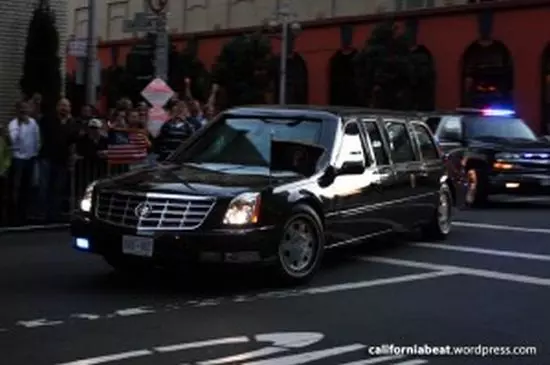 President Barack Obama — in full campaign mode — will head to California Thursday to raise money and campaign for Democratic candidates locked in tight electoral races against Republican opponents less than two weeks before voters head to the ballot boxes on Nov. 2.
Obama, who remains largely popular amongst California voters, will arrive in the Bay Area at 3 p.m. Thursday afternoon to attend two private Democratic fundraisers in Palo Alto and Atherton, according to the White House.
The President will stay overnight in the Bay Area at an undisclosed hotel and will fly to Los Angeles Friday morning to attend a daytime public rally and private fundraiser for U.S. Senator Barbara Boxer.
Obama's Bay Area trip was originally to include a fundraiser at the Four Seasons Hotel in San Francisco, but the event host, Google executive Marissa Mayer, moved the $30,000-a-plate private dinner to her Palo Alto home over concerns that the Presidential visit could conflict with San Francisco Giants playoff game traffic at AT&T Park, the Chronicle reported.
If the team wins Thursday's game, which will start just before 5 p.m., they would clinch the National League pennant for the first time since 2002 and play in the World Series.
The President is also scheduled to attend a Democratic National Committee dinner that will benefit state Attorney General candidate Kamala Harris — one of the earliest backers of Obama's 2008 presidential campaign — at the home of former California State Controller Steve Westly in Atherton, according to the Chronicle.
The California trip is part of a marathon West Coast campaigning spree for Obama, who will arrive in the Bay Area after attending a Thursday morning rally in Seattle for three-term incumbent Democrat Patty Murray of Washington state, who is facing a tough reelection campaign against Republican senatorial hopeful Dino Rossi.
The White House is paying particular attention to incumbent Democrats facing strong opposition from Republican candidates — fearful that traditionally safe party seats — such as Murray's and Boxer's — could change hands.
"On the federal level, every seat counts," California Beat Political Director Steven Luo said. "A Fiorina victory in California, combined with other good results for Republicans, could mean Republican control of the Senate."
Boxer retains an 5 point lead over her Republican challenger, ex-Hewlett Packard CEO Carly Fiorina, according to a non-partisan Public Policy Institute of California poll released Wednesday.
Among likely voters, 43 percent would support Boxer; 38 percent would vote for Fiorina, according to the poll. A relatively high number of voters — 13 percent — remained undecided in the race.
Obama will leave the Bay Area Friday morning for Los Angeles, where he will attend a 11 a.m. rally at the University of Southern California.
Authorites are warning Bay Area motorists that the California Highway Patrol will close portions of Highway 101 or Highway 280 Thursday and Friday morning to allow the Presidential motorcade full access to the roadway. Drivers should expect some rolling closures through Peninsula freeways and some surface streets because of Obama's visit.