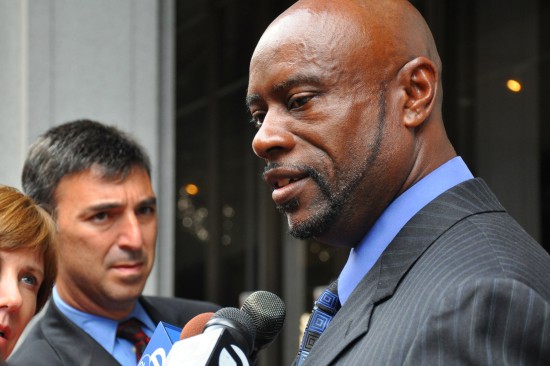 LOS ANGELES — A Los Angeles judge denied bail to former BART Police Officer Johannes Mehserle at a hearing Friday afternoon, dismissing a defense motion that sought the release of the former transit officer from jail pending an appeal of his involuntary manslaughter conviction.
"This court sincerely believes [Mehserle's conviction] will not be reversed" on appeal, Los Angeles Superior Court Judge Robert Perry explained.
Perry said that in order for Mehserle to be granted bail, his appeal had to raise a "substantial legal question" that "would result in a reversal" of his conviction if decided in his favor.
Of the defense's arguments, which include claims that the judge was mistaken in telling the jury that Mehserle could be found guilty of involuntary manslaughter if he "knew or should have known" that controversial former BART Police Officer Anthony Pirone was using excessive force, Perry said, "none of these issues […] would likely result in a reversal of [Mehserle's] conviction."
A jury found the former officer guilty of involuntary manslaughter for fatally shooting unarmed train passenger Oscar Grant on New Year's Day 2009.
Mehserle, 28, has been housed in the Los Angeles County Men's Jail since the July 8, when the jury delivered the verdict against him.
Perry sentenced Mehserle on November 5 to two years in state prison minus 292 days credit for time served and good behavior, so the former officer will likely be eligible for release after serving about six more months.
Mehserle's defense lawyer Michael Rains argued his client should be freed on bail in part because the appeals process will probably take longer than six months to complete.
But prosecutors said Mehserle's appeal did not raise any issues which were likely to cause an appeals court to overturn his conviction.
Perry agreed, saying he believes the verdict was "fully supported by the evidence" and that it was unlikely to be "disturbed on appeal."
Rains said he was "disappointed" by the judge's ruling. "We disagree with that ruling," he told reporters at a press conference after the hearing, saying he would "probably" appeal the decision to deny Mehserle bail.
He said the defense would go forward with its appeal of Mehserle's conviction, even though Mehserle will likely have finished his sentence before his appeal is decided. Mehserle is "very determined" to see the process through, Rains said, because he believes no police officer should have to go through what he has.
To let the jury's verdict stand would "send a message" to district attorneys around the state that charging police officers for mistakes made on duty was acceptable, Rains said.
Meanwhile, Grant's uncle Cephus Johnson reporters that the Grant family was "extremely surprised" and "happy" that Mehserle was denied bail.
"We believed [Mehserle] was going home," he said, calling the decision to deny bail "a very small step […] in the right direction."
Johnson said the family was "still in pain" over Mehserle's acquittal on murder charges and the imposition of the minimum sentence, and urged the Alameda County District Attorney's office to appeal the judge's dismissal of the jury's finding that Mehserle "personally used" a firearm. The gun enhancement could have added up to 10 years to Mehserle's sentence.
Mehserle fired a single shot into Grant's back, killing him, at the Fruitvale BART station in Oakland during the early morning hours of Jan. 1, 2009.
The killing was captured on video and disseminated worldwide. The shooting sparked protests and stoked community mistrust of law enforcement throughout Oakland after many residents claimed the shooting was motivated by race.
Mehserle is white, while Grant was black.
The Alameda County District Attorney's office charged Mehserle with murder in Grant's death. During his trial, prosecutors argued Mehserle intentionally used his firearm to shoot Grant, while the defense maintained he wanted to subdue Grant and mistook his firearm for his Taser.
About a dozen supporters of Grant gathered in downtown Oakland after Friday's hearing, calling Perry's decision not to grant bail to Mehserle an unusual, albeit small, victory.
Mehserle to finish his sentence in LA jail?
Friday afternoon's open hearing was followed by a session in the judge's chambers, at which it's believed both sides discussed where Mehserle will spend the next six months.
Rains would not be drawn on what was discussed during the session, but he did say "it doesn't make sense" to transfer Mehserle from the Los Angeles County jail where he is currently staying to the state's overcrowded prison system for such a short stay.
He called the question of Mehserle's safety during his imprisonment "paramount," praising the Los Angeles County sheriff's department for keeping his client safe.
But Johnson was not keen on the idea. Mehserle should go to prison, just like other "convicted felons," he said.