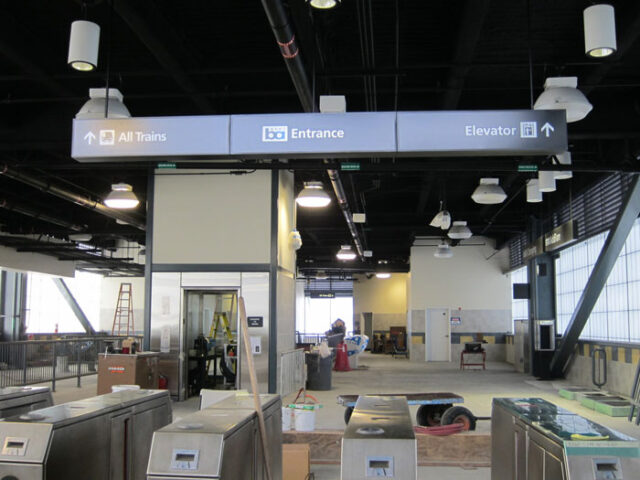 After months of delays and millions of dollars in cost overruns, BART's 44th and newest station will open to passengers this Saturday.
The long awaited grand opening of the West Dublin/ Pleasanton station will give Tri-Valley BART passengers – particularly those commuting from the Highway 680 corridor — a much more convenient option to take the train.
The station is built in the center median of Interstate 580 straddling the border between the cities of Dublin and Pleasanton. It is connected to both municipalities via two elevated pedestrian bridges that will take riders from the station platform, over five lanes of freeway traffic to two multi-level parking garages (one each on the north and south ends) that will alleviate a parking shortage at the existing Dublin/ Pleasanton station.
The new garages will accommodate 1,200 additional vehicles with parking priced at $1 a day.
The station will also give riders a 5-minute walk from BART to the Stoneridge Shopping Center and other transit oriented development projects slated to be built near the new station. BART officials expect 8,500 riders a day will use the new station by 2013.
The West Dublin/ Pleasanton station is the first "in-fill" (built on an existing line) station that the agency has constructed since the Embarcadero Station in Downtown San Francisco opened to the public in 1976 and eliminates an uninterrupted 10-mile stretch of track between the Castro Valley and Dublin/ Pleasanton stations.
The opening of the station was delayed for more than a year after the agency feared that welds made by a contractor on the two pedestrian bridges were substandard. The bridges sat idle alongside Interstate 580 for months while engineers and project managers addressed the safety concerns.
The delays ran the final budget for the project up by $20 million and stoked criticism of the agency for mismanagement of the project.
The total cost to build the station: $106 million.