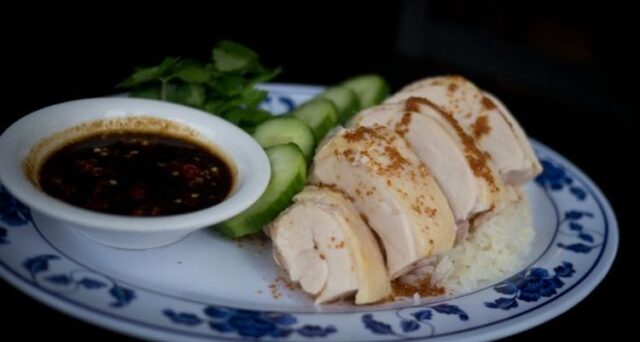 In the space of a few short years, Uptown Oakland has grown into a culinary destination, with foodies in search of a good bite to eat flocking to the neighborhood to sample offerings from new — and hot — restaurants like Hibiscus, Flora, Plum, and Hopscotch.
But one restaurant that's made a big splash in the neighborhood keeps regulars coming back for more and entices curious visitors to come to see what the buzz is all about.
It's hard to imagine a better way to start your culinary adventure in Oakland than by hitting up Hawker Fare for inexpensive Asian food.
The chef-owner is famed James Syhabout, who also owns Commis, the Michelin-starred restaurant across town. Syhabout, who grew up in Uptown, opened Hawker Fare last year in the space that used to house his mother's Manyda Thai Cuisine restaurant.
The first thing customers will notice is the graffiti artwork on the yellow wall that reads, "Hawker Fare: To sell goods by outcry in the street." A variety of music vintage posters hung underneath the graffiti gives the restaurant a used record-store coolness.
The restaurant typically sees a line out the door during lunch, drawing a diverse crowd of working professionals, families and neighborhood residents.
The Southeast Asian street food rice bowls for which the restaurant is known are all priced under $10. It's a hard deal to beat in the burgeoning Uptown neighborhood.
One of Hawker Fare's most popular dishes is Kao Mun Gai, poached chicken served with salted mung bean sauce, fresh cucumber, cilantro leaves atop rice.
"Our goal is to make hearty and soul felt dishes that you can find at Sunday dinners with grandma," Executive Chef Justin Yu said.
Yu said he's passionate about serving good quality food at reasonable prices and says he focuses on consistency.
Another must-try dish is the Satay Short Ribs marinated in coconut milk, turmeric, garlic and savory peanut sauce, served with a scoop of rice and grilled scallions. With a variety of different beers and a rotating tap from Oakland's Linden Street Brewery to wash things down, it's no wonder why Hawker's Fare is another Uptown hit.