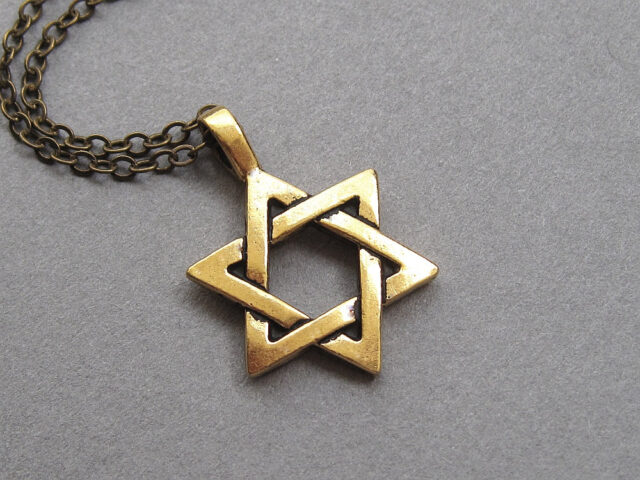 Jewish jewelry and the symbolism of the Star of David… Where do we even start? There has always been something magical about choosing our own jewelry with a special, deeper meaning. We don't want it to just shine. Nor it needs to be made of real gold or silver. We don't feel like wearing "anything" or something insignificant around our neck or our wrist.
It all makes a lot more sense when we can wear real little symbolic artwork on our necklaces. Or if we can have amulets of a specific form. We want to be asked: "Hey, wow, why exactly THIS pendant?" so that we have the ability to tell the whole story behind our choices. We think of it as a way for people to get to know us better and to see easily what actually matters to us in life.
Jews have always been regarded as phenomenal traders, but also as extremely talented  and artistic jewelers. Their art of making the finest handicrafts out of pure gold still remains admired to this day. And perhaps, only perhaps, this is one of the reasons why some of the most significant symbols of the Jewish people have nested in this type of manufacture. Even now, in the modern age, it's a perfect way to connect personal beliefs, symbolism and faith with physical appearance. It offers the opportunity to proudly present all of this through our style and to be recognizable by it.
Today we're going to talk about one such piece, today rather popular – a necklace with the motif of the star of David, a world-famous and authentic shape. In addition to looking captivating, mystical and exotic, this symbol also has a long, diverse history.
Even today, there's no surefire information about what its meaning really is, nor could anyone bet on it. This is precisely the charm of everything: presenting all those things that it might mean. That's our task for today. Get ready to get to know this peculiar sign better and finally understand the reason why jewelry containing its motive is so fundamental to the Jewish people.
The Meaning of the Curious Six-Pointed Sign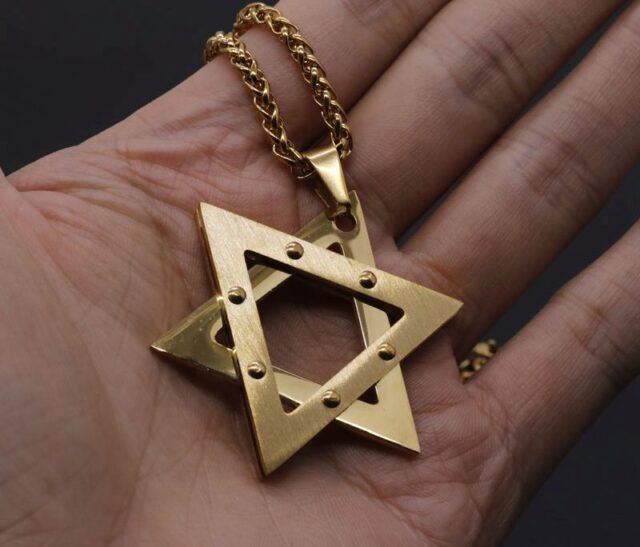 Everyone probably knows what this mark looks like, right? The Star of David, which is also widely known as the Seal of Solomon, or The Shield of David, is an ancient symbol formed by two linked triangles looking like a hexagram.
The most fulfilled meaning would simply state – it symbolizes the permeation and reconciliation of two opposite sides of life: heaven and earth, spirit and matter, light and darkness, man and woman, time and space, soul and body, night and day, and the invisible and visible world.
However, it seems that it hides much more other stories and possibilities than it might be known. Old tales were saying that one of the more striking features of this shape was that it was possible to draw all twenty-two letters of the Hebrew alphabet  in lines of hexagrams. In those times, something like this was probably a mind blowing fact even for the most appreciated intellectuals and educated individuals.
Even at that time, the shape of David's star was used as a common amulet in Jewish folklore. It's believed that it was heavily influenced by the astrological myths people encountered during their years of exile in Babylon and Persia. Wearing six-pointed earrings or pendants as lucky charms was nothing unusual in ancient Mesopotamian culture. And, if you know at least a little bit about world history, you'll remember that it had a rather significant, but undesirable influence on popular Jewry.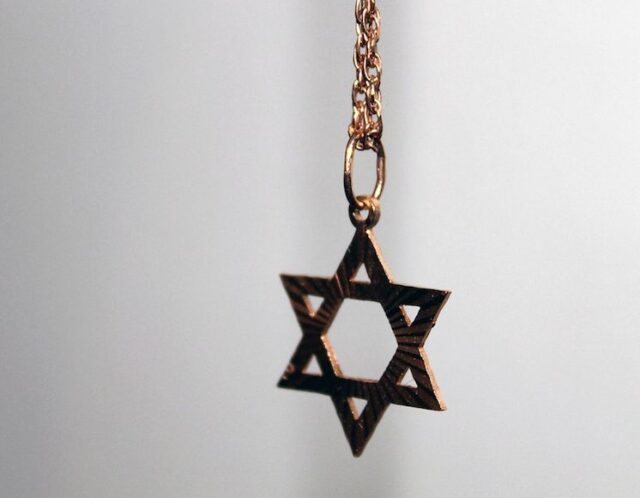 However, many people who know history well are claiming that it's actually quite unlikely that the syncretism of Hellenic, Coptic or Hindu influences has something to do with its origin. In fact, many scholars believe that the Hindu hexagon, also used as a talisman and known in its religion as the seal of Solomon, comes exactly from the Jews. Therefore, it seems that this is the first reason for its popularity – a true national symbol.
This doesn't end in ancient history. The Star of David was originally not meant to be stigmatized, nor was it originally ever confirmed that it's exclusively a Jewish symbol.  However, more than seventy years ago, during World War II, the Nazis forced all Jews in Germany to wear a yellow six-pointed star on their clothes. Why? In order to make them clearly recognizable.
This representation made it less difficult for the enemy to find Jews and transport them to concentration camps. The Jews who lived in occupied Poland had to wear a white ribbon with a blue star wrapped around their arms. That picture is now well-known as the Israel flag design. Centered in the middle of two blue stripes, it embellishes the center of it.
There was actually much debate about whether or not to use the symbol as a representation of the flag. However, it was finally decided that it was definitely the symbol of the unity of Jewish followers.
Lovely Necklaces as a National and Religious Emblem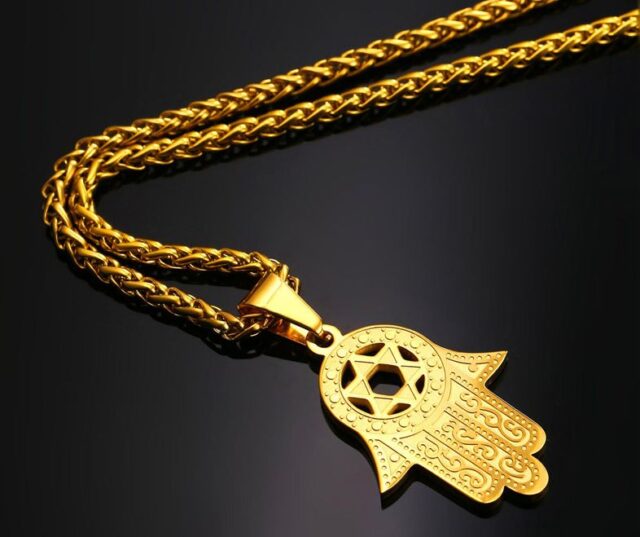 It's common in both men and women to wear bracelets or necklaces that have charms with representations, images or symbols. As we previously stated in the introduction, those are often directly linked with their tastes, interests or personality. The shape of the shield of David centers itself among the most common charms in this type of accessories.
Nowadays it's possible to find more than a wide spectrum of various lovely pieces of jewelry with this motif. Especially pendants and necklaces. From long, thick and braided chains made of gold or stainless steel, to fragile-looking and lovely thin chains with tiny star-formed pendants, it's not tough to fall in love with them.
There are many unisex pieces full of carefully engraved details that look exactly like a solid gold accessory, but have a weight less than real gold. For handmade crafts lovers, it's always possible to find gorgeous alternatives with polished gemstones, engraved with the help some seriously artistic skills and lots of love.
They look even more lovely when they're made of natural gems free of chemical treatment – the color gets slightly deeper. It's probably unnecessary to even mention that they're coming in so many different forms and materials. I mean, just have a look at JewishShop and all the pieces offered there – aren't those amazing? Makes you want to grab one in the speed of light!
The best thing about this type of jewelry is that you can find a piece for every outfit and styling. Necklaces like these are perfect to wear every day, as its attractive appearance makes it easy to combine with what you have in your wardrobe. However, it makes a wonderful accessory that goes absolutely fantastic with elegant dresses and smart outfits. Oh, and one more advantage of them – they're also an outstanding gift for a special person in your life. Especially if it's related to his or her life story.
As a final word, we could say that the truth is that jewelry with this motif isn't only worn by Jews. Indeed, they're most often interested in these fashion details, but it slowly changes. It's assumed that the rusticity and the rich range of possible meanings is what sets David's star apart from a sea of regular shapes and forms. It's not only a traditional sign anymore. It turned into an elegant, fine accessory with precise finishes. But even more important, it remained the true seal of the Jewish people and the embodiment of their history and culture within one single symbol.