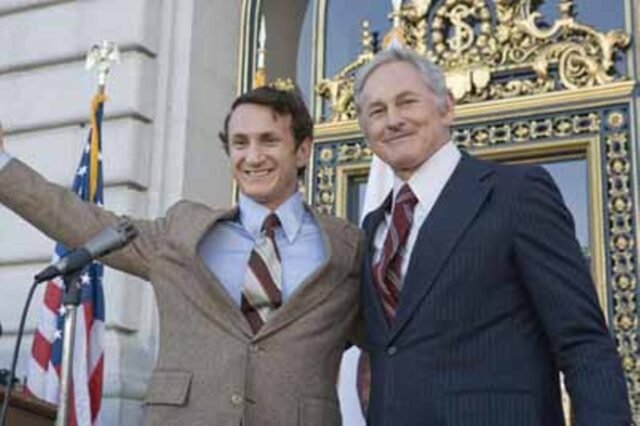 For those who were around to witness the tragic City Hall killings of San Francisco Mayor George Moscone and the nation's first openly gay politician, city supervisor Harvey Milk unfold, you know how the events of Nov. 27, 1978 rocked the Bay Area's foundation.
It seemed like the world was coming to an end. First the mass suicide of 900+ members of the People's Temple in Jonestown, Guyana just ten days earlier, and then the killings of two prominent San Francisco elected officials.
But the focus in Gus Van Sant's brilliant motion picture film Milk is about the gay supervisor, a pioneering figure who has become a hero in the gay community that inspired a new generation of political activism and equal rights for homosexuals in California and throughout the country.Academy Award-winning actor and Marin County resident Sean Penn plays Harvey Milk. He is surrounded by a star-studded cast: Josh Brolin as Supervisor Dan White, who would kill Moscone and Milk; Emilie Hirsch as Milk's clever young campaign activist; and James Franco, Milk's lover and political sidekick.
The film is witty, insightful and gives us some historical precedent about how the battle for Gay Rights evolved in California. Proposition 6, known as the Briggs Initiative that California voters defeated in 1978, would have given school districts the right to fire gay teachers and introduce staunchly conservative anti-gay legislation in the state.
It would have been a giant step backwards for equal rights for homosexuals, one that Van Sant uses as a critical plotline to etch out Milk's pivotal role in rallying his Castro District constituents and residents of the Golden State to reject the discriminatory initiative.
The film tracks Milk's political career from his move to the west from New York City, the tribulations and crushing loses he faced running for city supervisor, and how he managed to recruit the support of blue-collar unions and other minority groups.
A good portion of the movie was filmed on location in San Francisco. Castro Street, the city's Gay and Lesbian neighborhood, had been transformed into a real-life 1970s sound-stage for Van Sant. Old storefronts, like Milk's Camera shop and the old Bank of America branch, were recreated. MUNI bus shelters were dismantled (because the brown canopies for the 24-Divisadero didn't exist back in the day) and San Francisco Mayor Gavin Newsom was reportedly more than cooperative in allowing Milk to film numerous scenes in and around City Hall.
More so, this movie allows us to connect the current struggles facing Gay Rights with those that happened during Harvey Milk's time. For many Gays and Lesbians, the Briggs Initiative that sought to rescind homosexuality from being included in state anti-discrimination laws, has been replaced with the current divisive fight over the right of same-sex couples to marry.
Just yesterday, Pepperdine University Law Professor Kenneth Star, infamous for trying to pin impeachment charges against President Bill Clinton, said that he would actively work to nullify the 18,000 same-sex marriages preformed before Proposition 8, the Nov. 4 voter approved ban on gay marriage, went into effect.
The legal maneuvering to retroactively nullify the marriages has many shocked.
If there was any take-home message from Milk, it would no doubt be how much Californians who stand for equal rights and nondiscrimination need Harvey Milk's leadership and political activism today. His inspiration that helped defeat discrimination in 1978 is needed again in 2008.