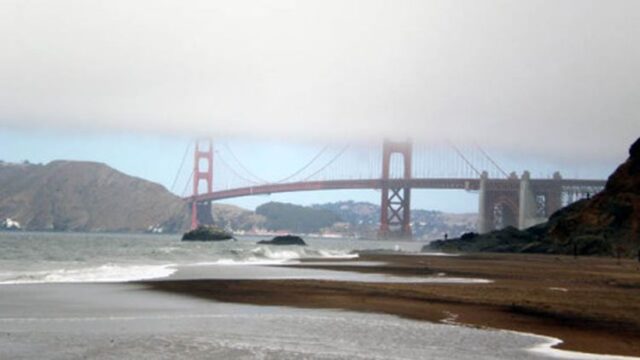 When you're at San Francisco's Baker Beach, keep an eye on the people around you because the closer you walk towards the magnificent Golden Gate Bridge on the north end – the folks on the beach start to wear less and less clothing.
Take heed, as this will be your only warning from us.
But for the most part, Baker Beach is that nook-n-cranny spot in San Francisco that locals only discover after getting lost on a MUNI bus or while on a jog around town. It's an awesome place to fly a kite on a windy Bay Area afternoon and a splendid spot to break out the charcoal for a good old-fashioned barbecue in a quiet natural setting.
It graces the western edge of the Presidio in the northwest quadrant of the city – skirting the coastline north of Land's End and the Cliff House, and south of the Golden Gate Bridge. It's an awesome place to bring a date or loved one for sunsets, sunrises and everything in-between.
You'll get the magnificent views of the bridge, the Pacific Ocean in the distance, and the multi-million dollar homes perched in the city's Sea Cliff neighborhood. It's a great backdrop to bring Fido for the walk too – just make sure to clean up after him.
The aforementioned nude sunbathers keep to the north of the beach towards the bridge side. You'll also find a magnificent piece of history in the area – Battery Chamberlain, a segment of land that the U.S. military used to own.
There, they built a fort-like structure – a battery – complete with foundations for cannons that would be aimed at the Golden Gate to take out any invading ships that wanted to seize the lucrative port of San 
Francisco. Battery Chamberlain would be a part of a network of gun batteries that defended Bay Area harbors from enemies wishing to attack from the Pacific.
You can see the remnants of it today – still very much intact in its original form. A restored cannon still remains, and it is ceremoniously fired during special demonstration events by the National Parks Service.