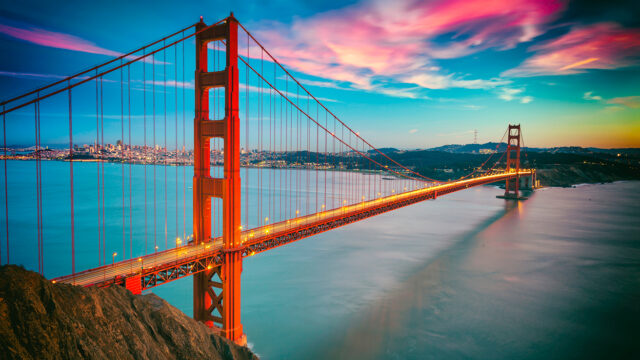 President Barack Obama will pay his eighth official visit to the Bay Area Thursday evening, meeting with top Silicon Valley technology leaders to solicit suggestions on how to reverse the nation's stagnant job creation rate and stimulate American innovation.
Air Force One is set to land at San Francisco International Airport at around 5:45 p.m., from where the President will be whisked away to a private residence for a dinner and discussion with leaders from some of the world's most prominent technology companies, the White House said.
The list of guests — made public Thursday morning — is set to include Facebook founder and CEO Mark Zuckerberg, according to the White House. Google co-founder and CEO Eric Schmidt and Cisco Systems CEO John Chambers will also be attending the meeting with the President.
The meeting will be held at the Woodside, Calif. home of John Doerr, a Venture Capitalist and partner with the firm Kleiner Perkins Caufield & Byers, according to the New York Times.
Other Silicon Valley executives and business leaders set to meet with the President include:
Carol Bartz, President and CEO, Yahoo!
Dick Costolo, CEO, Twitter
Larry Ellison, Co-Founder and CEO, Oracle
Reed Hastings, CEO, NetFlix
John Hennessy, President, Stanford University
Steve Jobs, Chairman and CEO, Apple
Art Levinson, Chairman and former CEO, Genentech
Eric Schmidt, Chairman and CEO, Google
Steve Westly, Managing Partner and Founder, The Westly Group
Obama has repeatedly highlighted the Bay Area's Intel, Facebook and Google in speeches — including last month's State of the Union address — as models for innovation and success for the rest of the country.
The meeting will be a private affair, closed to the press and the public. Unlike previous visits to the reliably-Democratic and relatively wealthy San Francisco Bay Area, Obama will not headline any political fundraisers during his short visit, White House Press Secretary Jay Carney told reporters Wednesday.
Obama will be greeted at the airport by San Francisco Mayor Ed Lee and California Lieutenant Governor Gavin Newsom upon arrival, according to political sources.
The President will spend the night in San Francisco before Air Force One departs San Francisco at 9 a.m. Friday. Obama will travel to Hillsboro, Ore. and tour an Intel semiconductor manufacturing facility to push for high-skilled, high-wage jobs for Americans, the White House said.
The West Coast trip for the President comes after several meetings with business groups — including a speech before the U.S. Chamber of Commerce — that some analysts called an attempt to mend a strained relationship between private industry executives and the Obama administration.
The President's visit to meet with Silicon Valley's business leaders will likely lack the friction of other such meetings, given the relatively liberal bent of those leading the profitable companies.
The White House has also in recent weeks been emphasizing a need to invest in education and infrastructure to encourage innovation and keep the United States competitive in the global economy.