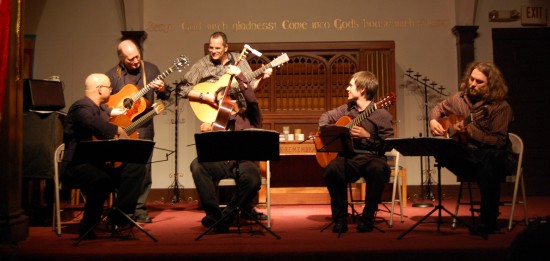 (6/5) — In the cozy second floor of the Noe Valley Ministry, Matthew Monfort, Teja Gerken and the San Francisco Guitar Quartet performed a variety of pieces for the San Francisco Guitar Summit, an event put on as part of the Noe Valley Music Series supported by SF LiveArts.
An intimate audience of about thirty people were in attendance, the event opening with a mix of contemporary and traditional music by Teja Gerken, a practitioner of steel-string fingerstyle guitar. Ranging from arrangements of both traditional Irish pieces and modern tunes by the likes of John Coltrane, Gerken also performed some of his own compositions like "Noe Valley Sunday" and the interestingly named "Precision and Emergency."
Alternating between a 12-string and a 6-string guitar, his musical techniques often took a turn for the visually stimulating, featuring percussive, slapped notes and a full guitar waggle that added a pleasing vibrato to long notes and chords.
After his initial set, Gerken was joined briefly by Matthew Montfort for a duet (an arrangement of the Irish tune "The South Wind") before giving over the stage. Both Gerken and Montfort displayed a warm and relaxed friendship, joking and laughing as they introduced the upcoming pieces.
Montfort, who specializes in World Fusion music, then launched into a solo set. Playing both a scalloped fretboard and fretless guitar, he wowed the audience with soulful renditions of his own compositions and arrangements. Montfort was by turns informative and virtuostic, explaining the Indian raga (or musical mode) and then demonstrating with his Hendrix-drenched "Purple Raga" and Hibernian "Celtic Raga."
The construction of both guitars were conducive to the easier shaping of notes, allowing for glissandos and a wide finger vibrato common in the Arabic/Indian tradition that Montfort wove into his compositions. His highly animated playing style threw into stark contrast Gerken's quieter, more focused performance. When both were on stage, however, Montfort's energy was infectious; soon both performers were bobbing and swaying to the beat as only musicians having a good time can.
The second half of the event featured the San Francisco Guitar Quartet, who's own set skewed towards the more modern-sounding. Continuing the theme of traditional roots, however, the four played pieces with foundations in Spanish and South American guitar technique, finishing out with an arrangement of a resistance song which allowed for ample solos from both the members of the Quartet to Montfort and Gerken, who joined in for the last piece.
At the beginning of the program, Gerken remarked that the audience was here to listen to guitar music, and joked that "you're gonna get a lot of it tonight." He was only half-right; not only did we get quantity, but we also got a large amount of quality.
To learn more about the Noe Valley Music Series, visit http://www.noevalleymusicseries.com/, For more on Teja Gerken: http://www.tejagerken.com/, On Matthew Montfort: http://www.ancient-future.com/, And on The San Francisco Guitar Quartet: http://www.sfgq.com/