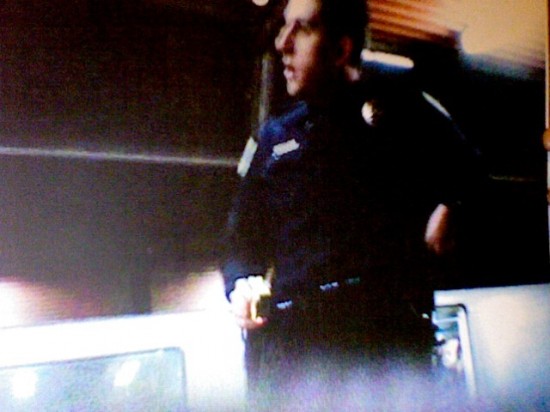 (6/24) — UPDATED 20:00 PDT — LOS ANGELES — In a surprise move Thursday afternoon, former BART Police Officer Johannes Mehserle, who shot and killed an unarmed train passenger at the Fruitvale BART station on January 1, 2009, took the witness stand and testified in his own defense.
Mehserle, 28, told the court that he had trained with his police-issued Taser less than 10 times before the New Year's morning incident during which he shot and killed Oscar Grant. He had extensive practice with his firearm dating back to his time at a Napa police academy.
He said a Taser was "just another tool in your belt" and he never considered the need to train with his Taser the way he trained with his firearm. BART policy left it up to each officer how best to set up a Taser draw, he testified, and his training only briefly addressed confusion between a Taser and a gun in his training.
When his defense attorney Michael Rains asked him if he considered himself a rookie officer at the time of the shooting he responded, "yes, sir."
Mehserle seemed calm and almost comfortable on the witness stand as he gave his first public testimony about the shooting incident.
When he first took the stand Rains talked for some time about who the former BART officer was as a person — including being voted "most huggable" in high school — so much that Judge Robert Perry told him to move on in his line of questioning.
Mehserle said he was drawn to police work because it was not a typical day job, saying he saw it as "different and exciting."
He said his style as an officer was more communicative than "hands-on," saying his strength was "just being able to talk with people, communicate with people."
It was the "opposite" of former BART Police Officer Anthony Pirone's style.
"He reminded me a lot of my drill instructor in the academy," Mehserle said of Pirone. "It wouldn't be uncommon for him to be in a yelling match with somebody."
Pirone, who has come under intense scrutiny in the trial, was fired from BART in April amid allegations of misconduct during the moments leading up to the shooting on the Fruitvale platform. Multiple witnesses have testified they observed him yelling profanity–including racial slurs–and using excessive physical force to detain Grant and his friends.
Mehserle said despite their differences, the two respected each other. He said he met Pirone through his partner at BART police, Jon Woffinden. Pirone was on the SWAT team and Mehserle said on range days he was very helpful on gun-related questions.
He testified that he was trained to fire three rounds from his gun if it were necessary to use lethal force; he shot one bullet at Grant. The defense argues Mehserle mistook his gun for his Taser when he shot Grant.
But after Mehserle's testimony today, Grant's uncle Cephus Johnson questioned why Mehserle's family did not send condolences and an apology if it truly was an accident. His family was never contacted by them, Johnson said, but were instead "condemned" for calling the killing murder.
He said calling Mehserle to the stand was a strategic, last-resort move on the part of the defense.
Earlier in the day, the prosecution attempted to challenge the neutrality of expert witness Michael Schott as he continued testimony. During cross examination Alameda County Deputy District Attorney David Stein asked the forensic image analyst if he had worked previously with Rains, to which Schott responded that he had. Schott also said he has worked in more than 50 cases where officers have been accused of misconduct.
Schott was a police officer himself from the 1970s through the early 1990s, and has written for "Tactical Edge," a magazine initially only available to law enforcement personnel.
When Stein asked if his previous experience might bias his opinion, Schott said it gave him "tremendous insight" but did not prejudice him in any way.
Throughout Schott's testimony he emphasized that he did not try to "compute intent" into the images he analyzed, merely to interpret the movements he saw. This led to many inconclusive statements about what the videos actually depicted, since Schott said they did not contain enough information for him to draw firm conclusions.
Stein had asked before the trial for Schott to be prohibited from testifying about what videos appear to show. But after hearing sample testimony at a pre-trial hearing earlier this month, Judge Robert Perry disagreed, saying he found Schott's testimony "very helpful."
Schott said he has dedicated 500 hours to analyzing video for this case. Schott is also scheduled to testify for Anthony Pirone's defense in the former BART officer's suite against the transit agency.
Earlier in the morning, defense attorney Michael Rains wrapped up his questioning of Scott, who said the video shows Mehserle attempted to release his gun from its holster four times and was only successful on the last. The first three attempts can only be seen on the amatuer video filmed by passenger Daniel Liu, which Schott admitted has poor resolution quality and was taken farther away from the incident than the four other passenger-shot videos.
Schott spent some time analyzing Mehserle's thumb movements, saying that because his thumb can't be seen on the video, it was "pointing inward toward Mehserle's body."
Rains has argued such movements are consistent with trying to retrieve a Taser, thus Mehserle was attempting to shock Grant, not shoot him, and accidentally drew his firearm.
As Schott gave this testimony, Grant's mother Wanda Johnson said from the audience "He reached for his gun four times and it was an accident?"
Rains is expected to wrap up his arguments by early next week in Los Angeles, where the trial was moved due to the defense' concern Mehserle could not receive a fair trial in the Bay Area.
Questioned again by Rains after his cross examination, Schott backtracked somewhat on his suggestion yesterday that Jackie Bryson struck Mehserle. He also said Grant did not touch Domenici, but did put his arm against Bryson's chest in a motion that would be "consistent" with trying to get Bryson to back off of Domenici. A main tenet of Rains' argument is that Grant and his friends were resisting officers the morning of the shooting.
Judge Perry interrupted Rains's questions on the subject, saying "The issue of resistance will be left to the jury to decide."
Mehserle will return to the witness stand for cross-examination by Stein Friday morning.