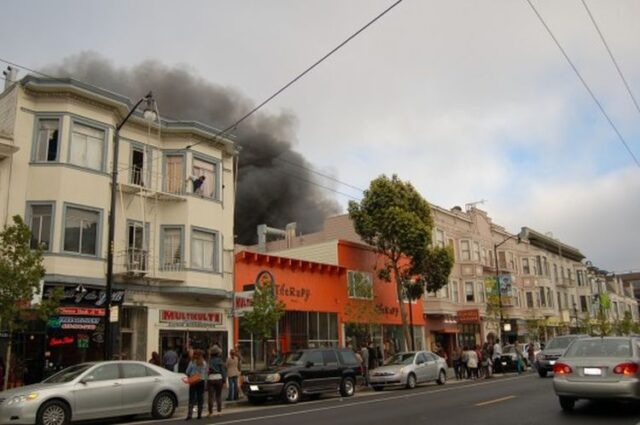 (6/15) — UPDATED 18:35 PDT — SAN FRANCISCO — Fire investigators are now calling a fast-moving three-alarm fire that burned four buildings and forced the evacuation of others near 16th and Valencia StreetsĀ in San Francisco's Mission District Saturday afternoon suspicious.
The blaze, which was reported shortly before 6 p.m., burned a house and a multi-level residential apartment complex on Rondel Place, an alleyway off 16th Street between Mission and Valencia Streets.
Chad Archer, who lived in one of the burned buildings, said he "saw a bed on fire" in his house and called the fire department. He said everyone in the building got out safely.
Eyewitness Kate Paloy said she saw "black smoke and a whole lot of firemen," saying that the flames were shooting "10 to 20″ feet in the air.
Firefighters, who witnesses said arrived on scene within 10 minutes of the blaze starting, immediately began evacuating residents from nearby apartments. The fire spread to three nearby buildings before it was put out, said San Francisco Assistant Fire Chief Chris Stevenson.
Archer said he considered the fire suspicious. The house's gas stove had been left on, and "beds don't just light on fire by themselves," he said.
Joe Miller, who also lived in the building, said that the landlord had evicted the tenants of the room in which the burning bed was found Saturday morning after a dispute. He said the landlord had changed the locks because the evicted tenants "were threatening" him.
Two firefighters suffered minor injuries fighting the blaze. The Red Cross says 43 people were displaced by the fire.