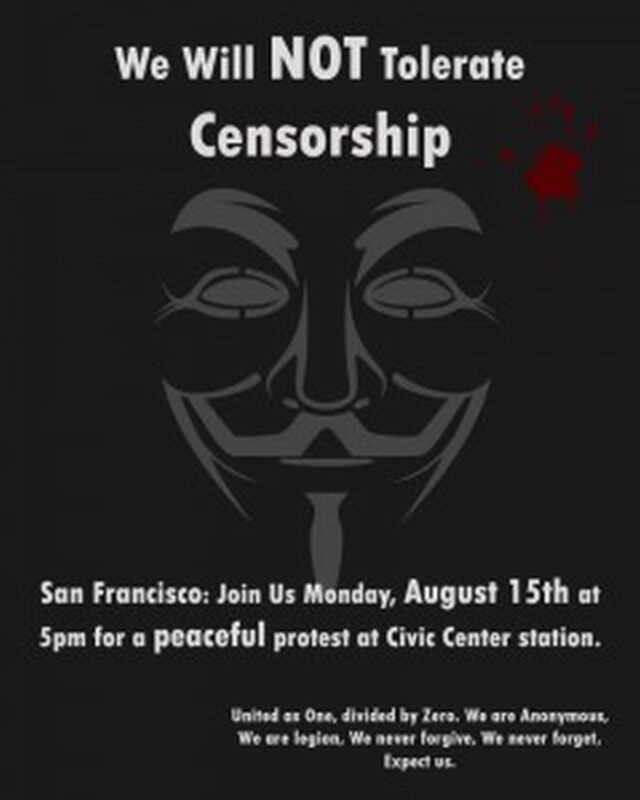 (8/14) — 1041 PDT UPDATE — An online group of international hackers said Saturday they would hold a protest against the Bay Area Rapid Transit District's recent decision to temporarily cut underground subway communications to prevent demonstrators from disrupting train service.
An updated posting from the group made public Saturday night threatened to "remove from the internet the web site of BART located at www.bart.gov for exactly six hours" beginning at 12 p.m. Pacific Time on Sunday. The international hacking group also said it would flood the agency's e-mail inboxes and fax machines to express their dissatisfaction with the decision to suspend mobile voice and wireless communications last Thursday to rail passengers in the San Francisco subway.

In messages to several Bay Area news organizations, including the Beat, the group Anonymous said it was planning a 5 p.m. protest at the Civic Center Station Monday and urged supporters to wear red to symbolize a recent fatal officer-involved shooting by a transit agency police officer.
The group also urged people to come out and protest against BART's move to cut wireless communications to passengers.
"You do not censor people because they wish to speak out against the wrongs the wrongful things [sic] occurring around them," the online message read. "Anonymous will attempt to show those engaging in the censorship what it feels like to be silenced."
BART responded to the threat Sunday morning with a message posted on their website: "We're doing what we can to defend against any attack on the BART website. BART's website infrastructure is wholly separate from any computer network involved in the operation of BART service."
The agency has been the target of criticism from free speech groups and civil liberties organizations, who have accused BART of stifling communication between passengers in an effort to stop a planned protest against the officer-involved shooting of a transient man from forming.
BART defended its move to cut wireless communications Friday, arguing that the service was suspended in the interest of public safety.
"A civil disturbance during commute times at busy downtown San Francisco stations could lead to platform overcrowding and unsafe conditions for BART customers, employees and demonstrators," the agency said through a written statement posted on its website. "BART temporarily interrupted service at select BART stations as one of many tactics to ensure the safety of everyone on the platform."
A previous demonstration held at Civic Center Station slowed train service and led to rolling closures of some downtown San Francisco stations. The protest delayed thousands of commuters.
But the transit district is now facing a growing number of public officials who are openly criticizing the decision to block wireless access. Many opponents of the idea likened the tactic to ones used by former Egyptian dictator Hosni Mubarak in an unsuccessful attempt to crush citizen uprisings this year.
"Censorship is not, and should never be, a public safety strategy," San Francisco Assessor-Recorder and mayoral candidate Phil Ting writes. "The decision to cut off cell service in order to prevent the protests violates fundamental principles of our democracy."
Another San Francisco mayoral candidate, state Sen. Leland Yee, issued a press release criticizing BART's decision.
"I am shocked that BART thinks they can use authoritarian control tactics," said Yee, who called for an investigation by the Federal Communications Commission into the legality of the move.
At least one member of the agency's Board of Directors, Lynette Sweet, also told reporters she disagreed with the decision to block wireless signals.
"Anonymous" is a loosely defined, loosely organized online group which has conducted several online attacks over the past year on organizations which it accuses of undermining free speech. The group first came to prominence when it conducted "denial of service attacks" — overloading network infrastructure in order to prevent legitmate traffic from getting through — against credit card processors who refused to process donations to WikiLeaks.
Since then, people claiming to be affiliated with the group have launched attacks on Middle Eastern governments accused of brutally suppressing dissent, security firm HBGary Federal after its CEO claimed to have traced Anonymous's leaders, and even Sony after the firm filed suit against a man who developed tools allowing owners of its PlayStation 3 console to install "homebrew" software.
Notably, the Sony attack was supposed to include a real-life component. The group's members were encouraged to protest at Sony stores in person on April 16 — a protest that, according to reports, never materialized.
Beat Reporter Steven Luo contributed reporting. Contact the Beat at [email protected].