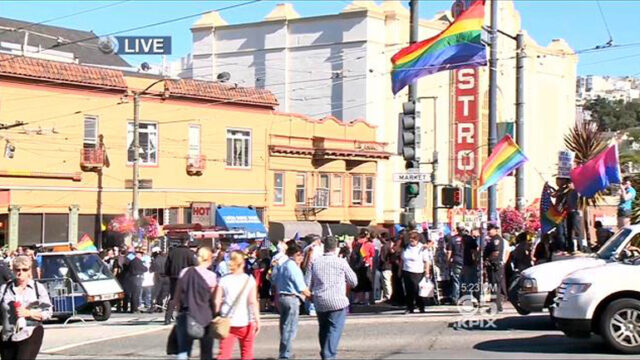 Three suspicious early morning fires in the Castro District have put residents on alert after fire investigators revealed that they suspected an arsonist set all three blazes, one of which consumed an occupied apartment building and left shaken residents running for their lives.
The fires were set within an hour of each other between 4:30 a.m. and 5:30 a.m. and within a two block radius.
The first fire consumed three plastic recycling bins adjacent to Sullivan's Funeral home at 2248 Market Street just after 4:30 a.m, San Francisco Fire Department spokeswoman Lt. Mindy Talmadge said. The fire, which did not damage any adjacent buildings was put out quickly after firefighters responded.
Approximately 30 minutes later, firefighters responded to an apartment fire call at 3620 16th Street and found fire racing through the two-level Victorian house forcing its 17 residents to escape through the back of the building.
Charred debris from a fire at 17th & Hartford Streets in the Castro District that gutted a three-level Victorian under renovation.



Residents and neighbors of a 16th Street apartment building gutted by flames meet in front of the building.
"The fire started near the front doors and the flames went up the stairwell and at one point there was fire coming out of the roof," said a woman who lived next door who was awoken by the sounds of her neighbors yelling "fire!"
Firefighters called for a second alarm shortly after they arrived and saw heavy smoke and flames coming from the roof. They managed to control the fire within an hour, but the blaze grew so intense that it damaged an adjacent apartment that shared a wall with the fire-gutted building, fire officials said.
The 17 residents who lived in the damaged apartments escaped without injury and were put up in temporary housing by the American Red Cross.
The third fire was reported at 5:30 a.m. at 3943-3947 17th Street, a three-level Victorian home that was vacant and under renovation. The fire quickly grew to two-alarms after it jumped into a neighboring building at 3945 17th Street and damaged an apartment on the top level.
The residents of that apartment were not home when the fire broke out.
Fire investigators suspect that the ignition source came from the exterior of the buildings in both apartment fires and were looking into whether accelerants were used in the arsons.
The fires have residents of the neighborhood worried that an arsonist may be randomly targeting homes in the area.
"I'm hoping that they do find someone," said Vince Pietromartire, who was picking up his bicycle in from a Castro District business Thursday afternoon. "How could one of the fires start here and all of a sudden there are two others?"
"I would say it's suspicious at the very least."