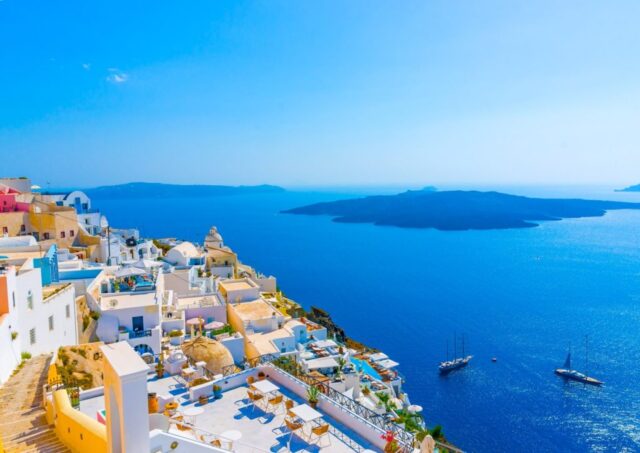 We all know Mykonos is a charming and fun place. The locals have been developing tourism for 40 years and haven't lost their Greek identity in the process.
Be prepared for the leisurely pace of life on the island's main beaches, but also noisy streets as well as relentless parties and loads of luxury. We can call it a trendy resort full of prestigious bars, high-end restaurants, boutiques, and splendid yachts.
Many celebrities have mansions here, and there's a whole list of billionaires waiting for the opportunity to buy land and build a house on this land. That's one of the reasons for which it's easy to see why Mykonos is considered an ideal destination.
In case you would like to feel this on your own skin and spend your vacations like a star, we're inviting you to take a look at those suggestions. And then, take your time to decide.
1. Briana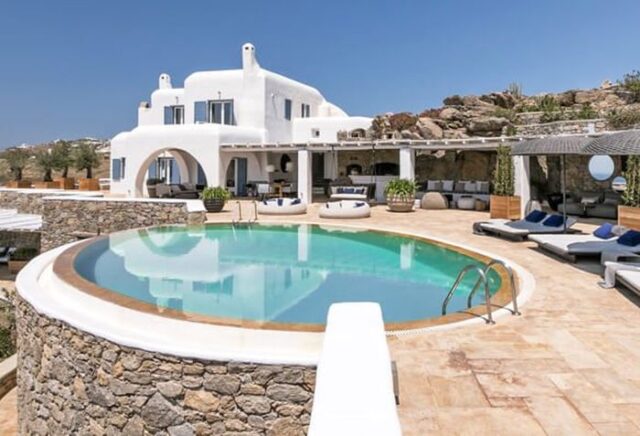 In case you prefer to be near the Town of Mykonos, but you also want the accommodation that will allow you to enjoy a breathtaking nature, then Villa Briana would be a perfect match.
A beautiful private property situated near the crystal Aegean Sea is characterized by the modern, semi-circular concept that reminds of an amphitheater.
Although it looks super trendy, its owners have successfully mixed modern elements with some old-school, traditional details and turned this space into a true gem among posh mansions of Mykonos.
2. Aesara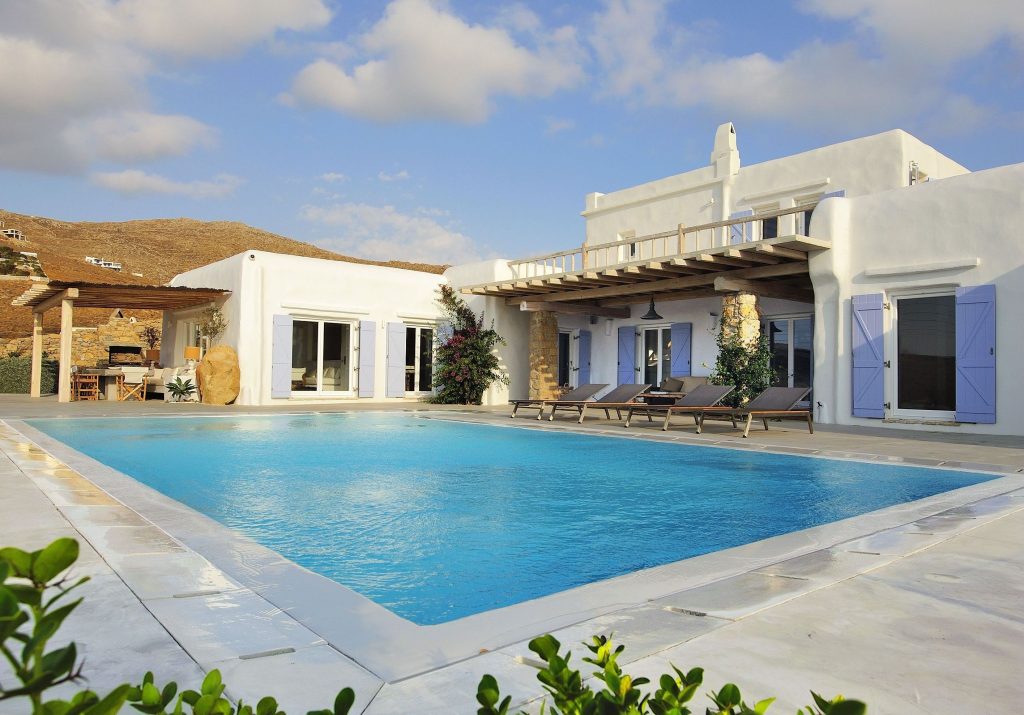 Aesara is a newly introduced mansion, located just steps from the golden sandy beach of Agios Sostis. It's surrounded by the delightful nature of Mykonos. Its location has many privileges, such as perfect views of the Aegean Sea and the northern coast of the island and enjoy the beautiful scenery as the true beauty of this part of the country.
This mansion has five bedrooms and five bathrooms, with exotic Asian-inspired pieces of furniture and contemporary amenities such as a fully equipped kitchen, barbecue area, a home-style sound system and a perfect L-shaped pool surrounded by a lush garden. What more could we ask for?
Sadly, Aesara is offered for rent and not for sale, although many would like to spend the rest of their lives right there. But, hey, you can rent it for a week or longer, and that's the closest to paradise that you might be!
3. Aegean Jewell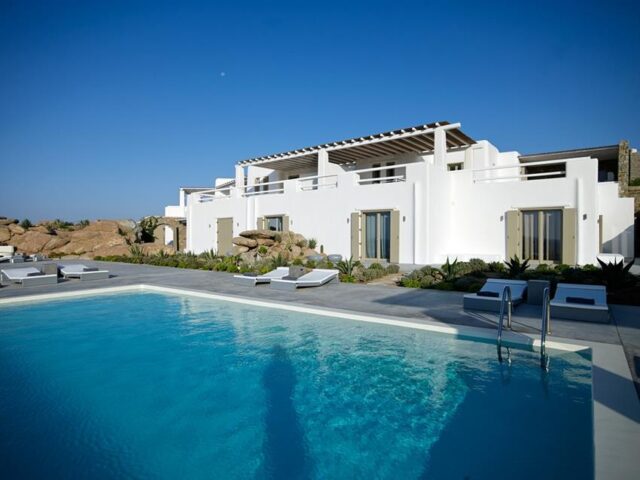 Well, this one actually IS for sale – but it's also available for rent, thanks to services like The Ace VIP that can make your dreams come true by making it easier for you to reach this marvelous place and spend some days enjoying it. And not only that – but they can also provide you with some suggestions in case you need a yacht or car, so make sure you take a look at this, as well.
But let's talk about the house. Rightly called the "Jewel of the Aegean Sea", Greece's most expensive villa is located exactly in Mykonos, with its current market price of € 23 million. The fascinating house overlooking the Aegean Sea is on a plot of 7,000 m2 and boasts 7 master bedrooms and 6 luxury suites.
In a perfect location and just minutes away from the two cosmopolitan beaches in Mykonos, this mansion offers complete privacy and consists of three buildings with a total area of 1,500 m2. The owners thought of everything, and for the sake of convenience, they added a gym, spa and massage, heliport, business center, professional kitchen, open-air cinema, and a small chapel. Wow, wow, wow.
4. Feelings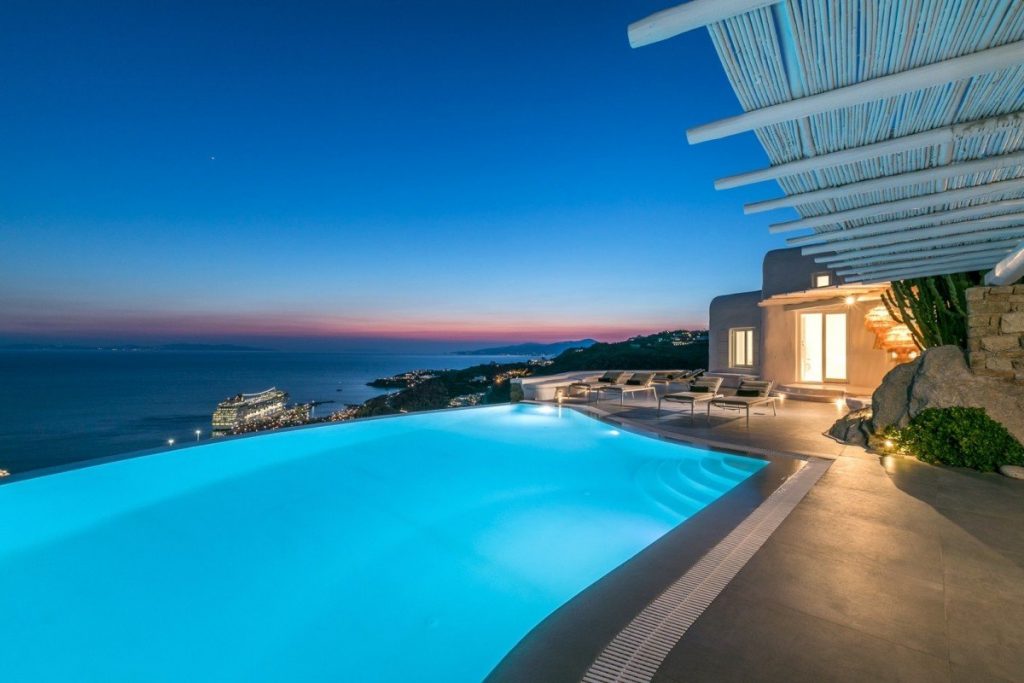 The Kinglike Comfort Villas, surrounded by bumpy, wild terrain and turquoise water beaches is one of those lovely gems of Mykonos. A bunch of huge white houses with all the comforts that can be offered. And there's a special ounce of this luxury world – the Feelings villa, which adapts to the steep landscape and hides a whole new world of rooms where you can spend a dream vacation.
Everything here makes you remember where you are, with all its charm and charisma, not forgetting the latest technological advances for the maximum comfort of its lucky guests. The connection between the landscape and the interiors of the villas is constant, thanks to large windows that provide the tourists with more than a pleasant view.
But perhaps the best-kept treasure of Villa Feelings is its porch facing the imposing pool. While looking at the pictures, it's not difficult to imagine enjoying a sunny afternoon and a load of snacks with family and friends in this place, facing a wonderful nature all around. In addition, these villas include fully personalized customer service. From reservations in trendy restaurants to personal trainers and chefs in the same house, guests are not only guaranteed premium accommodation but rather tailor-made vacation experiences.
5. Ali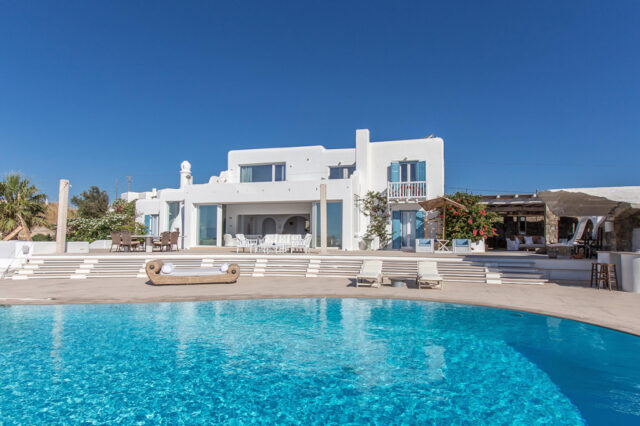 This one is an ideal starting point for exploring the beauties of Mykonos, as it lies close to the popular Kalo Livadi and Kalafatis beaches. Despite not being a hotel in the true sense of the word, Villa Ali is a luxury complex with 13 incredible bedrooms, located in the main villa area and three guest villas.
With beautiful, sunny white walls and, of course, large windows, we might say that this villa has everything you need for a perfect vacation. The inevitable incredible pool overlooking the sea, surrounded by a beautiful terrace with a comfortable seating area is located near the dining and lounge areas.
It also has a bar and even an outdoor living room where you can relax during the day. The whole villa's all about a vibrant atmosphere thanks to its comfortable, neutrally colored furniture. The main villa even has a fireplace in the day lounge – a truly stunning-looking companion for chilly evenings.
6. Superview Chrysantina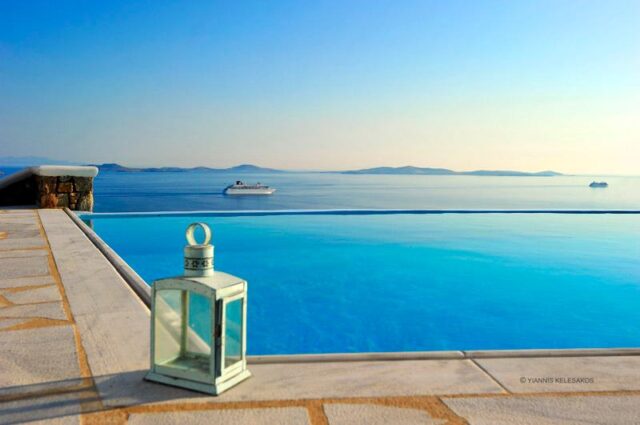 With an architecture that maintains the traditional Mykonosian characteristics, Villa Superview Chrysantina is presented as the ideal option to stay in an idyllic setting with spectacular views of the Aegean Sea and Houlakia.
Among its facilities stands out the terrace with an infinity pool from which panoramic views are appreciable while one is sunbathing. Is there a better place? A little heaven, spacious and luminous, with absolutely irresistible trendy furniture with lovely colorful cushions everywhere!
Some of the advantages that might make you want to choose exactly this accommodation is that, in case you have a baby, you won't need to worry about baby bad, as it's available to request it. Also, if you decide to take your kids, you'll be glad to hear that the owners don't charge you for kids from zero to twelve years old.
7. Corina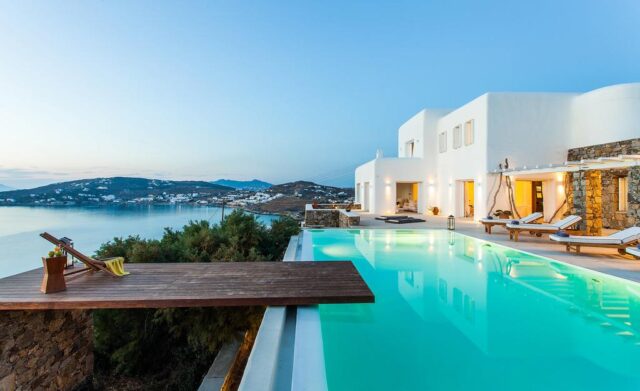 Majestic Villa Corina is the ideal villa to disconnect from everyday life and forget everything. Preserving the most Greek essence and decorated with white and blue colors, this marvel of the home has unmatched facilities and an idyllic terrace to watch as the sun melts with the sea during sunset. Delight for the senses!
In the upper part of the mansion you'll find an awesome bedroom with XXXL bed, and not only that – you'll be able to enjoy a gorgeous view of the sea from the spacious balcony. With a huge living and dining room and luxurious kitchen and another double sized bedroom, it'll provide you with the best rest you could ever imagine.