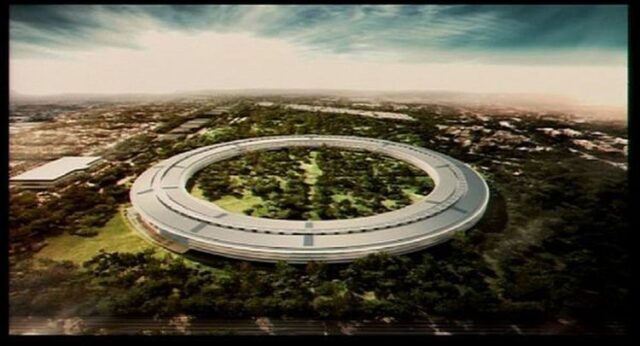 On Tuesday, Apple CEO Steve Jobs presented mockups to the Cupertino City Council for what he is calling Infinite Loop 2, a secondary Apple campus in Cupertino, Calif.
The 100-acre parcel of land, which was purchased from Hewlett-Packard, will be razed to make way for a futuristic, ring-shaped building with the capacity to hold between 12,000 and 13,000 employees. Jobs described the building as "spaceship"-like and not particularly tall. The entire outside of the building is proposed to be constructed of curved glass, a concept Jobs says is taken directly from their experience high-tech glass in their retail stores.
The property, upon completion, will be greener than it is today. The number of trees will increase by 1,300, from 4,700 to 6,000. Part of what allows for more trees is the proposed underground parking. "Surface parking goes down by 90 percent," Jobs said during the presentation.
The sheer size and capacity of the 3.1 million square foot facility posed certain concerns to the city council. Councilmember Barry Chang asked Jobs if the building's ability to hold 13,000 people will pose a safety hazard. "We spend a ton of time identifying and hiring what we think are the best people in the world at doing what we do. The last thing we want is for anybody to get hurt," Jobs responded.
Councilmember Orrin Mahoney commended Jobs on the plans. "Now that we've seen your plans, the word 'spectacular' would be an understatement. I think that everybody is going to appreciate what clearly is going to be the most elegant headquarters in the US."
Barring unforeseen delays, Jobs hopes to have the facility opened by 2015.