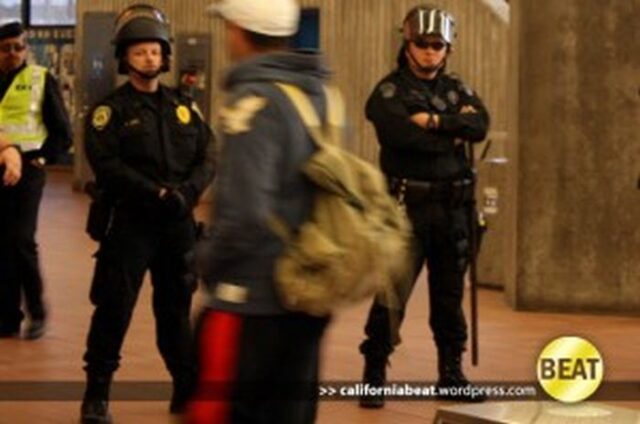 Bay Area Rapid Transit District officials found themselves defending a decision to temporarily disable underground wireless communications to mobile phone users in the Downtown San Francisco subway Thursday afternoon to head off potential protests organized by anti-BART Police groups angry over the fatal officer-involved shooting of a transient at the Civic Center Station.
Civil liberties groups, advocates for free speech, and BART riders likened the maneuver to tactics used by Middle Eastern dictators like Hosni Mubarak, who attempted to stifle citizen uprisings earlier this year by cutting off access to voice, text and internet communications. 
Speaking to the San Francisco Chronicle, Electronic Frontier Foundation Senior Staff Attorney Kevin Bankston said the act by BART "was a shockingly poor decision that disregarded the free speech rights of thousands of Bay Area commuters."
Bankston told the newspaper that the shutdown of wireless communications could raise legal questions from the Federal Communications Commission, among others.
BART said the decision to shut off wireless communications at "select stations" in Downtown San Francisco were done to protect riders from a sporadic protest that the agency feared would halt trains and endanger passengers.
"BART temporarily interrupted service at select BART stations as one of many tactics to ensure the safety of everyone on the platform," BART officials said in a written statement.
The agency received notice that protesters planned a disruption at the Civic Center BART station in response to the fatal shooting of Charles Hill, 45, by a transit officer. A previous protest by the "No Justice, No BART" group slowed trains and led to rolling closures of stations through San Francisco.
Riders who found themselves suddenly in a dead zone in the underground subway complained that they were unable to use their mobile phones to make calls, send text messages or connect to the internet. Concerns about the inability for those riders to call 911 were also brought up by passengers who questioned the agency's decision.
Bankston told the Chronicle that he did not recall any public agency in the United States ever disabling electronic communication to keep protesters from organizing a demonstration.