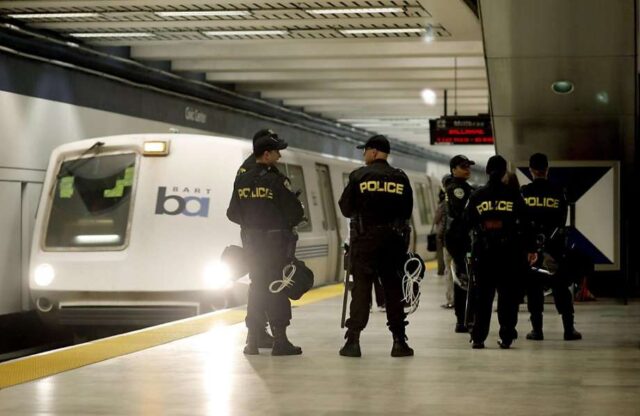 UPDATE 2005 PDT: The Powell Street Station has reopened to passengers.
UPDATE 1934 PDT: 16th Street/ Mission and Civic Center stations have fully reopened to passengers.
UPDATE 1914 PDT: BART is beginning to shut down the Powell Street Station after protesters arrive at the transit stop. The Civic Center Station has reopened to allow passengers to off-board trains. Passengers may disembark trains at Powell, but BART is not allowing passengers to enter the station.
UPDATE 1835 PDT: BART has just shut down the 16th Street/ Mission Station after demonstrators moved their protest there.
SAN FRANCISCO — 100 protesters demonstrating against the fatal BART Police officer-involved shooting of a knife-wielding man shut down the Civic Center Station Monday afternoon.
At least one protester attempted to climb on the top of a train that had been sitting idle at the station, BART agency officials said.
BART employees grabbed the protester before the man reached the top-side of the train. Officials closed the station at 5:22 p.m. citing safety problems caused by the demonstration.
The protest was organized in response to the shooting of Charles Hill, 45, a transient who was killed by BART Police officers at the station on July 3.
Police said Hill was armed with a knife when he encountered two transit officers at the station. Hill was shot by at least one of the officers and taken to San Francisco General Hospital where he was pronounced dead.
BART said independent inquiries were being done by the agency's police auditor and the San Francisco Police Department. The agency has not named the two officers involved in the shooting.
BART is urging passengers to get use other Downtown San Francisco station as an alternative to the Civic Center Station. San Francisco MUNI Metro service was also bypassing the closed transit stop.
MORE TO COME.