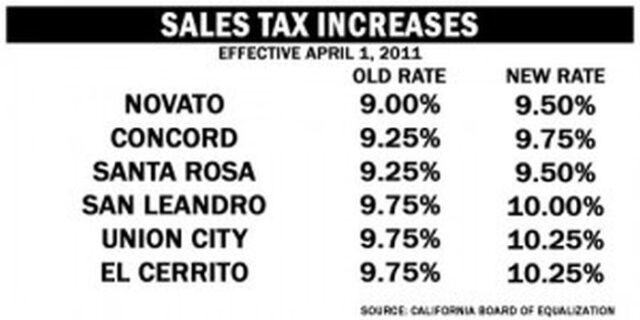 The sales tax in six Bay Area cities will go up on April 1 giving several municipalities the distinction of charging some of the highest rates in California.
Incremental voter-approved increases — between .25 and .5 cents — will go into effect in the cities of San Leandro, Union City, El Cerrito, Novato, Santa Rosa, and Concord.

In Union City and El Cerrito, the sales tax rate will rise to 10.25 percent, among the highest in the nine counties San Francisco Bay Area. South Gate, a city in Los Angeles County, holds the distinction of charging the state's highest sales tax rate at 10.75 percent, according to the California Board of Equalization.
The sales tax rate in San Francisco is 9.5 percent.
Faced with shrinking budgets and cuts to public agencies, many cities presented voters with a package of tax hikes and bond measures during the November 2010 election to preserve existing public safety, education and social services that were experiencing the brunt of the prolonged economic recession.
Voters in Union City approved Measure AA during the election to increase the tax rate from 9.75 to 10.25 percent. The sales tax revenue will be spent on preserving public library hours and city employee positions that were eliminated during a round of layoffs in 2009.
Eight other cities across the state will also implement increases to their sales taxes, including Santa Monica and South El Monte in Southern California, which will join Union City in raising their rates from 9.75 to 10.25 percent.