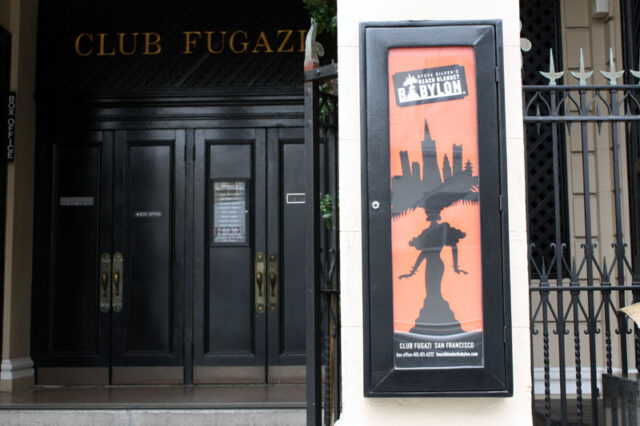 By ROY MORLIDGE
Beat Staff Writer
San Francisco has long been a venue for musical performances. But of all of the shows that have performed in the city, one in particular has been performing since it was created well over thirty years ago. While hints of its long and successful career can still be found in today's performances, Beach Blanket Babylon has continued to stay fresh and unique to the city it celebrates.
Beach Blanket Babylon in performed Wednesday through Sunday at Club Fugazi located at 678 Beach Blanket Babylon Blvd. Ticket prices vary depending on where you sit with seats closer to the stage being more expensive. Keep in mind that you must be at least twenty-one years of age to enter, with exception to Sunday shows. Finally, photography is not allowed so don't bring your cameras.
Created by San Francisco native artist and producer Steve Silver, Beach Blanket Babylon first debuted on June 7, 1974. Now in 2009, the show is in its 35th year of production and still drawing crowds.
Beach Blanket Babylon is the story of Snow White and her search for a prince and true love. Throughout the way, you will experience parody after parody of current events and celebrities, both living and dead.
Among the appearances will be political leaders such as John McCain, Bill & Hillary Clinton, George Bush, and of course Barack Obama. Also you can't leave out appearances by celebrities including Beyonce, John Travolta, Tom Cruise and the late James Brown. And of course let us not forget longtime Beach Blanket Babylon characters such as King Louis and a trio of singing Poodles.
I will warn you however that while the show remains current, some themes and jokes are from events and people of the past. (Younger patrons might not be laughing along with everyone else.)
Finally, the most important part of Beach Blanket Babylon is the hats. I won't give away too much about them but I will say as the show moves along, the hats just get bigger and more interesting leading up to one big finale.
However there was one fault to the night, though it didn't lie in the performance. The problem instead lay in the form of the chairs. Rigid with very little padding, the chairs honestly felt as though they would be more at home at a cheap restaurant than at a musical show. But then again, once you get into the show, you tend to forget about how uncomfortable your rear is until you get up at show's end and leave the building. My waddling down Columbus St. late that night can attest to that.
Sadly, Steve Silver passed away in 1995 after a battle with AIDS and today rests at Cypress Lawn Memorial Park in Colma. However he can rest peacefully knowing that his creation is still entertaining after thirty-five years. It is a show which I highly recommend you that you go see at least once in your life and one that intend to go back and see again in four years time just to see who and what is added next.