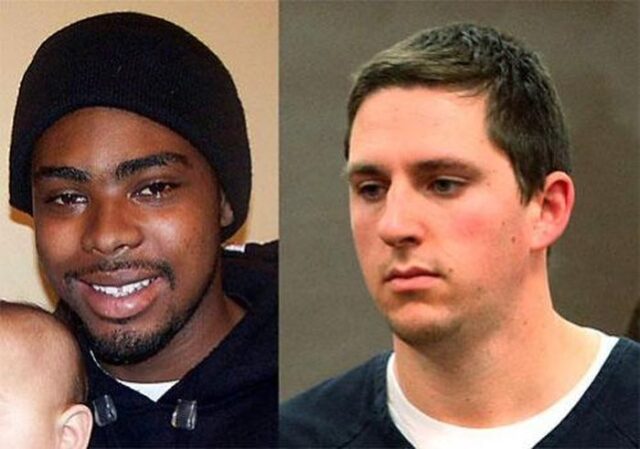 (6/24) — UPDATED 01:42 PDT — LOS ANGELES — An expert witness brought to the stand by the defense for Johannes Mehserle, the former BART Police officer being tried for murder in the shooting of unarmed passenger Oscar Grant on New Year's Day 2009, said Wednesday that videos of the incident showed that Grant and his friends were behaving aggressively that night, not BART Police officers.
Michael Schott, an expert in forensic image analysis retained by defense attorney Michael Rains, told the court that a video which appears to show former BART Police Officer Anthony Pirone punching Grant in the face actually shows nothing of the sort.
Schott conceded that the video, which has been widely shown in the media, appears to show that "Mr. Pirone punched Mr. Grant in the head." But he said that a frame-by-frame analysis led him to conclude that nothing of the sort happened.
Schott also said that another portion of the same video showed what could be Grant kneeing Pirone shortly before the apparent punch. "It appears that Pirone's midsection moved in tandem" with a "flesh-colored group of pixels" which could be Grant's knee, he said.
In addition, Schott testified that another video appearing to show Mehserle striking Grant's friend Jackie Bryson shortly before the shooting could instead show Bryson striking Mehserle.
The arm that appears to be Mehserle's in the video is actually Bryson's, Schott said. Asked whether the video shows Bryson striking Mehserle, he said "that is one explanation."
Alameda County District Attorney David Stein had asked before the trial for Schott to be prohibited from testifying about what videos appear to show. But after hearing sample testimony at a pre-trial hearing earlier this month, Judge Robert Perry disagreed, saying he found Schott's testimony "very helpful."
Schott also took issue with the way the prosecution processed the video evidence it presented, saying that its use of lossy compression and the way it chose to enhance some of the videos resulted in the loss of details in the images.
And he pointed out what appeared to be inconsistencies in the prosecution's synchronization of the videos of the incident. Once synchronized, the videos are supposed to show the same events from different angles, but Schott claimed that at a point shortly before the shooting, the prosecution's videos appear to disagree on whether Pirone was bent over Grant or had started to stand up.
Earlier in the day, Mehserle's regular partner on the BART Police force admitted that Mehserle never told him the shooting was an accident.
BART Police Officer Jon Woffinden said yesterday when he was called to the stand by Rains that he had thought that Mehserle had deployed his Taser. He also testified the two had a personal as well as professional relationship.
But when Stein asked him today "did Mehserle ever give you any indication that what happened was an accident?" he answered no.
Stein also played back video in which former BART Police Officer Tony Pirone can be heard using a racial slur to Woffinden. Woffinden said that he could not make out what was being said.
Woffinden had said yesterday that Pirone was a close friend and a very competent police officer.
Later, BART Police Officer Stewart Lehman, who trained Mehserle in Tasers, took the stand.
Lehman, who said that he had helped persuade BART Police to introduce Tasers, presented slides on BART's Taser policy.
Asked by Rains whether it was "always beneficial to go above the minimum" number of hours of training, Lehman agreed. BART required officers to have six hours of training on Tasers at the time.
"You can always increase the number of hours," he said.
Lehman also told the court that due to budgetary restraints, BART provided one Taser per beat instead of assigning each officer an individual Taser.
The San Francisco Chronicle reported in February that this policy extended to Taser holsters as well, leading to a situation where BART Police officers did not always wear their Tasers on the same side.
Testimony continues tomorrow in Los Angeles, where the case has been moved due to concerns over whether Mehserle could receive a fair trial in the Bay Area. Rains said he expected to finish presenting his case either Friday or Monday, which would result in closing arguments being made sometime next week.