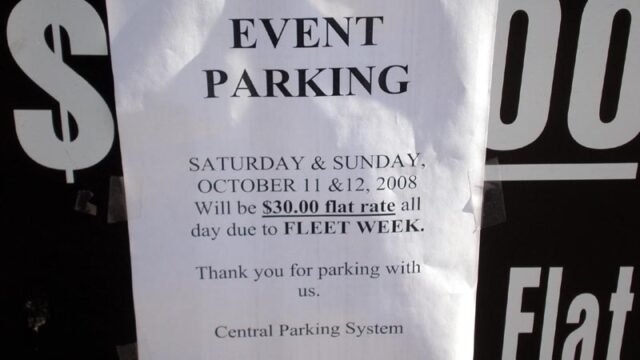 For anyone planning to drive into San Francisco during this year's Fleet Week celebration, just take one look at the sign we snapped during last year's event and we're sure you're having second doubts about doing that right about now.
You see, special events like Fleet Week which draws large crowds into town give parking lot operators along the city's waterfront another reason to raise parking rates to moon-scraping rates. The cheapest price for a Fleet Week parking spot went to the private parking lot operators near Broadway and Front Sts. at $25 during the morning hours, but as the day dragged on and crowds (and traffic) thickened, the price for a coveted spot rose to $35.
With the economy being the way it is, and Fleet Week being a free event and all for many of the 1+ million people who partake in the activities, few out there are willing to spend the great sum of money on a parking spot.
Transportation officials warn that streets around the waterfront — namely the Embarcadero and surrounding side streets — will be at a standstill as motorists try to reach Fisherman's Wharf and the Marina Green to reach where much of the Fleet Week action will take place.
They recommend that you take public transportation. The California Beat has compiled a list of transit service providers offering special service because of Fleet Week here.
But if you must drive, you're cautioned to bring patience and cash — and lots of it.
We recommend finding metered parking where available because generally, it's usually cheaper to feed a meter than pay a lump sum for a parking spot. But if you don't want to deal with potential parking tickets (which are pricey in San Francisco) and running back to feed the meter, there are three parking lots located near the intersection of Embarcadero and Broadway Streets (map), one at Embarcadero and Green Streets (map) and another one at Broadway and Front Streets (map) where you'll be able to find parking if you arrive early.
Given the popularity of Fleet Week, these lots may fill fast, and lot operators are known to increase the price of parking from a low of $6 to park all day on a slow weekend to $25+ to park on a busy weekend when crowds of people are in town. Metered parking (enforced 7:00 a.m. to 7:00 p.m. every day) is also available surrounding these lots, but rates vary. You may end up feeding $7+ worth of coins for only a couple hours of parking time.
At Pier 39, several lots charge outrageous rates for parking. There's a garage across from the pier which also charges absurd hourly rates. Metered parking around the northern waterfront/ Pier 39 area is available, but you won't believe how many quarters you'll have to put into the thing to see the arrow move.
Parking in the Marina District for access to the Marina Green (where the airshow and military fair will take place) will be scarce. You'll be dueling with locals and residents who live in the neighborhood for free parking spots. There will be plenty of circling the block until you find a spot that your car may or may not be able to fit in. (You'll see.)
Again, the California Beat emphasizes public transportation as a smart alternative for what's supposed to be a fun weekend. You'll be amazed how much a parking citation or 90-minute traffic backlog can ruin an otherwise enjoyable day.