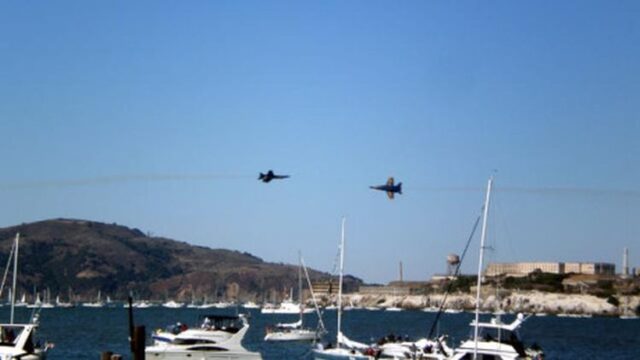 By Tim Jue / Beat Staff Writer
There were death-defying stunts thousands of feet up in the air, the consistent rattling of windows and teeth for days, and tens of thousands of spectators eager for more of it!
In a nutshell, that's the summary of what did and did not transpire for the past few days along San Francisco's northern waterfront during the city's 29th annual Fleet Week celebration.
The Blue Angels airshow highlighted much of the weekend's activities – especially after organizers announced that the Parade of Ships that was slated to take place at 11:30 a.m. Saturday would be canceled after two of the four participating vessels wouldn't make it on time because of rough seas.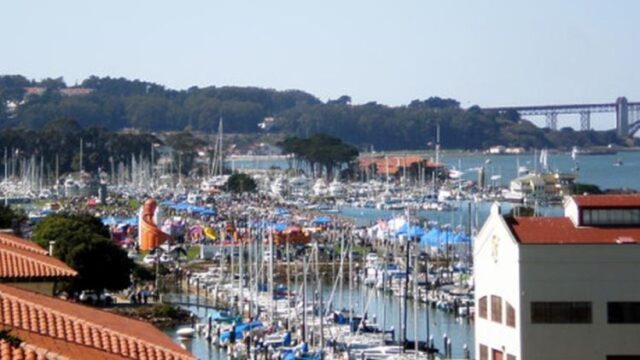 But the airshow did not disappoint folks who flocked to the Marina Green on both Saturday and Sunday to watch stunt pilots zip through the
clear blue skies. They were treated to the amazing aerial acrobatics of the Canadian Snowbirds, the Team Oracle plane and the Patriots who left a stunningly artistic trail of red, white and blue colored smoke from behind. Then we saw the thunderous roar from a US Air Force F-16 and watched "Fat Albert," – a U.S. Navy C-130 airship – skirt by Alcatraz Island and besides the Golden Gate Bridge.
Yet it was the Blue Angels who stole the show in the afternoon. Like an oncoming bullet train, they flew in formation from Travis Air Force Base in Fairfield, Calif. in the north into San Francisco over Marin County.
Crowds who were awaiting their arrival from the Fort Mason overlook Sunday afternoon saw them coming from a mile away – pointing, yelling at others to look "over there," and aiming cameras at the ready for the impending sonic booms from their jet engines.
They weren't disappointed.
With metronome precision, they came in, rattled windows and made babies cry. Dogs barked up a firestorm and seagulls scattered in every direction. The unmistakable sound of the Blue Angels awed the audience and surprised the unsuspecting as they flew over the city for the sixth straight day Sunday.
There were so many boats out on the bay to watch the Angels and airshow that you could start at the Golden Gate Bridge and hop from one boat to another and end up on Alcatraz Island.
But as their arrival was furious, so was their departure. After a final tip of the wings to San Francisco, off the went.
Until next year.