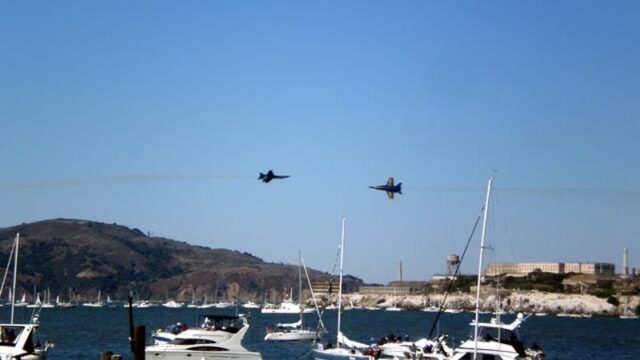 Face it: you and everyone else who plans on going to this year's Fleet Week 2009 event in San Francisco Oct. 8-13 will be jockeying — in some cases — fighting for the perfect spot to watch the Blue Angels zip through the skies of the Bay Area.
BLUE ANGELS: They fly from 3 p.m. to 4 p.m. Friday through Sunday, Oct. 9-11. Survey flights will take place on Thurs. Oct. 8 starting at noon. Full schedule of events.
FLEET WEEK TWITTER UPDATES: Follow @californiabeat for the latest information on Fleet Week 2009.
In reality, there really isn't a bad spot in the city to catch a glimpse of the jets. Just look up from where ever you are. But there are some places that are better than others to hunker down with a picnic lunch or the camera with the telephoto lens for an annual acrobatic airshow.
The Marina Green (map)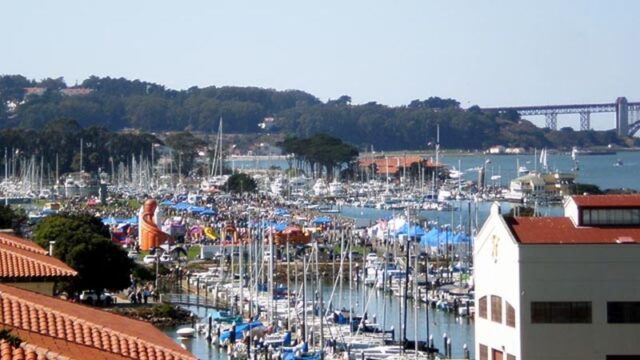 The Marina Green will be the nexus of where all the action is to take place: vendors will be selling food and military trinkets, recruiters will be out in force offering to doll the youngsters up in camouflage face paint, and the parking lot for Fort Mason will be transformed into a hub of activity for event organizers. There's a huge spacious lawn to bring a blanket and a picnic basket to view this weekend's Team Oracle airshow taking place over the northern waterfront at 12:30 p.m., but come early and stake out a spot on the lawn – it's a popular spot that always gets crowded.
Aquatic Park (map)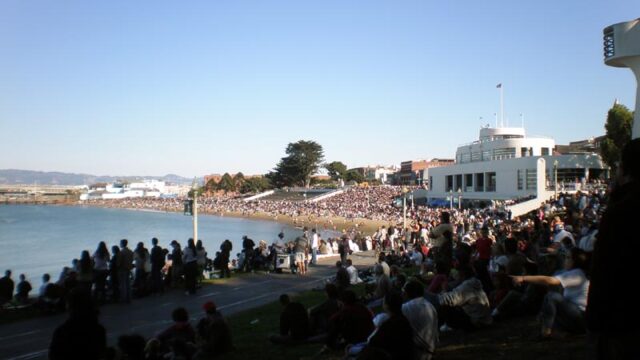 East of the Marina Green and closer to touristy Fisherman's Wharf you'll find another patch of grass to spread a blanket and witness the Blue Angels soar over the fleet of fishing boats docked in the Bay. With Alcatraz and Marin County as a backdrop, this is a popular location where people always flock to especially if the weather cooperates. Seating areas are taken quickly by revelers and so are prime patches of city-owned lawn at Aquatic Park. Come early to stake out a spot to picnic and keep someone from your party around to keep your spot yours. Alcohol isn't allowed here, and expect many families bringing along the young ones.
From the middle of the Bay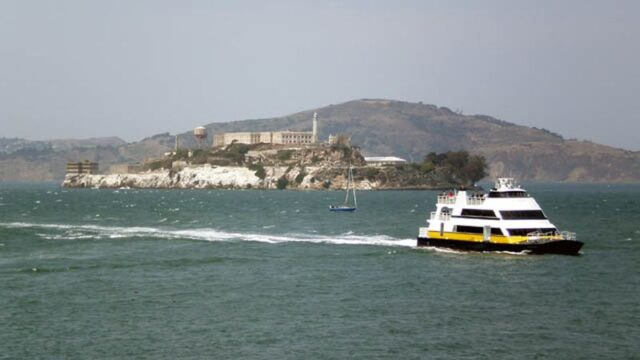 This does not qualify as a free option, but several of the major bay cruise operators in town offer Fleet Week cruises where you can pay to get on a fancy boat, sail out to the middle of the bay and sip cocktails while the Blue Angels whiz over your heads. Hornblower Cruises offers such a cruise, Red and White Fleet and Blue & Gold Fleet both do it too, and you can also hop on-board the WWII Liberty Ship, the S.S. Jeremiah O'Brien for a Fleet Week cruise and to sail in the Parade of Ships. Click on the links for more information on what these operators offer this weekend. Read more about the O'Brien's history here.
Smaller, private commercial boating outfits in the Pier 39 area may also offer Fleet Week excursions – so you may get many propositions from a quick jog down Jefferson Street near Fisherman's Wharf.
Telegraph Hill/ Coit Tower (map)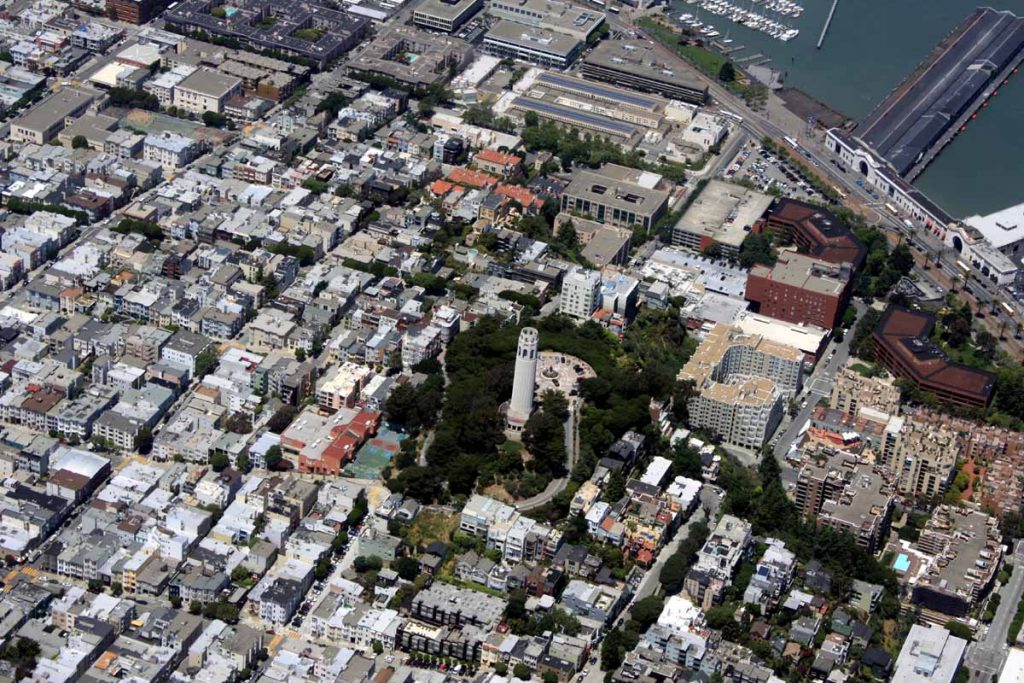 High above the hustle and bustle of the waterfront activity, people who stake out a spot on scenic Telegraph Hill overlooking much of the Bay can expect to see every twist, turn and catapult from the Blue Angels. In fact, this is a prime photography location for professional shooters looking to grab a timeless shot of the jets roaring past San Francisco's famous landmarks (the Bay Bridge, skyline, etc.). Be prepared though: you're on a hill, which means when the Blue Angels zip directly overhead, you'll hear and feel the powerful fighter jet engines like no other San Franciscan living in any other part of the city.
We recommend this spot if you're tired of the crowds in the flatlands along the Embarcadero, and if you're yearning for a rather intense hike up the hill to muss up your hair as the jets literally fly over (your) head. Also, heed our warning: don't drive up here. Parking is impossible to find, especially on a weekend.
Treasure Island (map)
For the second year in a row, this is the California Beat's recommended viewing spot for people who just don't want to deal with San Francisco traffic and all the crowds that are guaranteed to be there. You're close enough to see the ships sailing in and the Blue Angels fly over the city, but with decent free public parking options available to you from the San Francisco-side of the island. This is your go-to spot if you want to catch the ships and Blue Angels with the city skyline in the background, or if you want to be close enough to see the smoke from the jets, and avoid the steep parking lot costs.
Where you won't be able to watch
The Port of San Francisco will close off some of the pedestrian piers along the waterfront to Fleet Week revelers because of safety concerns and issues regarding just how much weight the piers can withstand. With thousands of people weighing down a pier, Port officials are concerned about just how safe pedestrians are on the structures. So, like in previous years, Piers 7, 2, 41, and other piers along the waterfront will be fenced off to pedestrian access beginning Friday, Oct. 9. So if you're trying to get a close-up of a sailor who's saluting you on the way in to port, folks won't get a chance to grab that shot from the waterfront piers.
Of course, you can always purchase seating at the official viewing area at the Marina Green.
Tickets range from $30 to $170 are also available for purchase from event organizers here. They promise comfortable front row seats where you can unwind and take advantage of waiter service along with an assortment of food and alcoholic and non-alcoholic beverages.
We recommend arriving early and making the event a day trip – Fleet Week has the potential for drawing hundreds of thousands of people just like you into San Francisco.
Do you have a recommended place to watch Fleet Week 2009 festivities? We want to hear from you: add it as a comment below.