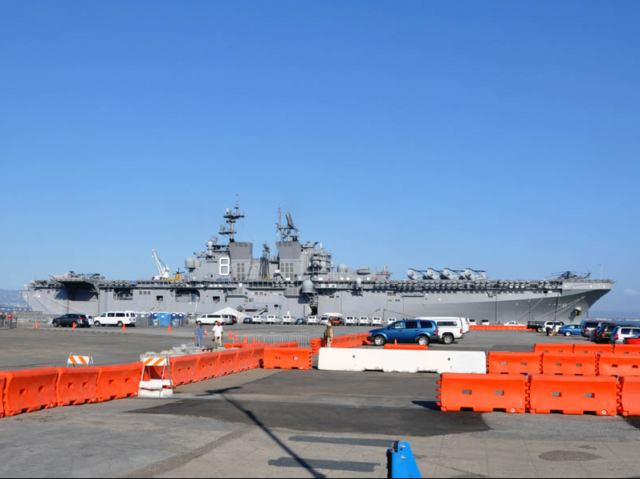 SAN FRANCISCO — This year's Fleet Week celebration, an annual event that celebrates the city's rich contribution to the United States armed forces, will be the largest one held in 20 years, organizers and city officials said Wednesday.
Ten ships, eight of them active military vessels, will take part in this year's event, scheduled to kick off today and run through Monday. The eight active military ships — including two from the Canadian naval fleet — will bring nearly 1,000 sailors into San Francisco, according to Fleet Week organizers.
"Fleet Week is a San Francisco tradition where we celebrate our City's rich naval history and maritime traditions and salute the men and women of our Armed Forces for their devotion and service to the defense of our country," San Francisco Mayor Gavin Newsom said in a written statement.
Newsom joined Fleet Week organizers and pilots of the United States Navy's Blue Angels at a press event at City Hall Wednesday to announce the start of the annual event.
Newsom, who is running for Lieutenant Governor in the November election, proudly heralded a new hybrid-electric U.S. Naval amphibious assault ship, the USS Makin Island, that sailed into San Francisco Wednesday and will be docked at Piers 30/32 until Tuesday.
Organizers announced that nine other ships will participate in Saturday's Parade of Ships, scheduled to start at 10 a.m:
USS Pinckney (DDG 91)
USS Curts (FFG 38)
USS Champion (MCM 4)
USS Pioneer (MCM 9)
USS Chief (MCM 14)
US Coast Guard Cutter Active (WMEC-618)
Canadian Naval vessels HMCS Whitehorse (MM 705) and HMCS Brandon (MM 710)
The historic WWII Liberty Ship Jeremiah O'Brien (read more about it here)
A Vietnam-era Liberty PT-26 from Sacramento, California with its all-female crew of sea cadets.
The Blue Angels will conduct practice and survey flights Thursday and Friday afternoon. The F/A-18s of the Navy's flight demonstration squadron will fly over the city beginning at 1 p.m. on Thursday and at 3 p.m. on Friday.
On Saturday and Sunday, the annual Fleet Week airshow over San Francisco Bay is expected to attract over 1 million people into the city, with the event's main draw, the Blue Angels, flying at 3 p.m. on both days.
Tours of all the Fleet Week ships will be available Sunday and Monday.
A complete listing of Fleet Week events can be found on our Fleet Week Insider's Guide.