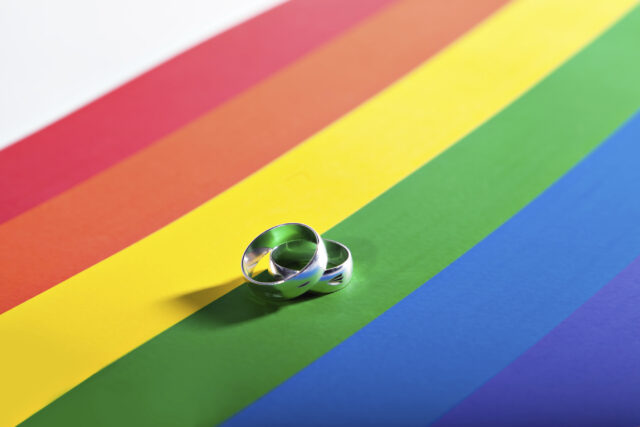 (8/12) — UPDATED 18:30 PDT — SAN FRANCISCO — A federal judge is refusing to stay his ruling that California's voter-approved Proposition 8, which defines marriage exclusively as a union between a man and a woman, violates the U.S. Constitution pending an appeal by the measure's backers.
But U.S. District Judge Vaughn Walker chose to prevent his decision from taking effect until August 18 at 5 p.m. — allowing Proposition 8 backers time to appeal to the Ninth Circuit Court of Appeals for an emergency stay, and preventing any same-sex weddings until then. Same-sex marriage opponents said they had immediately appealed Walker's ruling.
San Francisco Mayor — and candidate for state lieutenant governor — Gavin Newsom joined many politicians around the state in praising the decision to lift the stay, calling it "an historic decision."
But many of the same-sex couples gathered at San Francisco City Hall in anticipation of the decision, hoping to take advantage of an opportunity to get married that might only be open for a few hours, expressed disappointment at the decision to delay the lifting of the ban.
The validity of any same-sex marriage licenses issued would be in doubt until the appeals process concluded. Attorney Charles Cooper argued in a motion filed August 3 — the day before Judge Walker issued his ruling — that this would unfairly burden the state, "inflict harm on the affected couples" and create "uncertainty" that would not be in the public interest.
But Walker disagreed, pointing to motions filed by attorneys for Governor Arnold Schwarzenegger and Attorney General Jerry Brown saying that allowing same-sex marriages to resume immediately would not unduly burden the state. Walker also said that Proposition 8 backers had failed to "identify a harm to them that would result from denial of their motion to stay."
And the judge questioned whether Proposition 8 backers had standing to appeal his ruling. "The Supreme Court has expressed 'grave doubts' about whether initiative proponents have independent Article III standing to defend the constitutionality of the initiative," Walker wrote.
Opponents of Proposition 8 argued that continuing to prevent same-sex couples from marrying constitutes "irreparable harm." "Each new day [the opportunity to marry] is denied is a day that never can be returned to them — a wrong that never can be remedied," wrote attorneys Theodore Boutrous Jr. and Therese Stewart in a motion filed Friday.
In San Francisco's Castro District, some were already planning ahead.
Devon Doren and Bonnie Cameron, who are registered domestic partners in Oregon, said they were thinking of getting married in California, even though Oregon does not recognize same-sex marriages.
"We're thinking about returning to San Francisco because marrying would be symbolic. Those rights aren't legal in Oregon. We may just do it for the symbolic reason," Cameron said.