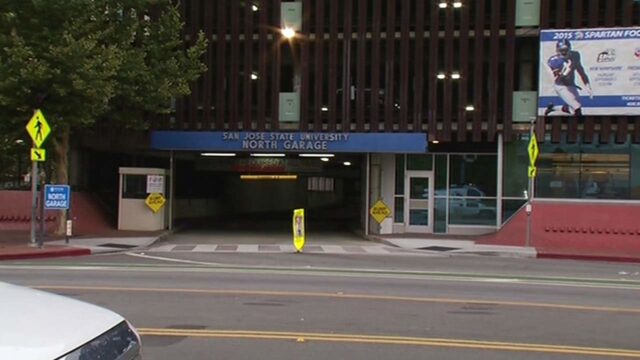 (5/11) — UPDATE 10:53 PDT — SAN JOSE, CALIF. — Three people were struck and killed by gunfire inside a San Jose State University parking garage Tuesday evening in an apparent murder-suicide, police said.
Campus police said the shooting happened after 8:30 p.m. on the fifth floor of a multi-level parking garage at South Tenth and San Fernando Streets near Downtown San Jose.
Authorities said two people were killed in the shooting and a third person — believed to be the shooting suspect — was transported to a local hospital suffering from a self-inflicted gunshot wound.
The third shooting victim died shortly after arriving at the hospital, according to authorities.
The garage area was closed to the public to allow officers from the University's police department to launch an investigation into the incident. The school said there was no further threat to other parts of the campus following the gunfire.
The University did not reveal whether any of the victims were students of the school and did not release the identities of the deceased. A university spokesperson said the shootings were not random and contained to the parking lot structure.
As of 10 p.m. Tuesday, hundreds of onlookers — mostly students — had gathered around the shooting scene as police searched for evidence relating to the shooting.