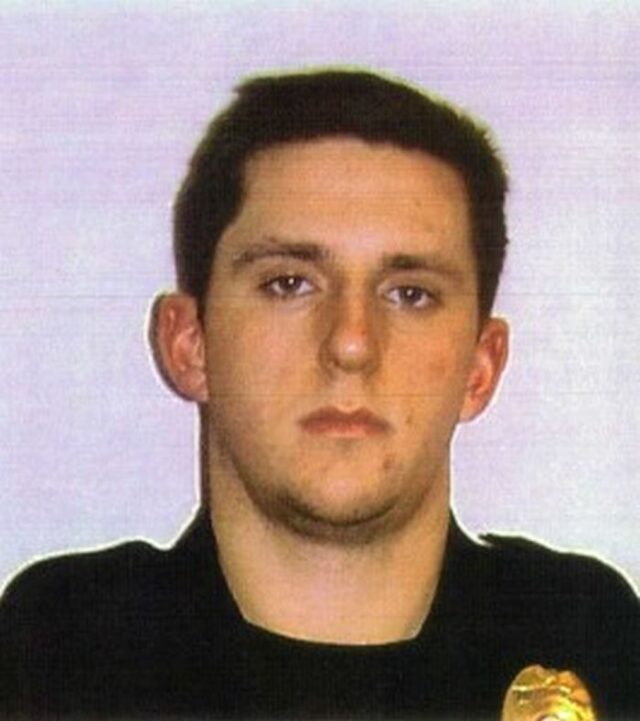 6/26) — UPDATED 00:32 PDT — LOS ANGELES — Former BART Police Officer Johannes Mehserle, who shot and killed unarmed train passenger Oscar Grant on January 1, 2009, told a Los Angeles County jury Friday morning that he mistakenly drew his gun instead of his Taser — the first public explanation made by the ex-officer since the videotaped incident.
But the prosecution sought to poke holes in Mehserle's story, bringing up inconsistencies in his testimony with the recorded events of the night.
Mehserle's defense attorney Michael Rains resumed his questioning of the former officer Friday morning, after calling him as a witness in a surprise move on Thursday.
"I didn't think I had my gun," Mehserle testified. "I remember the pop wasn't very loud, it wasn't like a gun shot. I remember wondering what went wrong with the Taser, I thought the Taser had malfunctioned."
"I remember looking at my right hand and seeing my gun," he told the court.
Mehserle's testimony suddenly became emotional. "I didn't know what to think," he said as he began to break down in tears. "It shouldn't have been there."
As he cried uncontrollably on the witness stand, his family, seated in the courtroom gallery pews, also began to cry. It was the first display of emotion in the courtroom by Mehserle or his family.
"I remember Mr. Grant says. 'you shot me,'" he said, choking back tears.
Wanda Johnson, the mother of Oscar Grant, rose from her seat inside the courtroom and rushed out during the defendant's continuous sobbing. She was followed by her best friend Dawna Smith, who was Grant's godmother. Smith later told the Beat she had left to support Johnson.
Immediately after, a Grant supporter identified as Timothy Killings of the Bay Area's Laney College rose from his seat in the courtroom gallery and yelled at Mehserle on the witness stand.
"Maybe you should save those f– tears!" he shouted.
Some seated near him briefly clapped after his statement. Judge Robert Perry quickly ordered bailiffs to arrest the individual for contempt of court. He was handcuffed at the door before being removed.
The emotional outcry from Mehserle appeared to be met with anger from other supporters of Grant in the audience. Some could be heard calling the crying "ridiculous" and muttering about it being "rehearsed" for the jury.
The judge then cleared his courtroom for a brief recess and later threatened to block all spectators if there were additional outbursts from the audience.
"You have a job to do here […] and you cannot let an emotional outburst from someone in the audience influence you in any way," Perry warned the jury afterward.
"It's staged, all of that is staged," Grant's mother said after watching Mehserle cry. "He was coached to do that, and he did what he was coached to do."
"I told Grant to calm down"
Mehserle testified that he arrived at the Fruitvale Station to find Grant and his friend Jackie Bryson upset with ex-BART Police Officer Tony Pirone, who had pulled the men off a Dublin-Pleasanton BART train after reports of fighting.
"They didn't tell me what happened with [Pirone]," Mehserle said, but Grant made it clear, "he was angry with Prione, not with myself."
He said he attempted to deescalate the situation by talking to them.
"I told [Grant and Bryson] to calm down, we'd figure it out," Mehserle said.
That's when Pirone ordered Grant and Bryson arrested for "148" — the California Penal Code section for obstructing a police officer. Mehserle said he did not particularly feel that Grant and Bryson's actions were illegal at the time, but chose not to question a fellow officer's commands.
"I followed the order, assuming [Pirone] made the right decision…he had more information."
The defense contends that Grant and others were actively resisting arrest and ignoring the commands of the police officers. Rains' expert witness Micheal Schott testified Wednesday that video evidence appeared to show Bryson striking Mehserle. Mehserle himself said he had no recollection of such an incident.
Bryson's arrest went without difficulty, Mehserle told the jury. But when attempting to arrest Grant, the former officer testified that it turned into a brief struggle for the man's hands.
"His hands were underneath him," he said. "I wasn't paying attention to his left hand, I was trying to get his right hand."
Mehserle said he saw Grant's right hand reach into his pocket.
"It made me question what his intentions were…I knew the right front pocket was a place where people kept–," Mehserle then paused.
"Guns."
It was at this point the former officer said he decided to Tase Grant.
"I didn't know I had my gun"
Standing over Grant, Mehserle said he reached for his Taser with his right hand. But instead, the former officer drew his Sig Sauer semi-automatic pistol. He told the court that he intended to use the Taser to incapacitate Grant and get him to comply with his orders.
"I remember thinking, 'OK, this has got to go quick'."
"It felt smooth like there was no problem," he said about reaching for his weapon. "There were no flags that popped up, there were no red flags."
Then Mehserle fired the single, lethal shot into Grant's back.
"I didn't know I had my gun," he said.
Afterward, Mehserle said he realized he fired a bullet instead of Taser probes. He looked down at Grant, who lay mortally wounded on the station platform.
"I remember him starting to close his eyes […] I was trying to keep his eyes open," he said. "I was scared, 'cause, you know, this wasn't supposed to happen."
Mehserle said he tried to apply pressure on the wound to stop the bleeding. As back-up officers arrived, they took him off the platform and away from Grant.
"I remember looking over at Grant…I just wanted him to be alright. I remember someone yelling that he had a kid," he said, again choking up.
Mehserle said he was taken to BART administrative headquarters at Lake Merritt Station afterward, where he began crying to his mentor Officer Foreman about the shooting incident. He said the senior officer instructed him not to talk to anyone about the shooting until after consulting with an attorney.
He said it was for this reason he didn't mention to Foreman or anyone else that the shooting was an accident.
Mehserle has not publicly explained why he shot Grant until Friday morning's testimony. His defense attorney Rains asked the former officer what he was thinking when he pulled out his service pistol.
"I didn't intend to shoot Mr. Grant," he responded. "I meant to Tase him."
Prosecution looks for inconsistencies in Mehserle's story
In the afternoon session, prosecutor David Stein tried to poke holes in Mehserle's story.
Bringing up a previous incident where Mehserle had been disciplined for not yelling "gun" when he saw a gun on a detainee, Stein asked Mehserle why he didn't yell "gun" if he thought Grant had one.
Mehserle said that he didn't see a gun. Pressed by Stein on the point, he said that "the only time I would yell 'gun' was if I was 100% sure that he had a gun."
But if Mehserle even thought Grant had a gun, Stein argued, it would have been unwise to step back and Tase him — that could have given an armed suspect enough time to shoot. Additionally, Stein argued, the spasms the Taser induces could have easily caused a hand on the trigger of a gun to shoot. Mehserle said he hadn't considered either possibility.
At various points, Stein asked Mehserle to explain why many of the statements he claimed to have made that night, such as shouting "I'm going to Tase him," weren't picked up on the videos of the incident. In each case, Mehserle answered that he didn't know.
Stein later brought out Mehserle's gun holster and, after demonstrating the complicated action necessary to remove a gun from it, asked Mehserle whether he remembered making any of those motions.
"I don't remember going for my gun. I don't remember any of that," Mehserle replied.
Another key point of Stein's was why the former officer, who said he was "devastated" by the shooting, never told anyone it was an accident. Mehserle did not deny that he had never actually explained to anyone that he drew his firearm by mistake. Two videos revealed Mehserle talking with BART officers Franklin and Knudsen on the platform but Mehserle said he didn't recall talking to either. The defendant repeated he had sought to tell Foreman but was cut short when the older officer told him he "didn't want to hear any specifics" and advised him to consult with his lawyer.
After Stein finished his cross-examination, Rains sought to hammer home the emotional impact of the shooting on Mehserle.
"You wake up every morning thinking about this?" Rains asked. "Yes, sir," Mehserle replied.
"And you go to bed every night crying about it?" Rains continued. "Yes, sir," Mehserle said, again choking back tears.
"And will you cry about it tonight?"
"That's enough," said the judge, cutting Rains off.
Testimony continues Monday in Los Angeles, where the case has been moved due to concerns over whether Mehserle could receive a fair trial in the Bay Area.