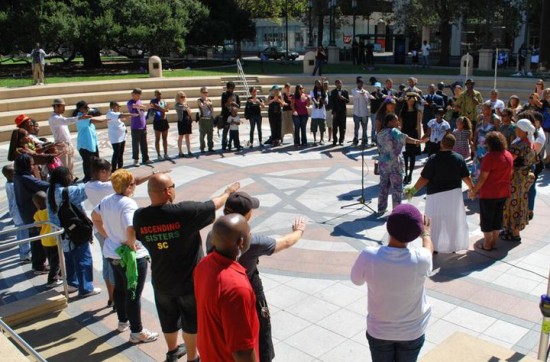 As Johannes Mehserle's sentencing date nears, family members, friends and supports of the 22-year-old Hayward man he fatally shot nearly two years ago are ramping up their efforts to mobilize community groups and push for the maximum possible sentence for the ex-BART Police officer.
Mehserle, who killed unarmed train passenger Oscar Grant on the platform of the Fruitvale BART station in the early hours of New Year's Day 2009, was convicted July 9 of involuntary manslaughter. The case was the first in which a California police officer has been tried for murder for an on-duty killing, and the Grant family and its supporters believe a murder conviction would have been the appropriate verdict.
Together with community sponsors, the Grant family held a "Mothers Taking a Stand against Police Brutality & Gun Violence" event in front of Oakland City Hall last Saturday.
"I know that God had a bigger plan for my son's life," said Grant's mother Wanda Johnson, addressing the crowd from the center of Frank Ogawa Plaza in front of city hall. "I know that God is using Oscar as a catalyst to change the way we deal with our laws, to change the way we deal with police brutality, to change the way we deal with one on one gun violence."
Johnson rejects Mehserle's claim that he meant to use his Taser, not his gun, on Grant. She, along with many Oakland politicians, activists and community members present at the event, see Grant's shooting as intentional, and his death and the events that led up to it as examples of police brutality.
She referred to her son's death as a "senseless murder" and encouraged all mothers who had lost children to gun violence of any sort "to keep praying, to keep fighting, to keep pressing."
About 60 people gathered for the daylong event, which featured spoken word and song performances. The mothers of Michael Greer and Jackie and Nigel Bryson, friends of Grant who were on the platform during the shooting, spoke at the event, as did the great grandmother of Grant's daughter, Congresswoman Desley Brooks, The Nation of Islam's Reverend Keith Muhammad and former Black Panther Elaine Brown.
Though Grant was the primary focus of the event, it also honored Aiyana Jones, a seven-year-old girl who was killed by police in Detroit on May 16 during a raid on her home. A sister event was held in the nation's capital for Grant and Jones as well.
After the event, Grant's mother told the Beat that prayer was all she had to keep her grounded as she prepares to return to L.A. for the November 5 sentencing.
"No matter what the sentencing is, it won't bring Oscar back," she said.
Oakland City Councilwoman Desley Brooks echoed the sentiment that the killing was intentional in her speech, when she referred to Grant's death as an execution.
"I remember when Oscar was executed on that platform I watched the media coverage for several days and it wasn't until I got a call from Minister Keith that I realized that if I got up and we all stood together, we could make a difference," she said.
Brooks, who has been active in the case since the shooting occurred, emphasized the importance of community participation in local politics.
"We need to stand together and we need to stand consistently; not just when they kill our children," she said.
At the conclusion of Mehserle's criminal trial, the Justice Department launched a federal investigation to determine if Mehserle or any of the other officers who detained Grant violated his civil rights. Congresswoman Barbara Lee, who was instrumental in pushing for the investigation, wrote a personal letter in support of the congregating mothers on the East and West Coasts, which condemned the "violence, inequity, prejudice and irresponsibility that too often plague the system of justice."
The event was sponsored by Congresswoman Brooks and community groups Ascending Sisters, Sistas Behind the 8, Neighborhood House of North Richmond and ONYX Organizing Committee.
According to Grant's uncle Cephus "Bobby" Johnson, it will not be the last event the family and their supporters will hold before the sentencing. Another event is scheduled at the same location for October 23.
Regarding the sentencing, Johnson said, "We just have to keep our faith and trust that the system will work to ensure justice. History has shown that it does not work; but hopefully this time, with the video and all the support we have, it will work."
Johnson has been very active in organizing and recently launched the Oscar Grant Foundation in his nephew's memory. The foundation's efforts so far include a mailing campaign to Judge Robert Perry, who is presiding over Mehserle's sentencing, and a call to rename the BART station where Grant lost his life "The Fruitvale / Grant BART Station."