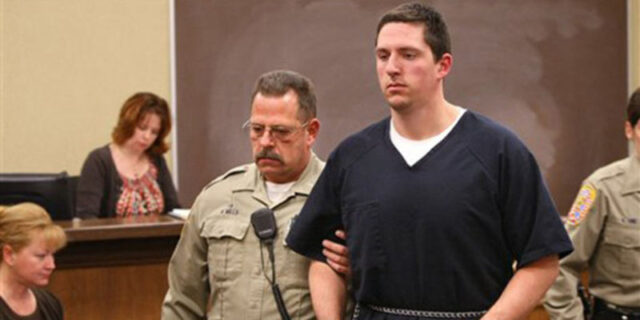 (7/9) — UPDATED 16:25 PDT — OAKLAND — In a letter released by his lawyer today, Johannes Mehserle, the former BART Police officer convicted of involuntary manslaughter for shooting an unarmed train passenger, expressed his remorse and said he never intended to shoot Oscar Grant.
In the handwritten letter, dated July 4 — four days before the verdict was reached — Mehserle asked his attorney Michael Rains to disseminate it to the public, which he did so on Friday.

While he did not apologize when put on the witness stand two weeks ago, he wrote that "I have and will continue to live every day of my life knowing that Mr. Grant should not have been shot. I know a daughter has lost a father and a mother has lost a son. It saddens me knowing that my actions cost Mr. Grant his life, no words express how truly sorry I am."
Mehserle also wrote that he hoped to talk to Grant's mother Wanda Johnson and Sophina Mesa, mother of his young daughter, after the shooting but did not do so after he and his family received death threats. He said one day he hopes to engage in dialogue with them.
"For now, and forever I will live, breathe, sleep, and not sleep with the memory of Mr. Grant screaming 'You shot me' and putting my hands on the bullet wound thinking the pressure would help while I kept telling him 'You'll be okay!'" Mehserle wrote.
He added that when Grant began to succumb to his wound, closing his eyes and ceasing to talk, it made him feel "sick."
But members of Grant's family have taken no comfort in the former officer's words. Grant's uncle Cephus Johnson said the letter was "not authentic," and merely a way Mehserle is trying to reduce his sentence.
"If any of this was authentic we wouldn't have suffered these last 19 months," Johnson said.
He said his family was hurt by the lack of response by Mehserle since the shooting happened in January 2009.
The first time Mehserle publicly stated the shooting was an accident was on June 25, when he broke down crying on the witness stand where he testified in his own defense. After the testimony Johnson asked, "If this were really an accident, why wouldn't he have called to send his condolences right after it happened?"
Jack Bryson, whose sons Nigel and Jackie Bryson were friends with Grant and both witnessed his death, agreed. "I don't buy it. It sounds exactly like what Rains was saying, he just put it on paper," he said.
Bryson said he thinks Mehserle is only remorseful because the killing was videotaped, since he still tried handcuffing Grant after he was shot and did not check up on Grant in the hospital. "If he were sincere he would have been with Oscar the whole time," he said. "How could this be authentic when he had no reason to Tase [Grant] in the first place? It was a complete abuse of authority."
Johnson asked, "How can we believe this is the truth after all we've been told is lies?"
A Los Angeles jury convicted Mehserle of involuntary manslaughter Thursday afternoon. He was charged with second-degree murder by the Alameda County District Attorney's Office, which expressed its disappointment following the verdict.