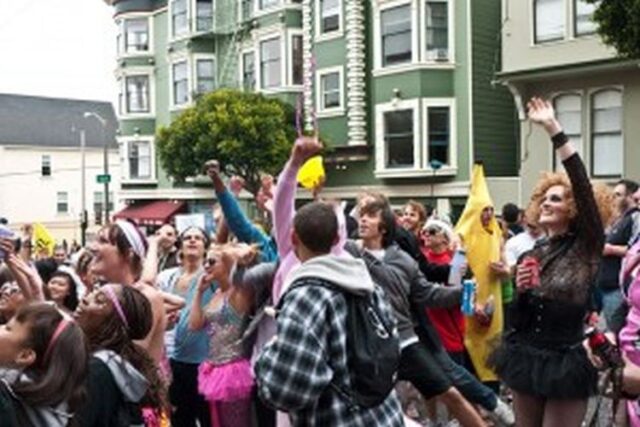 Some see it as a century-old quintessentially San Francisco tradition; others view it as a mobile fraternity party that goes on for miles.
On Sunday, tens of thousands will take part in the 101st running of the Bay to Breakers race, an annual tradition that brings out everyone from professional runners to costumed crime-fighters — and others who wear nothing at all.
For the serious runners, it's an all-encompassing 12K race from Downtown San Francisco (the bay) to the western edge of Golden Gate Park (the breakers) that draws athletes from around the world.
Last year, Ridouane Harroufi, a 29-year-old Moroccan, finished the course in 34 minutes and 26 seconds to win the men's open field race. A Kenyan woman, Lineth Chepkurui, 23, completed the run in 39 minutes and 12 seconds to win the women's open field competition.
Not everyone who shows up cares about their time, though.
The race — famous for the many zany and creative costumes "runners" don — draws other, less competitive participants who enjoy the alcohol-fueled mobile party atmosphere, resulting in rampant public drunkenness in recent years. Complaints of public urination, illegal dumping and violence from residents along the race route led to a police crackdown on alcohol and reorganization of race rules.
Sponsors of the race dropped their support, not wanting to find themselves associated with an event that was quickly becoming an annual day of out-of-control binge drinking and public nudity.
"Bay to Breakers has always been a blast for everyone," said San Francisco Police Chief Greg Suhr. "Last year was no different, with the singular exception of no alcohol allowed. In some years past, because alcohol was allowed, there was a negative impact of our neighborhoods and we don't want to see that repeated."
The main sponsor for this year's event is Zazzle, an online retailer.
Suhr said his officers would continue a no-tolerance approach towards alcohol at the event — a ban that went into effect during last year's race. Police will also look for and seize race floats that have typically been used to haul beer kegs on the race course. Organizers have also moved this year's race start time earlier, to 7 a.m.
"That said, we hope that everyone will come and have a great time again, absent any alcohol," Suhr said.
Bay to Breakers: What you need to know
Weather:
The National Weather Service predicts clear skies during race time with a high temperature of 52 degrees and a low of 48 degrees during the start of the race. No rain is expected.
Traffic & Transit Impact:
The race starts at 7 a.m. at Beale and Howard Streets and winds its way through South of Market, Civic Center, the Hayes Street Hill, the Panhandle, and Golden Gate Park before ending at Ocean Beach. A race map is available here.
The San Francisco Municipal Transportation Agency said traffic along the route will be detoured until at least 10 a.m., when the final participants pass through each location. Parking along the route and surrounding streets will be prohibited beginning Saturday evening. Drivers should expect major detours around the city Sunday morning.
MUNI service will also be rerouted, and in some cases, be suspended on some routes because buses and trains will not be able get through the course.
Special MUNI express service, BART, and Caltrain trips have been added to help move participants to the event.
Register for the Race:
Online registration for the event has ended, according to Bay to Breakers organizers. Prospective runners and walkers can still purchase a race bib at the race expo on Saturday from 9 a.m. to 6 p.m. at the Bill Graham Civic Auditorium.