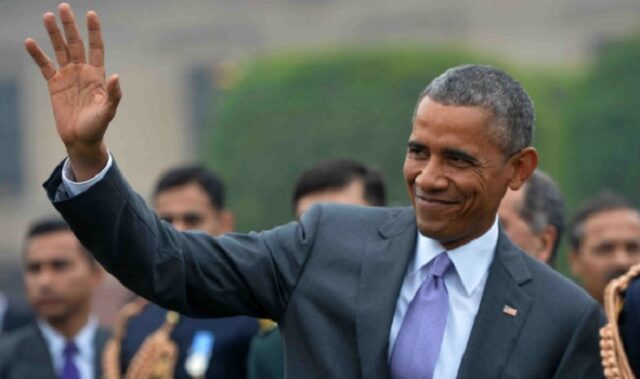 SAN FRANCISCO — In his shortest visit yet to the San Francisco Bay Area, President Barack Obama made a brief four-hour stop to headline two downtown fundraisers Wednesday, collecting more than $2 million from Democratic donors for his 2012 re-election bid.
Obama met with business leaders at a private business round table — hosted by San Francisco-based Salesforce.com at its headquarters in the Landmark Tower at One Market Street — before attending a luncheon at the Merchants Exchange Building on California Street.
"The American people are tough, and the tougher the times, the tougher they get," Obama told a cheering crowd of approximately 270 paying donors at the California St. event. Tickets for the luncheon ranged from $5,000 for basic admission to $50,000 for "table captain" status.
The President was greeted at the event by San Francisco Mayor Ed Lee, Lt. Governor Gavin Newsom and former Giants slugger Willie Mays, who introduced Obama to the crowd.
"It's just a wonderful feeling that I have in my heart," Mays said. "He's the man that we need to be in the White House."
Outside, left-wing demonstrators — protesting a variety of issues including drone attacks, big banks, and the treatment of WikiLeaks leaker Army Staff Sergeant Bradley Manning — were joined by supporters of presumptive Republican presidential nominee Mitt Romney for a vocal chorus of shouts, boos and chanting.
"Just 5 more months!" Romney supporters cried out through loudspeakers.
In a sign of the feverish pace of campaign fundraising this cycle, the visit comes just two weeks after Obama held three fundraisers here, including a rally for paying supporters in Redwood City. His Republican opponent, former Massachusetts Gov. Mitt Romney, made his own fundraising stop in the Bay Area last week.
The President continues his West Coast swing with an LGBT gala attended by A-list Hollywood celebrities Wednesday night in Los Angeles.
Obama will then go to Las Vegas on Thursday, where he will speak at a public event at the University of Nevada, Las Vegas. The UNLV event, notably, will be free — Nevada is expected to be a battleground state in November's general election, while Obama holds a commanding lead in California.
Crowds line the sidewalk on Market Street in Downtown San Francisco to try and catch a glimpse of President Barack Obama Wednesday, June 6, 2012. (CALIFORNIA BEAT PHOTO)
An Occupy San Francisco protester raises a protest sign during President Barack Obama's visit to San Francisco on June 6, 2012. (CALIFORNIA BEAT PHOTO)