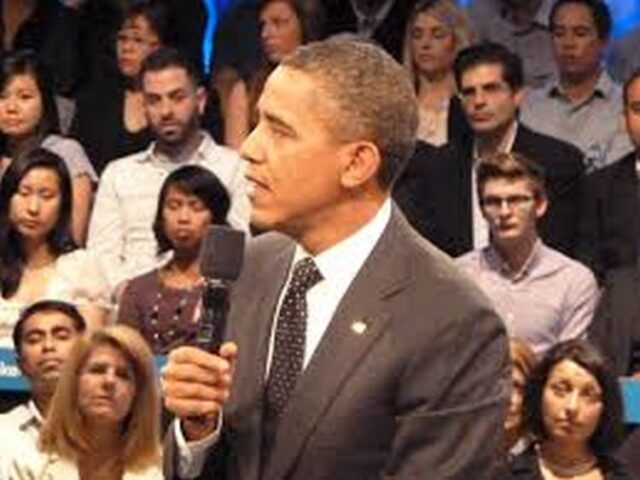 (9/26) — UPDATED 13:45 PDT — MOUNTAIN VIEW — President Obama fielded questions from members of the social networking site LinkedIn on how to stimulate the ailing economy Monday morning, at the end of a 21-hour visit to the Bay Area which also included two big-money Silicon Valley fundraisers.
At an intimate town hall meeting, held at the Computer History Museum in Mountain View and hosted by LinkedIn CEO Jeff Weiner, Obama called on wealthier Americans to pay higher taxes so that the nation could invest in education and infrastructure.
"We will all fall behind" if we don't invest in those areas, the President told an audience of a few hundred LinkedIn employees, invited guests and journalists.
Obama urged Congress to take action on his proposed American Jobs Act, saying that the American people "cannot wait" for the next election. According to Obama, the package, which includes small business tax cuts, worker retraining programs, and funding for infrastructure improvements, would create "1.9 million" new jobs and increase GDP by 2 percent, creating "ripple effects" that would "help the economy take off."
"Please raise my taxes", Google veteran demands
The President's proposal envisions raising taxes on the wealthy to fund the programs, an idea that has drawn heavy fire from Republicans, who argue that increasing taxes on the wealthy will inhibit job growth.
One questioner, though, had a different view.
"Will you please raise my taxes?" demanded Doug Edwards, who joined Google in its startup phase and worked there from 1999 to 2005. Edwards said that he and his friends could afford to pay higher taxes and that the country should be investing in education and infrastructure.
The question gave Obama a chance to hit back at his critics. The current tax rates are the "lowest tax rates since the 50s," Obama said, saying that GOP proposals for further tax cuts would return taxes to 1920s levels as a proportion of GDP. "We can't have a modern industrial economy" with taxes at those levels, Obama said.
"We're successful because someone invested in our education," Obama told Edwards.