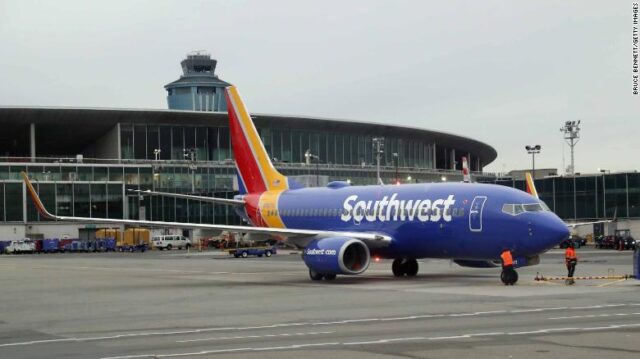 SAN FRANCISCO — Southwest Airlines grounded 79 of its airplanes Saturday morning for emergency inspections after a gaping 3-foot hole tore open in the fuselage of a Sacramento-bound flight Friday afternoon, forcing the plane to make an emergency landing in Yuma, Ariz.
The airline warned passengers to expect the cancellations of 300 flights and delays to dozens of others at airports nationwide to allow the FAA, NTSB, and engineers from Boeing, the manufacturer of its planes, to examine if others are at risk of developing the same problem.

One flight attendant was injured when he fainted due to a "rapid decompression" of the passenger cabin, according to passengers on-board flight 812, which departed Phoenix's Sky Harbor Airport for a scheduled 90-minute trip to Sacramento.
Passengers said a 3-foot hole developed near the vertical stabilizer of the Boeing 737-300 airplane, triggering oxygen masks to drop from ceiling compartments of the airplane. The pilot made a "rapid but controlled" descent from 36,000 feet to 11,000 feet, according to the FAA, providing enough oxygen for passengers to breathe normally.
The flight landed safely without further damage, according to a FAA spokesperson. All 118 passengers on board continued on another plane to Sacramento.
The development of a hole on the plane prompted Southwest to ground its fleet of Boeing 737-300s to allow for inspections of each aircraft for what experts believe likely caused the hole in the plane: metal fatigue.
Fatigue is the term for damage to metal caused by repeated stresses — like breaking a paper clip by bending it back and forth repeatedly. Uncaught fatigue damage caused a 1988 accident where a large section of the top of the fuselage of Aloha Airlines Flight 243, a Boeing 737-200, broke off, killing one flight attendant who was sucked out of the plane.
The grounding of its planes, approximately 14 percent of its fleet of Southwest's 548 Boeing 737s, caused significant travel delays at all three Bay Area airports, which are all served by Southwest Airlines, according to flight tracking website flightstats.com.
At Oakland International Airport, a busy Southwest Airlines terminal for the Bay Area, 11 departures were canceled and 15 flights were delayed by as much as 2.5 hours. Nine arriving flights were canceled and 19 others were delayed.
At San Francisco International Airport, 9 Southwest departures were canceled and 5 flights were delayed; 6 arrivals were canceled and 3 arriving flights were delayed.
At Mineta San Jose International Airport, 10 departures were canceled and 6 others were delayed. Nine arriving flights into San Jose were canceled and 7 flights were experiencing delays.
Southwest Airlines urged passengers to call or check with the airline for information on cancellations and delays on its website, southwest.com. The airline said the inspection process could last for days but hoped to return to normal operations after they were completed.