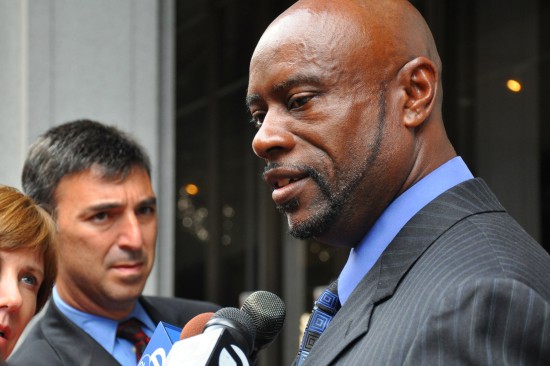 (6/11) — UPDATED 22:40 PDT — LOS ANGELES — 
A young friend of Oscar Grant broke down in tears on the witness stand today as the video he filmed of Grant's shooting by former BART Police Officer Johannes Mehserle was played for a Los Angeles jury.And multiple witnesses who took the stand on the second day of Mehserle's second-degree murder trial said Grant did not resist arrest before the former officer shot him.
Jamil Dewar was in the group of Grant's friends riding the BART train in the early morning hours of Jan. 1, 2009, but said he became separated from him at the Fruitvale BART station platform following what Dewar described as a "tussle" on the train between Grant and a man identified as David Horowitz.
"I saw security, angry faces running toward us, so I got back on the train," Dewar, who was 16 years old at the time of the incident, said.
When he looked out of the train's window, he said, "I started recording because I had never seen anything like that in my life."
The prosecution argues the environment on the station platform that night was one of "chaos," and that out-of-control police officers were abusing Grant and his friends.
They contend Mehserle intentionally used his gun to shoot the 22-year-old Grant.
As the sound of the gunshot rang out during playback of Dewar's footage, the young man broke down in uncontrollable sobs. His mother, who was also weeping, went up to the stand to comfort her son as several people in the courtroom audience also began to cry.
The emotional scene was enough for Judge Robert Perry to grant Stein's request to end the morning's session a few minutes before the scheduled noon lunch break.
Later, defense attorney Michael Rains grilled Dewar, taking an antagonistic tone he did not use to cross examine other witnesses. He inquired why the young man did not cry when similar video footage was played at the preliminary hearing.
Dewar said the event was fresher in his mind back then and he has not watched the video since.
"Oh, so when it was fresh in your mind, you didn't feel the same emotional response you did today?" Rains asked.
"No," Dewar responded, to which Rains shot back, "Oh, OK."
Witnesses say Grant and his friends "were cooperating"
Earlier that morning, several other witnesses testified, including Karina Vargas, Tommy Cross and Daniel Liu, who all recorded videos of the incident as well.
Vargas, who's video has been central to the case, said she did not see Grant or any of his friends resist police.
"To me it looked like they were cooperating," she testified.
Vargas said Grant seemed to be trying to calm the situation down after former BART officer Anthony Pirone forced the group against a wall.
Vargas said she remembers Grant placing his arm against his friend who was yelling at a female officer. Pirone then appeared to run up and hit Grant in the head and push him to the ground.
Rains argues Grant was not reaching toward his friend but instead was trying to punch the female officer.
When Grant was face-down on his stomach and Mehserle was trying to handcuff him, Vargas testified that "it didn't look like he was squirming or fighting."
"It looked like he had his arms behind his back voluntarily," she said.
Vargas testified she was filming about 10 to 15 feet away, and that she heard Grant say "don't Tase me, man" several times.
Cross, whose video has not been released to the public, testified after Vargas and also said he saw no resistance from Grant. He also testified Grant was reaching for his friend, not the officer, before Pirone forced him to the ground.
Liu, however, said the young men "sometimes stood up and tried to talk [back] to the officers," though he also maintained that "at times [Grant and his friends] were cooperating."
Rains argues Grant was resisting arrest before Mehserle shot him, and that Mehserle used his gun by accident and meant instead to fire his Taser.
Vargas testified Mehserle was not yelling when trying to handcuff Grant. "[Mehserle] didn't look angry, he just looked like he was trying to restrain him," she said under questioning by Stein.
Both Vargas and Cross testified that the aggressive actions of Pirone, who was the first responder to reports of the fight, caused them to begin recording. Pirone, who was more experienced than Mehserle and has been described by the prosecution as a "big brother" to Mehserle, has been a central figure in witnesses' accounts of the incident.
All of today's witnesses said Pirone used profanity repeatedly.
Cross said Pirone told Grant and his friends to "get the f– off the train."
They said he then forcibly removed one of the men, believed to be Grant's friend Michael Greer, from the train and threw him into the platform wall.
Witness Marcus Torres, who was last to testify, said Pirone was acting with such hostility he assumed it was Pirone who fired the gun. Torres did not film footage of the incident but was present at the time of the shooting.
Grant's uncle Cephus Johnson said at a press conference today that, while watching footage of the incident was difficult for the family, he thanked the witnesses who filmed the shooting. He said cameras are "the best weapon we have today to document a wrong" and "had none of them taped the video on that platform we probably wouldn't be here today."
Mehserle "dumbfounded" after firing a shot
In cross-examination Rains repeatedly asked witnesses to describe Mehserle's face and demeanor. Rains maintain his client was not belligerent that night and was horrified after committing a grave mistake.
Vargas told Rains that after Mehserle fired a shot into Grant's back, he looked shocked, confused and "dumbfounded." He put his hands up to his head and appeared to mouth "oh, my god," she testified.
Cross and Liu described a similar reaction from Mehserle.
"He looked up and I looked at him and he said either 'oh sh–' or 'oh, my god,'" Cross said.
The prosecution will continue presenting witnesses on Monday in Los Angeles, where the trial has been moved due to concerns that Mehserle could not receive a fair trial in the Bay Area given the intense publicity the case has received.