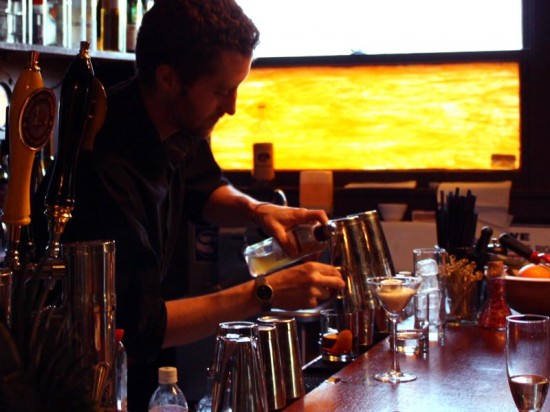 The Grand Tavern, perhaps named for the street it calls home, is a converted two-story Victorian that has become a local hotspot for dining out along Oakland's Grand Avenue.
On a recent visit, my guest and I sat at a wooden table right next to a fireplace and front bay window in the Victorian's converted living room.
The owner, Temoor Noor, is very friendly and makes his customers feel right at home, partly because the restaurant used to be one.
For him, the restaurant is a family affair.
His sister Jasmin served as our waitress and was very knowledgeable about the menu, making insightful recommendations about specials and ingredients.
I ordered the vegetarian plate for dinner: chili with roasted eggplant, squash and organic spinach with sun-dried tomato. The food was arranged simply and thoughtfully. I also ordered a margarita which had the perfect amounts of top shelf tequila and fresh
 squeezed lime.
The Grand Tavern uses organic locally grown produce in all of its drinks and dishes.
Temoor's mother, Kay Amir, is the chef. She has traveled all over the world and incorporates international flavors into her cooking.
Despite the fact that there were a number of people filling the tables and bar that night, it never felt crowded or busy — there was a calm vibe in the air. Overall the place is inviting and hip without being pretentious.
Happy hour is every day until 7 p.m. and all day Mondays. There is an exceptional collection of rare beer and wine on the menu. Temoor highly recommends a cocktail he created called "smoky wall," a blended concoction of mescal and scotch.

SPONSORED ADVERTISEMENT
Temoor said plans are in the works for the addition of a second floor with three bars by this summer. There's a large patio behind the restaurant with large beach umbrellas to provide shade for diners during the day and heat lamps to keep foodies warm at night. There's even a dog-friendly front patio that's open all year round.
Inside, outside, upstairs or down, choices are plentiful at this expanding Oakland business.