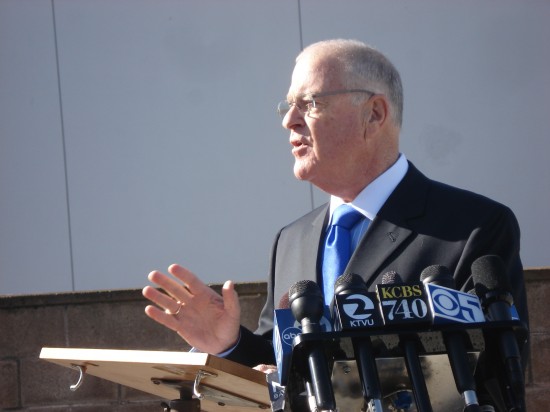 OAKLAND — Oakland mayoral candidate Don Perata, who lost the city's first ranked-choice voting election by a slim margin to councilmember Jean Quan for the city's Mayorship, told reporters today that he is disappointed with the outcome but will not contest the race.

"The results are pretty clear," Perata said during a press conference in front of the Oakland Police substation near Eastmont Mall. "Those are the rules of the game and I play by the rules."
In the end, he received 49.02 percent of the vote — less than two percent behind Quan, who won 50.98 percent of the vote, according to updated statistics released by the Alameda County Registrar of Voters Wednesday evening.
But Perata, who far outspent his opponents in his bid to become mayor, faulted the ranked-choice voting process for his defeat.
"If it was a normal election, I would be the landslide winner," he said.
On election night, November 2, Perata led Quan by a formidable 35 to 24 percent in first-choice votes. But Quan edged past him when she picked up more second and third-choice votes from those who ranked Rebecca Kaplan as their first choice. Kaplan, Oakland's at-large city councilperson, came in third place.
But while Perata said he believes the electorate overwhelmingly supported him, he added that because ranked-choice voting was new to Oakland voters this November, many did not understand how to fill out their ballots correctly.
"I think people were confused by it," he said. "Most of us are used to voting for one person. It will take awhile for voters to get used to that not being the case."
Perata added that he has had reservations about ranked-choice voting since he first learned about the process 12 years ago while chairing the state senate's election committee, and still does not know how its algorithms work to eliminate candidates. Perata evaded answers to questions posed by reporters who pressed him on how it is that he was confused.
Ranked-choice voting was passed by Oakland, San Leandro and Berkeley voters in an effort to save money by avoiding separate run-off elections.
Registrar of Voters Dave MacDonald said that after Wednesday's tally, a small number of ballots remain to be counted, but not enough to change the outcome of the race. The results will be made final when they are authorized later this month.
Perata said he still believes he is the right person to lead Oakland and help solve the city's problems, and is proud of the campaign he ran. "I'd do it all over again without hesitation," he said.
He ran for Oakland mayor after serving as President pro tempore of the California Senate from 2004 to 2008.
He was first elected to the state senate's 9th district seat in 1998, and during the decade he was in office the Senate ethics committee investigated Perata twice for possible money laundering schemes. Perata also became the target of an official probe by the federal Justice Department in 2004 for possibly taking kickbacks from campaign donors in exchange for his help, though the case was later closed in 2009.
Now, Perata said he does not plan to run for elected office again and will instead "step back into my role as a citizen to do whatever I can to make this city a better place." He added that he has known Quan for decades and will help her with whatever she asks of him.
"I still live in Oakland. I still love this community," said Perata. "I would like a united Oakland. I would like divisions to be less so, to remind people that we can work together."