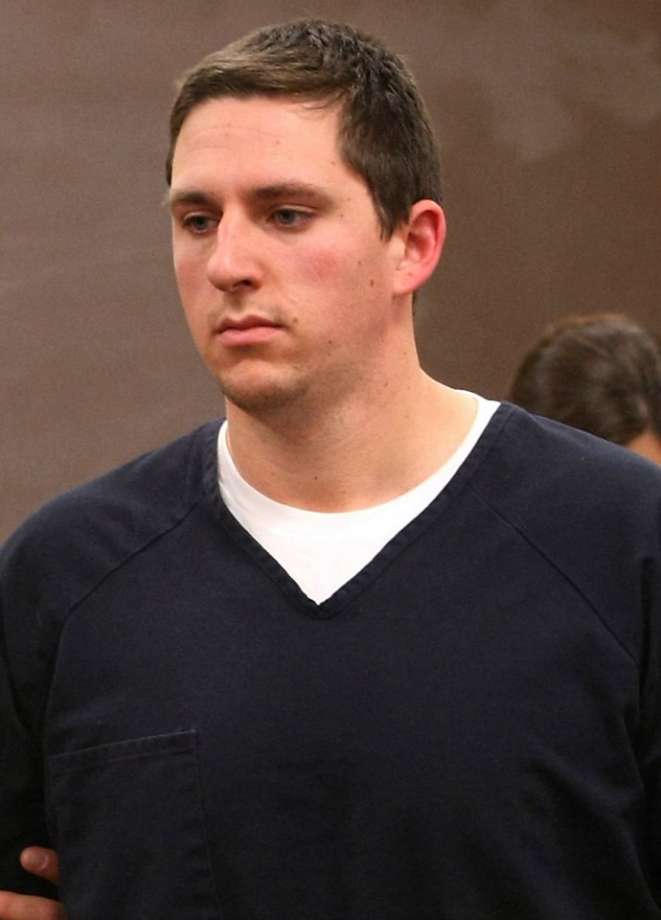 (6/21) — 16:16 PDT — LOS ANGELES — The prosecution in the second-degree murder trial against former BART Police Officer Johannes Mehserle — who shot and killed unarmed passenger Oscar Grant on the Fruitvale BART station platform January 1, 2009 — rested its case late Monday.
Alameda County Deputy District Attorney David Stein called five witnesses — three of them BART employees  — to the stand Monday and played a synchronized video showing the incident as captured from six different angles by bystanders and a security camera side by side.
The videos were played along with BART Police Dispatch recordings detailing the nine minutes between when a BART train operator called for police assistance to deal with a fight on board her train and when Mehserle fired a single gunshot into Grant's back.
This morning, the train operator downplayed the severity of the incident on the witness stand.
Keecha Williams said she received two calls of a fight on the train as she was pulling into the Fruitvale BART station, first from a female passenger, and then a male passenger who told the operator he did not see any weapons being used.
Williams said she then called BART Central Control and was told by dispatchers to wait at the station with the doors open for transit police.
Williams, a BART train operator since 2004, said she did not actually witness the fight but saw people standing up on their seats to avoid it.
She downplayed the severity of the brawl that involved Grant, his friends, and another man identified as David Horowitz, telling Stein that the fight was typical of the commotion that usually happens on trains in the early morning hours of New Year's Day.
When former BART Officer Tony Pirone responded to the platform, she said he asked her what was going on, to which she replied that it was the "same B.S. It's just what we get on New Year's […] It's just the norm."
Pirone never asked if anyone had been injured on the train or whether she believed anyone had weapons, she testified.
The train operator then refuted testimony given by Pirone last week, saying Pirone did not ask who had been involved in the fight. Pirone testified last Friday that he did ask.
The operator's attention then turned to Pirone jabbing his arms and "fighting somebody."
"He's just punching someone in front of him," she said. "That was the focal point."
She testified that right before she heard the gunshot ring out, a woman called her over the intercom to ask her to shut the doors because she did not want to get shot.
Stein also called Vicki Long of the Alameda County District Attorney's Office to the stand today to present the prosecution's synchronized video.
According to the video, the first dispatch call is made at 2:02 a.m.; at 2:04 Pirone arrives on the scene, then the next minute former BART Officer Marysol Domenici is called and arrives. A minute after that Pirone can be seen banging on the train's window and yelling at Grant and Michael Greer to exit the train.
Mehserle arrives at 2:08 a.m. and shoots Grant with his service weapon at 2:11 a.m.
The prosecution has charged Mehserle with murder in Grant's death, contending that the former BART Police Officer intentionally shot the 22-year-old with his gun. Defense attorney Michael Rains argues his client accidentally pulled his gun from its holster and instead meant to fire his Taser.
Stein continued to play footage after the shot rang out; Judge Robert Perry asked Stein why he was showing so much of the footage, but Stein argued that the behavior of the officers after the shot spoke to their state of mind.
Under cross examination Rains challenged Long's credentials, noting that she testified as a "lay witness" in previous cases. He also said that the lossy image compression used in preparing the prosecution's synchronization is not fit for evidentiary or analytical purposes, to which Long replied that she saw the prosecution's synchronization as a "demonstrative tool," not a piece of evidence to be analyzed for fine details.
An evidence technician for BART Police also took the stand today to describe the processing of evidence found on the platform after the incident. But under cross examination from Rains, BART Police Officer Brandon Moore said Mehserle was a "pleasant officer to work with."
On Tuesday — when the defense will begin presenting its case — Mehserle's attorney Michael Rains is expected to call to the witness stand San Leandro Police Officer Alex Hidas who will testify about his encounter with Grant that resulted in a police pursuit through city streets and the use of a taser on the Hayward resident.
The trial against Mehserle was moved to Los Angeles County over concerns that he would not receive a fair trial in Alameda County.