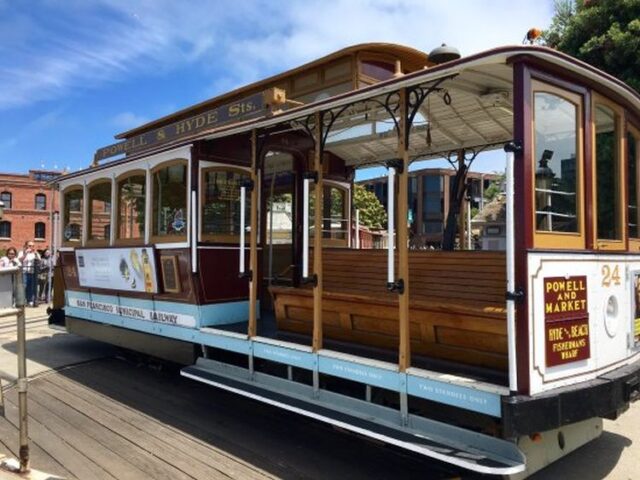 Alright, let's hear it.
You're back in your San Francisco hotel. Your legs and back are sore from all that standing around. You are sunburnt, a bit dehydrated, and peeved that the ride on a world-famous cable car almost emptied your bank account.
Welcome to SF, right?
But you're still probably wondering why you had to wait 30 minutes (or longer) in that seemingly endless line at the turnaround to hop on-board a car for a quick trip downtown or Fisherman's Wharf. What's more perplexing is why there were two or more empty cable cars just sitting around at the terminal with the gripman and conductor milling about, talking on the cell phone, and almost oblivious to the fact that you're about to pass out from all that waiting.
OK, enough whining.
You're not alone, and the cable car operators can't do much to alleviate your tired muscles.
You see, we're talking about a century old system – the only one of its kind still in daily operation – working to provide the daily transport for 21,000 passengers seven days a week, 365 days a year. The city's cable cars are also owned and operated by the San Francisco Municipal Railway – the much maligned city agency that is notorious for unreliablity, poor service and mistreatment of their riding public. Ask anyone who relies on MUNI (it's nickname) on a daily basis, and you will get an earful of just how awful it can be to get around on a transit system that just doesn't seem to care about providing quick and efficient service.
MUNI aside, it's principally about not overwhelming the engine that keeps the underground ropes moving at a constant 9.5 miles per hour.
Here's a quick lesson for those who don't know how a cable car works: there is no on-board motor on a cable car – it relies on a gripping device that extends below the car into a tiny 3/4-inch slot between the tracks in the street. Underground, the grip from the car clenches a moving cable, thus providing the momentum to move a cable car.
Now there has to be a mechanism to keep this cable moving. That is done by a powerful engine located at the Cable Car Barn/ powerhouse at Washington and Mason Streets that allows the underground cables to movee at all times at a precise 9.5 miles per hour. (There is also an admission-free Cable Car Museum at the barn where you can see all of this in action.)
The reason why MUNI can't press more cable cars into service to meet demand (i.e. you in that long line that keeps getting longer) is the fear that these additional cars might overwhelm the powering unit at the barn. Each single-ended cable car on the Powell Street lines weights more than 15 tons empty. The larger double ended California Street cars weights nearly 17 tons. Putting more cars into the service means adding additional tons of wood, steel and people that the powerhouse engine must hoist up San Francisco's steepest hills. Mind you, the technology that Cable Cars use was developed in 1877, and surely Andrew Hallidie, the father of the Cable Car, didn't anticipate these old relics becoming a world-renowned workhorse for tourists from every country in the world.
The current combination MUNI has worked out allows the railway to provide service at levels designed not to blow any engines up at the powerhouse:
There are two Powell Street lines (using the single-ended cars) running eight minutes each with a Cable Car supposed to leave the downtown turntable every four minutes. The Powell-Hyde line allows you to stop by crooked (but not the crookedest) Lombard Street and Aquatic Park. The Powell-Mason line gives you the chance to visit Chinatown, North Beach and provides a much more direct walk to Fisherman's Wharf and Pier 39.
The California Street line (using double-ended cars) runs at 8-10 minute intervals between the Hyatt Regency Embarcadero and Van Ness. It too serves Chinatown, but also heads to Nob Hill (serving the Fairmont Hotel, the Masonic Auditorium and the Mark Hopkins Hotel) with a western terminus at Van Ness Ave. This line is less busy than the Powell Street lines, and there is no such thing as a line to board California St. Cars.
But what if you waited for the other streetcars – the colorful antique ones on the F-line that have the trolley pole on top? You waited at the stop, saw them approaching only to pass you by with passengers crammed like sardines inside . You look into the distance, and you don't see another one in the distance. It's time to start getting pissed off.
Recently, columnist C.W. Nevius at the San Francisco Chronicle wrote about just how much of a success story this historic streetcar line has been – and how unprepared MUNI was to accommodate the influx of passengers on what it now America's busiest heritage rail line.
"For example, on Monday afternoon at Fisherman's Wharf, around 2:30, I climbed on car No. 1053, a green and silver model that ran in Philadelphia in the 1940s," Nevius writes. "It was pretty full when I got on, but at the next stop – right at Pier 39 – hordes of tourists clambered aboard. After several calls to get people to move to the back of the bus, the driver announced that we were now aboard 'express to the Ferry Building.' Sure enough, we shot past passengers waiting at subsequent stops as if they were invisible."
Really, who wouldn't want to ride these things: it's a diverse fleet of streetcars from all over the world that date back to the turn of the century. Plus, a one-way trip only costs a buck-and-a-half compared to the $5 you'd end up paying on the equally busy Cable Cars. And, transfers are issued and accepted, making the F-Market line an economical and popular choice for a connection to the northern waterfront. (Read a highly recommended California Beat story on the F-Market line here for what an average trip looks like.)
In practice, this line has been too popular.
But why?
Unlike the Cable Cars, there is no issue about overwhelming anything – the F-line streetcars run on overhead electric lines which powers the on-board motor. The long waits and pass-ups you've probably had to deal with are because there just aren't enough of these historic streetcars to meet demand. The F-Market line is also operated by MUNI, and like many routes, there is just not enough equipment or personnel to fill the needed runs. Thus the long waits and the pass-ups by streetcars filled to the gills.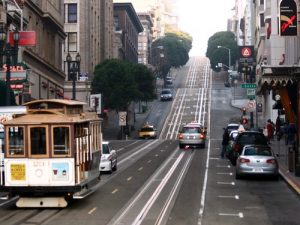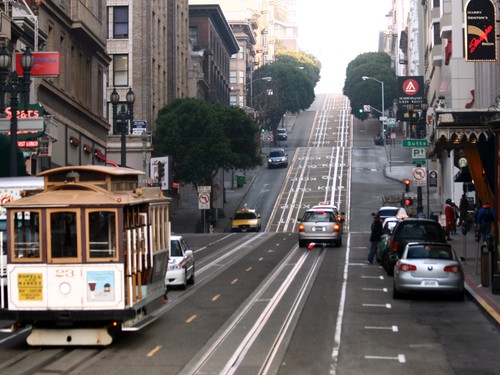 The F-line is no different, and in effect, is the poster-child for a system-wide problem. Finding additional streetcars to meet demand is a difficult and expensive task. Rehabilitating 60-year old streetcars that had once been slated for the scrap yard and bringing them back to run in daily operation on the streets of a major American city has not been easy for cash strapped MUNI, but with the help of the non-profit Market Street Railway, a group that preserves historic transit vehicles in San Francisco, they are coming to the rescue in advocating for the additional restoration of cars to accommodate the huge crowds.
"A quarter-century ago, we assembled whatever kind of safe and operable vintage streetcars we could find," blogs Rick Laubscher, the President of MSR. "But the Trolley Festivals started as a 40-hour a week operation, duplicating the 8-Market bus line. Today, the F-line is the most popular vintage streetcar line in the country, operating more than 130 hours a week and carrying more than 20,000 riders daily (not counting the many left behind because of overcrowding). Past Muni managements have consistently underestimated the need for additional streetcars to meet rider demand. That is finally being addressed to a large extent by current management."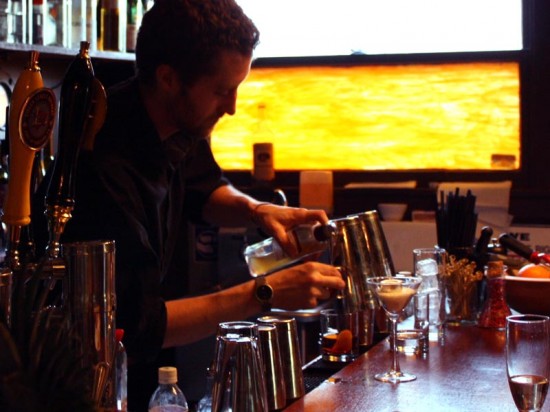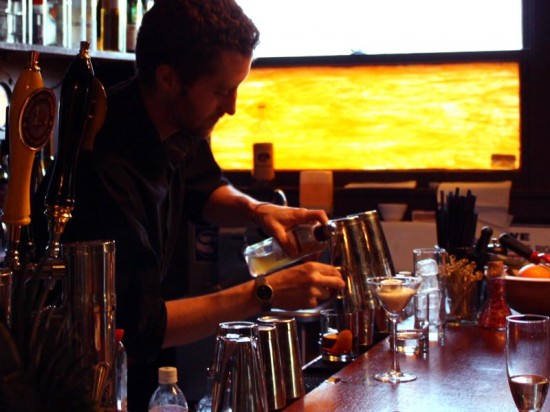 Laubscher writes that MUNI is requesting bids to renovate 16 streetcars which would be pressed into service in a couple of years on the F-Market line and on the future E-Embacadero line that would connect AT&T Park (the ballpark for the San Francisco Giants) and Pier 39. Additional streetcars, including a 1914 double-ended "White Front Car" that once ran in San Francisco nearly 95 years ago for the Market Street Railway transit company (see where the non-profit got its name?), are being renovated by MUNI/MSR and could hit the streets very soon.
So if you're one of the many who decided to throw your hands in the air and hoof it down the Embarcadero, some relief is on its way through the additional streetcars coming on-line.
For now, ice down the sore calves, grab a Martini and enjoy that awesome view of the skyline – there is nowhere quite like this place, wait or no wait.