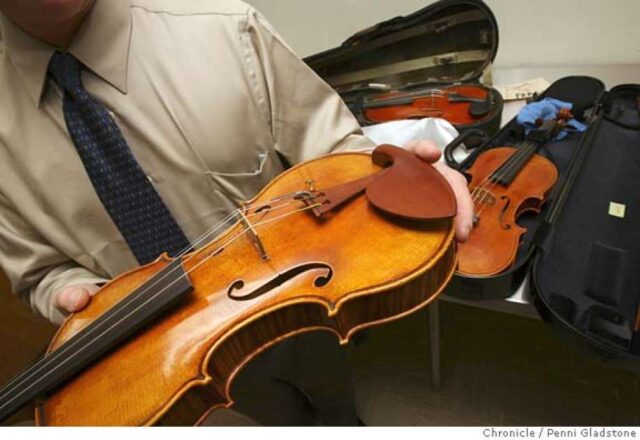 (5/6) — UPDATE — San Francisco Police said they have recovered the stolen violin and arrested 27 year-old Scott Sylvester after he dropped the instrument off to a priest at Saint Mary's Cathedral at Geary & Gough Sts. Thursday night.
Police took Sylvester into custody in connection with the theft and returned the missing violin to its owner, a music student at the San Francisco Conservatory of Music. 
(5/3) — San Francisco Police sought the public's help to identify and capture an unidentified man who walked into the San Francisco Conservatory of Music Tuesday afternoon, stole a rare $23,000 violin, and made his getaway on a MUNI Metro streetcar.
The man, captured by surveillance cameras entering the Conservatory at 50 Oak Street near Van Ness Avenue, lifted a black case containing the Caressa & Francais brand violin before leaving the building, police said.
The alleged thief walked to the Van Ness MUNI Metro station where he boarded an inbound T-line streetcar for a two-station ride to Powell Street Station where he got off and disappeared into the crowd.
Police released surveillance footage showing the man — dressed in dark clothing — carrying the black violin case on the T-line MUNI Metro streetcar. The stolen violin contains a "gold shield" medallion on the tailpiece of the body with three silver strings on the left side of the instrument and a gold fourth string on the right, police said.
The owner of the violin is a music student at the conservatory who was pursuing a career as a professional musician, authorities said.
Anyone with information on the suspect or the theft is asked to contact Inspector Brian Danker at (415) 614-3463 or the confidential tip line at (415) 575-4444.