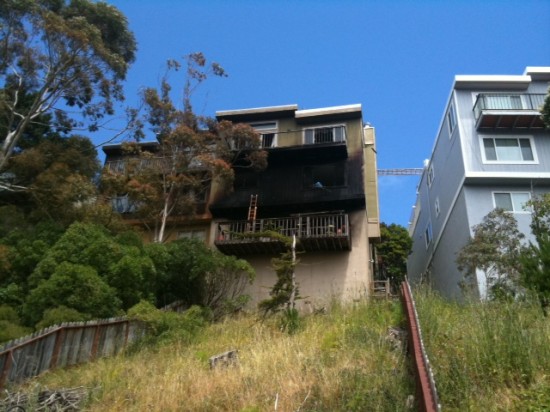 (6/2) — UPDATE 2326 PDT – A deadly two-alarm Diamond Heights house fire claimed the life of one San Francisco firefighter and critically injured another after they were overcome by a flash of fire while attempting to put out the flames Thursday morning.
A third firefighter suffered non-life threatening injuries and was treated and released from San Francisco General Hospital. 
Fire personnel responded to a four-story home at 133 Berkeley Way above Glen Canyon Park at 10:45 a.m. when they arrived to find the home engulfed in flames, Fire Chief Joanne Hayes-White told reporters during a media briefing at the hospital.
White said two firefighters, Lt. Vincent Perez, a 21-year veteran of the department, and firefighter Anthony Valerio, were brought to SF General after they were badly burned during a "flashover" — when fire unexpectedly consumes a room because of extreme temperatures that causes items to spontaneously combust. Both firefighters were badly burned and suffered critical respiratory injuries.
Perez, 48, died at the hospital, White said.
Valerio, 53, was "fighting for his life" and was listed in very critical condition.
"This is one thing I was hoping never to report," Hayes-White told reporters. "The fire department is like a family, and we lost a family member today."
San Francisco Mayor Ed Lee joined White at the hospital and ordered all city flags to fly at half-staff to honor the firefighters. Several surrounding jurisdictions, including the Alameda County Fire Department, also ordered their flags at fire stations to be lowered.
"The last time the city lost a firefighter in the line of duty was in 2003 when a firefighter was killed when she fell off a moving fire engine at San Francisco International Airport.
The fire was brought under control within an hour after it was called in to 911 emergency dispatch, a fire official said.
White said an extensive investigation into the cause of the blaze was underway.